Summary
Pride Wrangler is an expensive machine, but it's absolutely spectacular and can take you almost anywhere. It is recommended for anyone who weighs up to 350 pounds and loves the great outdoors.
Are you an outdoorsman, or were you, before some type of mobility issue caused you to have to spend at least part of each day in a wheelchair? Are you looking for a mobility aid that's capable of allowing you to go just about anywhere, enjoying the great outdoors as you once did?
If you answered yes to the questions above, then you're going to be thrilled as you learn more about the mighty Wrangler offered by Pride Mobility.
Pride is one of the Titans of the mobility industry. They've been in the business for decades and have a long, storied reputation for offering fabulously designed products and standing behind them. The Wrangler is an excellent example of their work.
We'll be quick to point out here in our Pride Wrangler scooter review that the machine is not perfect, and it's not for everyone. It's expensive, for one thing, which might put it out of the reach of many, but if you can afford to make the investment, you'll find a lot to like about this model.
In the sections that follow, we'll tell you everything the Wrangler has to offer, and we'll be quick to note its shortcomings and limitations. That way, you'll have all the information you need right at your fingertips, so you can decide for yourself if this is the outdoor mobility scooter you've been searching for. Let's jump right in and take a closer look!
An Overview of the Wrangler Pride Scooter
While many of Pride's scooters are offered in a surprisingly wide range of colors, this one is offered in only two. You can select either tan and black or grey and black, neutral, outdoorsy colors.
The scooter itself has a rugged, somewhat minimalist look to it. There's nothing fancy or refined about its appearance; it simply looks like it's ready to go to work and take you on an adventure. That's a good thing.
Before we get into specific features in this section of our Pride Wrangler scooter review, the first thing we should do is press pause long enough to take a look at the core stats that define the machine. Here's a quick overview:
Overall Product Dimensions: 32.5" (W) x 61.75" (D) x 47.5 – 49" (H)
Seat Dimensions: 18" (W) x 16.5" (D)
Top Speed: 11 mph
Maximum Range: 29.3 miles
Wheel Size: 14.5" x 4."
Maximum Climbing Angle: 10 degrees
Turning Radius: 94.75."
Ground Clearance: 5.5."
Chair Weight: 274 pounds without batteries, 395 pounds with batteries
Maximum Supported Weight: 350 pounds
Taken as a whole, these are excellent numbers, but there are a few points of weakness here. First and foremost, this is a big machine, and it's got a correspondingly big turn radius. It's also incredibly heavy, and as such, it doesn't win high marks for portability or agility.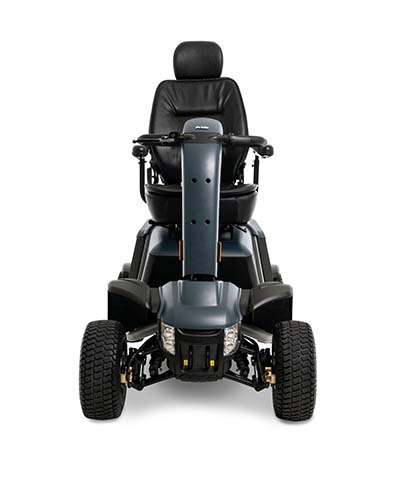 There are ways around the portability issue, and we'll have more to say about that a bit later on.
For the moment, it is enough to point out that there are tradeoffs for being a big, burly versatile machine. Chief among them is an increase in size and weight, which generally has the effect of increasing its turn radius.
On the other hand, we're quite happy with the Wrangler Pride scooter's top speed and maximum range. Granted, the range is highly variable, depending on exactly which batteries you select and how fast you tend to run the machine, to say nothing of the weight the unit is carrying or pulling, but we're very pleased with both of those numbers.
The 5.5" ground clearance isn't as high as we'd like. However, at that height, this machine is certainly capable of carrying you over all but the roughest and most uneven terrain, and it can likely do that too if you proceed slowly and with caution.
One thing we're a bit underwhelmed by, though, is the maximum supported weight of the Wrangler. Pride makes a wide range of scooters with a 400-pound weight limit, and we were disappointed that this model wasn't among them.
It's a relatively small thing unless you weigh more than 350 pounds, but still. As big and powerful as this machine is, we were expecting that it would be capable of supporting more weight than it does.
Adjustability and Comfort
There are two things to talk about here: The seat and the tiller. Where the seat is concerned, you'll find the Pride Wrangler all terrain scooter to be as adjustable as most of the others in the Pride product line.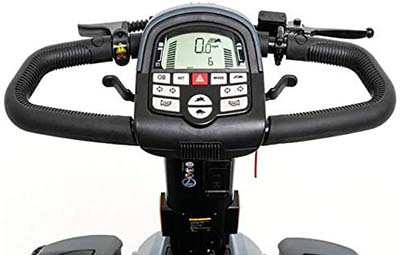 The seat swivels and is height adjustable within a range that spans from 20.5" to 22", which is firmly in big and tall territory. If you're shorter or if you have shorter legs, even on the lowest seat setting, this model may simply be too much for you.
In addition to that, the angle of the seatback can be adjusted to taste, and the padded armrests can be height, width, and angle adjusted for optimal comfort.
Where the steering tiller is concerned, you can adjust the angle to pull it closer to you or set it farther away from the seat, depending on the length of your arms. The combination of those things gives you a great deal of flexibility and can customize the Wrangler for a perfect fit.
Comfort-wise, the Captain's style seat utilizes mostly conventional block foam, but the seat itself is a pillow top design that uses individual comfort cells, not unlike what you find in top-quality mattresses.
The only problem we find with the seat is the company's choice of upholstery. It's vinyl. Black vinyl, to be specific. There are a couple of issues here.
First, vinyl isn't at all breathable. The longer you sit on it, the hotter and sweatier you're likely to get. That's especially true if you live in a warm or hot climate, but even if you live somewhere colder, you're still likely to get uncomfortably hot after 4 hours or so.
Second, vinyl doesn't stand up well to the rigors of heavy daily use. If that's your plan for this machine, then you can expect that the upholstery will start showing its age by peeling and cracking after about 18 months of regular use.
Fortunately, the expense of having the seat re-covered when the time comes will be a fairly modest one.
Unfortunately, it's something you'll pretty much have to do because the scooter itself will far outlast the upholstery.
Given the price of the Pride Wrangler 4 wheel scooter, we feel the company could have made a better upholstery choice here.
We don't regard it as a deal-breaker, but it is a point of weakness to keep in the back of your mind.
Extras and Options
Unlike most of the scooters Pride sells, this model has no built-in storage. That's unfortunate because if you're going to use this scooter for the purpose it was intended for, you're going to want to be able to bring some supplies with you, which means you're going to want to look seriously at some of the options and extras the company offers.
The good thing, though, is the fact that this model features a light kit (LED headlamp, taillights, and turn signals), allowing you to use it day or night. Curiously though, it doesn't have a rearview mirror, which is commonly included with most models with a light kit.
In addition to that, you'll find a handy USB port on the steering tiller, so you can keep your phone charged and listen to your favorite music while you're traveling about. It's a small touch, but something we wish more companies would include—a very nice, high-value addition.
Pride, however, is not in the habit of loading the scooters they sell down with extras. Extras tend to be subjective, and everyone's tastes and preferences are different. Instead, they sell a basic scooter and offer a variety of extras you can add later, depending on your specific needs. These options include:
A cup holder
A cane/crutch holder (single or double available)
A rear basket for additional storage
An oxygen tank holder
A RAM X-Grip cellphone holder
A wishbone crutch holder
A walker holder
A protective cover to help guard your investment against the elements
A rearview mirror
A rear-mounted steel storage basket
A lap belt
Saddlebags for yet more storage
A safety flag
These are excellent, for the most part, and in general, we like Pride's approach. Rather than paying for a bunch of built-in extras you may or may not actually want or use, you can pick and choose the ones you want.
Of the options mentioned above, we highly recommend adding a rearview mirror, the storage basket, and saddlebags, and the safety belt, with the others, added if and as needed.
Portability & Ease of Use
We said early on in this review that the Wrangler is a heavy, brute of a machine, which makes it not very portable. That's true, but there are a few different things you can do to improve that.
The first option is free.
The Wrangler can easily be disassembled, which definitely improves its portability. There are a couple of issues with this approach, though. First, even when disassembled, some of the individual pieces weigh up to 70 pounds, and the batteries themselves weigh sixty pounds apiece.
That's still pretty heavy, and depending on the severity of your mobility issue, the Wrangler Pride scooter parts may still be too heavy for you to load and unload in your vehicle easily. The second, of course, is the time factor.
It takes time to take the machine apart and put it back together. That's time you can't spend having fun.
If you want to get around that issue, and if you drive a truck or a van, you can invest in a ramp.
Then, when you're ready to take the Wrangler on the road, just break out your ramp, drive it up into your van or the bed of your truck, secure it, and hit the road. When you get where you're going, all you'll have to do is drive it back down the ramp.
If that solution doesn't work for you, your other option is a lift. You can install these on the back of most vehicles, and simply carry the Wrangler behind whatever you're driving.
The issue here is that both ramps and lifts are expensive, with the latter being the more expensive of the two options. This is already an expensive machine, and either of those options will increase your total cost of ownership even further. Time or money? In the end, that's the tradeoff here, but these solutions do make the Wrangler more portable than the raw numbers seem to indicate.
In terms of ease of use, Pride has, over the years, tweaked and refined the control system they use on all of the scooters they sell. The controls are basically the same from one model to the next, and you'll find them to be incredibly well laid-out and intuitive.
You can master the basic operation of the Wrangler in ten to fifteen minutes. The one fly in the ointment is the fact that this model, in particular, has an enormous turn radius, which will take some getting used to.
Until you master it, you can expect to spend a fair bit of practice backing up because you'll undoubtedly find yourself trying to turn around and simply run out of space.
Pros & Cons of Pride Wrangler Scooter
There's a lot to like about the Pride Mobility Wrangler. It's a robust and rugged design, capable of taking you over almost any type of terrain.
It's fast, and it's got a good range.
Those are all good things.
Unfortunately, it's also heavy, which makes it somewhat challenging to travel with, and it's very expensive as mobility scooters go. Even if you love it, and save up the money for it, you'll have more money to spend.
At a minimum, you'll probably want either a ramp or a lift to make traveling with it easier. Then you'll probably want at least a few of the extras Pride offers, all of which will increase your total cost of ownership and may simply put this model out of your reach.
Pride Wrangler Scooter Review Conclusion
This is a superb model, incredibly versatile, and capable. Opinions will vary, of course, but we love its rough and ready aesthetic.
Unfortunately, its high price and the fact that you'll need to invest in a number of extras to get the most out of it simply puts it out of reach for many. While we recommend this model, we'll also note here in our Pride Wrangler scooter review that there are many other options available that will cost you significantly less.
---
References & Resources: