Summary
Pride ZT10 is a superb, versatile scooter with cutting edge technology. Its zero turn radius means that it can be used just as easily indoors as out.
Recommended For: Anyone weighing up to 400 pounds. The ZT10 is amazing.
*Note regarding Brand Reliability: This metric is a measure of the strength and longevity of the brand, which by extension, is a measure of the level of support you can expect.
Are you tired of your current wheelchair and interested in upgrading? Or perhaps you've only recently suffered a mobility issue and are in the market for your first wheelchair or scooter? Whichever the case, you're going to love learning more about the ZT10, offered by Pride Mobility.
Pride is one of the brightest stars in the mobility industry. They make categorically good products, and they stand behind them, allowing their customers to buy with confidence. The ZT10, though, is a breed apart, as you will see as you progress through this Pride ZT10 scooter review.
In the sections that follow, we'll tell you everything it has to offer, and we'll tell you why you need one, even if you don't yet realize it. Sure, it's not quite perfect. There's always room for improvement, after all, but it is exceedingly good at what it does. Even if you ultimately decide to go with some other make or model, we think you'll be impressed.
Read on, and let's take a closer look!
An Overview of the Pride ZT10 Scooter
The Pride ZT10 scooter looks deceptively mundane. There's nothing compelling about its aesthetic. It's not ugly by any means, but it does look about like most of the other scooters on the market today.
Looks, however, can be deceiving. Lurking beneath its rather mundane exterior, you'll find some cutting edge tech and lots of extras and finishing touches that will make you happy to be sitting on the scooter. Happy to be using it.
Before we talk about those things, let's first take a look at the ZT10 by the numbers. Here are the basics:
Overall Product Dimensions: 24.25" (W) x 48" (D) x48.5" (H)
Seat Dimensions: 18" (W) x 18" (D)
Top Speed: 7 mph
Maximum Range: 28 miles
Wheel Size: 10.5" x 4"
Maximum Climbing Angle: 10 degrees
Turning Radius: 26.25"
Ground Clearance: 2"
Chair Weight: 181 pounds without batteries, 225.8 pounds with batteries
Maximum Supported Weight: 400 pounds
The first thing to note here is that this isn't a humungous scooter. It was designed to be used both indoors and out, and as such, it's narrow enough that you can drive it through a standard-width doorway with room to spare.
The "ZT" designation in the model's name stands for "Zero Turn," but that's not 100% accurate.
The Pride Mobility ZT10 scooter isn't like some lawnmowers that can literally turn on a dime, but you'll note that compared to just about every other scooter on the market today, the turn radius is fantastic.
Try and use a scooter with a 50+" turn radius indoors, and you'll run into problems very quickly.
On the other hand, a device that can turn in just over two feet…now that's something you can use even in smaller homes and apartments, and that's huge.
The wide seat and impressive 400-pound weight limit make this model useful to more than 98% of the potential market. We do wish that the company had offered a 20" wide seat as an option for those near the top end of the model's supported weight limit, but as you'll see, even if a slightly wider seat might be a better fit for you, you still may be able to use this one.
The top speed isn't great but is certainly not the slowest model on the market today, and the maximum range is good, verging on being great.
Unfortunately, the ground clearance does limit this model somewhat. While it will serve you very well on flat surfaces like sidewalks, indoor flooring surface, parking lots, and shopping centers, it won't fare nearly as well outside.
Yes, you can probably use it to putter around in your yard, assuming your yard is fairly flat and level, and you'll probably be able to take it to your local park or use it at a campground. But, with only 2" of ground clearance, you'll have to be careful and watch for rocks and even some especially large roots sticking up from the ground, all of which can potentially hang you up and complicate your life.
The bottom line is that it's an okay outdoor scooter, but it's really designed for indoor, or at the very least, urban outdoor use.
The final thing to note here is that, with the batteries included, this is a fairly heavy piece of equipment. As such, you may be groaning inwardly, thinking that it's not very portable or travel friendly. Actually, it's more travel-friendly than the numbers would seem to indicate, but we'll talk about that a bit later on.
Adjustability and Comfort
The two things to talk about where adjustability is concerned are the seat and the steering tiller.
The seat swivels, making it very easy to transfer into and out of it. The ZT10 travel scooter is also height-adjustable within a range that spans 19" – 22" in height.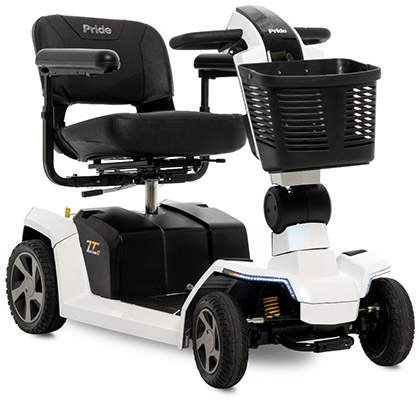 Bear in mind that in the world of chairs, the big and tall range typically starts at 18" and goes up from there, so the height range and the maximum supported weight limit both mark the ZT10 as being a scooter designed for taller people. If you're short, or if you have short legs, this model may not be a good fit for you.
In addition to that, you can adjust the angle of the seatback, allowing you to recline in the scooter. The padded armrests are also amazing. Not only are they also height-adjustable, but they're also width and angle adjustable.
The adjustable seat is what allows larger people who may wish that the seat was just a bit wider to still use this scooter comfortably. If you wish the seat is half an inch or so wider, you can work around that by pushing the armrests out a bit and still be reasonably comfortable.
Before we move onto comfort, we should say a few words about the tiller. While not as adjustable as the seat, it can be angle-adjusted. You can pull it forward if you like, which is useful if you have shorter arms or if the tiller's default position just isn't as natural or comfortable when you're using it.
Taken together, the adjustment options on the seat and the tiller give you a tremendous amount of flexibility and allow you to really optimize your scooter for maximum comfort.
In terms of comfort, the seat utilizes conventional block foam for padding and features vinyl upholstery. There's enough block foam to make the seat reasonably comfortable for up to about 4 hours of continuous use, but the vinyl upholstery is (or can be) a bit of a problem.
Vinyl isn't breathable, and the longer you sit on it, the hotter you're going to get. It will make you sweat, and if you spend the whole day in it, you'll be fairly miserable by the end. This will happen much more quickly if you live in a warm or hot climate, but even if you don't, it's pretty much inevitable. Spend enough time sitting on the seat, and you'll eventually get hot and sweaty.
The other problem with vinyl is the fact that it's not very durable. If you plan to use this scooter every day, then you'll start seeing signs of peeling and cracking after about 18 months. The good news is that there's not a lot of upholstery to contend with. This means that having the seat re-covered when it's time won't cost you an arm and a leg, but the point is, it's something you'll almost certainly have to do.
In any case, when you do re-cover the seat, you can select something more durable and breathable if you like.
Extras and Options
Aside from the tech that gives the ZT10 mobility scooter such a fantastic turn radius, there are two other 'extras' to talk about. The first is the front-mounted storage basket.
Made from ABS plastic, it's not enormous. However, it is certainly large enough to be useful, allowing you to bring a few supplies with you while you're out having an adventure, or, if you're going to the store, you can cart a few items back to the house with relative ease.
If you do plan to use this model for shopping trips, though, you'll almost certainly want to check out some of the company's optional equipment (see below) and bulk up the storage capacity of your ride.
In addition to that, on the steering tiller, you'll find a handy USB charging port, allowing you to keep your phone fully charged while you're driving. Just below that, you'll find a handy storage compartment that's big enough to hold your phone, or when you're not using it for that purpose, you can use it as a cup holder. Very nice!
Pride's general strategy where extras are concerned, though, is to offer them as options for sale later.
Use the machine in its base configuration for a while to get a feel for it and figure out exactly what you need to make it even better and more useful to you. Then, go shopping.
Pride offers an assortment of extras you can use to personalize your machine. These items include:
A cup holder
A cane/crutch holder (single or double available)
A rear basket for additional storage
An oxygen tank holder
A RAM X-Grip cellphone holder
A wishbone crutch holder
A walker holder
A protective cover to help guard your investment against the elements
A rearview mirror
A rear-mounted steel storage basket
A lap belt
Saddlebags for yet more storage
And a safety flag
We love these. They're all good additions, though we wish the safety belt was a standard feature and not something you have to buy separately, but that's a relatively minor complaint.
Note, too, the emphasis on additional storage in the options listed above! That's fantastic, and if you invest in all of them, you'll be able to make a small grocery run and bring everything back to your house with minimal difficulty. Nice!
Portability & Ease of Use
As we said early on here in our Pride ZT10 review, the weight of this machine may make it seem less than friendly to travelers and not very portable.
The good news on that front is the fact that the scooter is delightfully easy to disassemble. Once you do, finding places to store the pieces in your trunk or backseat is generally not a problem. The largest of the disassembled pieces still weighs 70-odd pounds, which may present some challenges, but it's not horrible, even if you need a spot of help.
The real drawback stems from the fact that it's a bit of a time sink to have to break the ZT10 4-wheel scooter down and put it back together when you get where you're going.
If you'd rather not spend that time, there are two other possibilities to consider:
The first is, invest in a ramp. This is useful only if you drive a truck or van, but if you do, you can deploy your ramp and simply drive your scooter into the van or up onto the bed of the truck, secure it, and hit the road. Then, when you get where you're going, rather than spending time putting the thing back together, you just drive it down the ramp, and you're ready to go.
If that's not an option for you, the other possibility is to buy a lift. Lifts fit on most vehicles, and you can simply tote the scooter behind whatever you're driving.
The problem is that lifts tend to be relatively expensive and will increase the cost of this, or any scooter you decide to buy. Ultimately then, it comes down to which you have more of: Money or time. If money's tight, you'll be better off spending the time breaking the scooter down and putting it back together when you want to travel with it.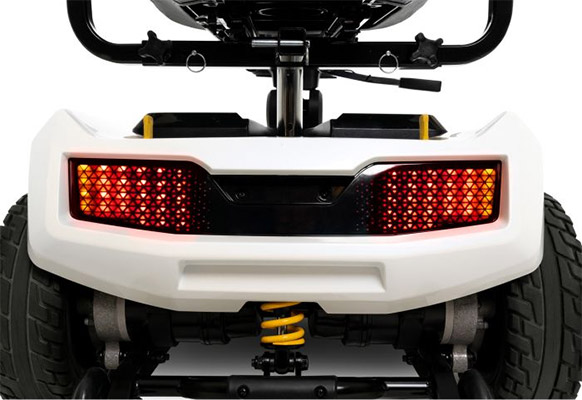 If time is scarce and you've got some extra money to play with, then either a ramp or a lift will save you time when you're traveling.
Before leaving the topic of portability, we should say at least a few words about air travel. The short answer is: Buy a good, lightweight travel wheelchair. This scooter is too heavy to be a good air travel option, especially when you consider that a) airlines charge by the pound, and b) you can get a good travel wheelchair that weighs 30 pounds or less.
If you feel you must travel with your trusty scooter, you'll need to call the airline you plan to fly with to see if it's possible at any price. Just be aware that every airline's policies are different, and don't be too surprised if you get told flatly that it's not possible.
Pride does a great job where ease of use is concerned. The control system has been refined over the years and is about as easy to use and as intuitive as it gets. You'll almost certainly master its basic operation after about ten minutes of practice, and given its super-tight turning radius, you won't have any problems on that front either. The ZT10 is almost sublimely easy to use!
Pros & Cons of Pride Mobility ZT10
We like almost everything about this model. In our minds, the single biggest weakness in the design is the low ground clearance, which limits its usefulness on rough or uneven terrain. We'd also love to see better upholstery and a higher top speed, but these are relatively minor complaints in the greater scheme of things.
Pride ZT10 Scooter Review Conclusion
We'd say here in our Pride ZT10 scooter review that this is the best scooter that Pride makes. We love the fact that it's specifically engineered to be used in household settings and is robust enough to be used in urban outdoor settings too. A really great design that we think you'll love. We highly recommend this model.
---
References & Resources: