Summary
ProBasics Standard is a surprisingly versatile, functional basic reclining wheelchair, priced to impress. It is recommended for anyone looking for a reclining wheelchair that can serve as a standard wheelchair as well and who doesn't have a ton of money to spend.
* Note regarding Brand Reliability: This metric is a measure of the strength and longevity of the brand, which by extension, is a measure of the level of support you can expect.
Are you having trouble getting around like you used to, to the point that you now need a wheelchair for at least part of the day? Are you interested in finding a wheelchair that can pull double duty as a recliner and yet still be light enough to be considered at least somewhat travel-friendly?
If you answered yes to the questions above and don't have a ton of money to spend on the chair in question, then you're going to be very intrigued by what you read here in our ProBasics reclining wheelchair review.
The ProBasics brand comes to us from Roscoe Medical. While you may not be familiar with the name, the company has been in the mobility aid business for more than two decades and has quietly built a solid reputation for itself at the lower end of the market.
Simply put, they make good, basic wheelchairs, and they offer them for a song. If that's what you're looking for, and you are particularly interested in a reclining wheelchair, then you're going to like what you read in this review. Let's take a closer look.
An Overview of the ProBasics Standard Reclining Wheelchair
The first thing to say here in our ProBasics reclining wheelchair review, and we might as well just rip the Band-Aid off and get it out of the way, is that reclining wheelchairs aren't really all that attractive. That's the case here as well.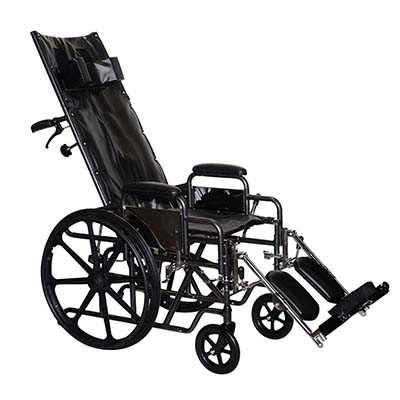 The ProBasics full reclining manual wheelchair definitely won't win any beauty contests. It's clear that the design team put most of their effort into refining the functionality of the chair and didn't leave much time when it came to matters of form, which is a roundabout way of saying that it's not pretty. Know that upfront. The designers did add mag wheels in an attempt to give it a vaguely sporty look, but, honestly, mag wheels alone aren't enough to do that. It was a good try, though.
If you don't care so much about the look of the thing or can at least set that aside, what you'll find underneath its less than beautiful exterior is a real workhorse of a chair. Here are the basic stats that drive and define this model:
Overall Product Dimensions: 54" x 24.5" -28.5" x 31.25."
Seat Dimensions: 16" deep and your choice of 16," 18," 20," or 22" wide
Seat to Floor Height: 20."
Wheel Size: 8" front, 24" rear
Seatback Height: 34" (19.5" minus the extension)
Footrests: Elevating
Armrests: Desk length – Removable
Chair Weight: 51 to 60 pounds (depending on seat size selected)
Maximum Supported Weight: 300 pounds (unless you select the 22" wide seat, then the weight limit is 400 pounds)
The main thing to understand about the numbers above is the fact that, literally, everything about this chair flows from the seat width you select. That will determine the overall width of the chair, how much weight it can support, and ultimately, how much the chair itself weighs. Given that, you're going to want to consider very carefully what seat width works best for you and make your purchase accordingly.
The only instance in which some other factor is more important is user weight. If you weigh more than 300 pounds, you'll want to select the 22" seat width, even if it's not optimal for you, as this option boosts the supported weight to 400 pounds.
Its overall dimensions aren't bad for a reclining chair, either. There are many other models on the market today with an overall height well north of 60" and some that are even higher than that.
One of the cool things about this model is the fact that if you need a "regular" wheelchair, you can do that.
Just detach the seatback extension, and you end up with a conventional wheelchair for everyday use.
Adjustability and Comfort of ProBasics Full Reclining Manual Wheelchair
As we said at the start, Roscoe Medical designs and sells in the lower end of the market. As such, the ProBasics standard reclining wheelchair isn't big on adjustable features.
Naturally, the big thing to talk about here is the recline function itself. The chair compares quite favorably to much more expensive models, being able to reline in a range that spans 90 to 160 degrees. It doesn't lay quite flat but comes close enough that you could take a short nap in the thing if you wanted to.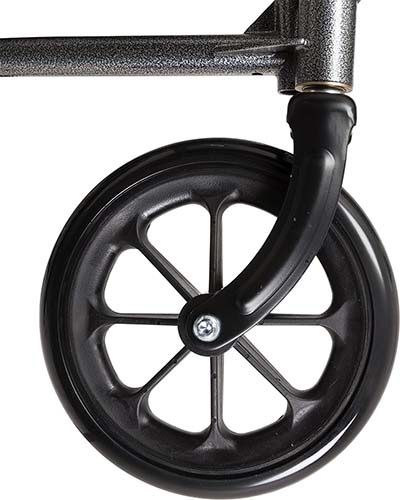 Unfortunately, the seat height is fixed at 20," and there's no wiggle room at all there. If there's a silver lining, it lies in the fact that 20" is a good number that makes the chair a decent fit for the vast majority of the market. Even so, you'll want to consider that and compare it against the length of your legs to make sure the seat height won't be problematic for you.
The desk length arms are removable, which helps make transfers into and out of the chair an easier proposition. Desk length arms are a good choice for people who plan to use this as a working chair, as it allows you to roll right up to a desk and be productive.
It also has the added benefit that you can roll up to a dining table and enjoy a meal with family and friends without having to transfer to some other chair.
The leg rests come with a built-in calf pad and elevate, which is what you'd expect to see in a reclining chair, but they do not swing away. That's not the end of the world, but it is a limitation to be mindful of.
Also, note that the footplates are made from sturdy plastic rather than metal.
We'd prefer to see metal here, but that would have added to the cost of the chair. The plastic isn't horrible. But if you plan on keeping the chair for years, you'll almost certainly reach a point where you wind up having to replace one or both footplates. Again, not the end of the world, but something to keep in mind.
Comfort-wise, the base model doesn't fare so well. There's no padding to be found anywhere on the chair. It's just vinyl stretched over the frame. It isn't breathable, and it's bound to be uncomfortable if you spend several hours at a stretch in the chair.
The good news here is that that's an incredibly easy thing to fix. The aftermarket is brimming with seat and seatback pads, and you can get anything you like, from memory foam seat inserts and breathable, padded seatbacks or any other configuration you can dream of. Sure, it adds a bit to the total cost of ownership of the chair, but that's not a bad trade at all given that it's offered at a delightfully low price.
The final thing to mention on this subject is that the armrests are moderately padded, though not ergonomically sculpted. You'll find them to be reasonably comfortable but not exceptionally so.
Extras and Options of ProBasics Reclining Wheelchair
This is our favorite part of our ProBasics full reclining manual wheelchair review, not because Roscoe Medical has a ton of accessories available, but because this chair is such a blank slate and can be customized to your heart's content, especially given its relatively modest price tag.
If you pay a visit to Roscoe Medical's vendor page on Amazon (https://www.amazon.com/stores/page/BC2081C5-FC18-4DCA-BCA7-6EFF4E061AA8?ingress=2&visitId=c3dfcbe9-3112-4fc8-b53e-a2c2a32ec457&ref_=ast_bln ), you'll see that the only accessories they offer for the chairs they sell take the form of seat pads. However, if you venture to this site https://www.1800wheelchair.com/product/probasics-full-reclining-wheelchair/, you'll find that you can accessorize your chair to a degree at the point of sale.
These accessories, which include a seat belt, drink holder, onboard storage, and a wheelchair tote bag, aren't Roscoe Medical products but rather aftermarket products that the seller knows work well with this particular chair.
Given that, as a rule, we wouldn't recommend accessorizing right out the gate. In our view, you're better off buying the base model and using it for a while to see what you need based on how you use it, and then start accessorizing from there. Doing it that way, you end up with a chair that has exactly the accessories you want and need, and you don't spend money on something you may not ultimately use.
As to the chair itself, it does come with a trio of high-value accessories offered as standard features.
First and foremost are the anti-tippers, which we regard as an essential feature for any wheelchair but are especially important on any reclining model for obvious reasons.
Second, you'll find a roomy map storage pocket on the back of the lower section of the seatback. It spans most of the width of the seatback and is large enough to be genuinely useful, though you may decide you need to invest in a bit of additional onboard storage depending on exactly how you use the chair.
Finally, the seatback extension comes with a built-in headrest pillow. It's clad in vinyl like the rest of the chair, so you may want to lay a towel over it to keep your head from sweating. However, there's a generous amount of padding beneath the vinyl, and it's reasonably comfortable. Add a bit of padding to the seat and seatback, and you'll have yourself a quite comfortable chair to work or relax in.
Portability & Ease of Use
As with most manual wheelchairs, using the ProBasics reclining manual wheelchair is a piece of cake and is about as intuitive as it gets.
The only added wrinkle you'll find here is the recline feature itself, but that takes just seconds to master. There really is no learning curve where this chair is concerned. Note, however, that the wheels that come standard on this model are optimized for use indoors or in flat urban spaces.
That's not to say it's impossible to use outside. If you plan on spending any time at all taking this chair to campgrounds or in your yard, you'll probably want to upgrade the wheels with something that's got some tread and traction. Again, it all comes down to how you plan on actually using it.
In terms of portability, the ProBasics reclining manual wheelchair doesn't fare as well. Even if you get the smallest model with the narrowest seat, you're still looking at a chair that weighs in excess of fifty pounds.
While it's certainly possible to take the chair with you on the open road, it's also easy to find wheelchairs that weigh significantly less. In fairness, though, none of the featherweight models recline.
As reclining wheelchairs go, though, this is a fairly light model. As such, we'd regard it as being surprisingly travel-friendly. If you've got a truck or SUV, or if you spend lots of time traveling in an RV, it's light enough to pack up and take with you, then kick back in the recliner and enjoy the day when you get where you're going.
While it is certainly possible to take it on an airline with you, it is much less air travel friendly.
Remember, airlines charge you by the pound. Even if they allow it (and some airlines may not), you're going to pay a premium to take it on a plane with you. In any case, be sure to call the airline you're flying with in advance and let them know what you've got so you don't run into any surprises at the airport.
Pros & Cons of Probasics Reclining Manual Wheelchair
This is an easy section of our ProBasics full reclining wheelchair review to write because there's not much bad to say about the chair. If you're looking for a great, basic, low-cost reclining wheelchair that you can also use as a standard wheelchair as needed, this is a solid choice that will leave you plenty of money left over to customize and personalize to your heart's content.
Combine that with the fact that Roscoe Medical offers a limited lifetime warranty on the frame, and it's hard to beat. Every negative thing we could say about the model is a conscious design decision by the company or is in some way geared to the limitations of reclining wheelchairs themselves and their limited appeal. Of course, none of those types of things matter anyway if you're in the market for a reclining wheelchair.
It's a solid, if somewhat basic design, offered at an excellent price. The only thing some people might take issue with is that it's not as highly adjustable as other models, but then, it costs a lot less than those more adjustable chairs, so again, a conscious design decision.
ProBasics Reclining Wheelchair Review Conclusion
As mentioned early on here in our ProBasics reclining wheelchair review, the model is almost entirely self-selecting. If you're not in the market for a reclining wheelchair, you're probably not even going to give this one a second look. If you are, and especially if you don't have a ton of money to spend, you're going to be very interested in what this one has to offer. On that basis, we provisionally recommend it. If you decide to buy one, it won't disappoint.
---
References & Resources: