Summary
The Quickie All Court Sports is a brilliantly engineered, high-performance wheelchair optimized for the basketball court. Recommended For: If you have a mobility issue, love basketball, and don't want to miss out, and if you weigh 250 pounds or less, this is the chair you want.
* Note regarding Brand Reliability: This metric is a measure of the strength and longevity of the brand, which by extension, is a measure of the level of support you can expect.
Do you love basketball?
Is your mobility issue keeping you off the court? If you answered yes to both of those questions and are looking for a way to get back into the game, then you're going to love what you read in this—our Quickie All Court Wheelchair review.
There are a couple of things you should know about this chair right off the bat, though. First, it's expensive. The hefty price tag alone is going to put it out of the reach of many.
Second, while you could theoretically use this chair day to day, it's optimized for sports and, specifically, for basketball. Using it as your everyday chair would be overkill, but if you've got plenty of discretionary income and are looking for a striking, stylish chair that's sure to get everybody's attention, this one would certainly do that.
Ultimately, what we're saying here is that this is a niche product. It's not going to be for everyone.
Even so, Quickie is a spectacular, well-respected company, so if you decide you have to have one of these, you can buy with confidence, knowing that the company's support staff will stand by their product.
With those provisos out of the way, if your interest is piqued, let's jump right in and take a closer look!
An Overview of the Quickie Basketball Wheelchair
First impressions aren't everything, but they do matter, and the bottom line is that the All Sport is an awesome-looking chair. Its wheels are sloped inward, giving it a sleek, almost futuristic appearance.
Even better is the fact that if you decide you want one, you can order yours in an impressive array of nearly thirty different colors.
Normally, this is where we'd offer a broad overview of the raw statistics that drive and define the model. But in this case, almost every one of those can be customized when you place your order, so about the only thing we'll mention here is that the chair can be ordered with either an aluminum or a titanium frame.
The aluminum frame is standard, and the titanium variant is more expensive but will shave a little bit of weight off of the chair. If you want to maximize performance, then every pound matters, and you'll probably want to spend extra on the lighter frame.
If you opt for the aluminum frame, the total weight of the chair is 24 pounds. Built around a titanium frame, the chair weighs in at just 21.5 pounds. In either case, the All Sport supports a maximum of 250 pounds of user weight.
While there's no formal industry standard in place, if you look at the whole market, you'll find that generally speaking, wheelchairs support around 300 pounds, so this one falls well short of that mark.
If you weigh less than that, this won't be an issue at all, but if you happen to weigh more, it's going to be an outright deal-breaker, so just be aware!
For the rest, we'll step you through the order form, where you can choose from a stunning number of options.
Like most companies that offer highly customized chairs like this, Quickie has a network of authorized online retailers for easy ordering. You can just click on the comprehensive list of custom options and add to cart! But, if you prefer to do things old school, you can download an order form from their website and find a local dealer near you. In the next section, we'll take a closer look at that and the various options available.
Ordering a Quickie All Court Basketball Wheelchair
This is really the heart and soul of our Quickie All Court Wheelchair review, and as you'll see, when you order one of these, nothing is left to chance. You can customize just about every aspect of the chair.
You can find a copy of the order form right here.
What you choose here will impact the dimensions of the seat you can select. There's no good way to put the options into bullet points, so we'll simply provide a reference table below:
| | | | | | | | | | | | | |
| --- | --- | --- | --- | --- | --- | --- | --- | --- | --- | --- | --- | --- |
| | Depth | 10" | 11" | 12" | 13" | 14" | 15" | 16" | 17" | 18" | 19" | 20" |
| Width | | | | | | | | | | | | |
| 12" | | X | X | X | X | X | X | X | | | | |
| 13" | | | X | X | X | X | X | X | X | | | |
| 14" | | | | X | X | X | X | X | X | | | |
| 15" | | | | | X | X | X | X | X | X | | |
| 16" | | | | | X | X | X | X | X | X | | |
| 17" | | | | | | X | X | X | X | X | X | X |
| 18" | | | | | | X | X | X | X | X | X | X |
| 19" | | | | | | X | X | X | X | X | X | X |
| 20" | | | | | | X | X | X | X | X | X | X |
Note that at your option, you can also add aluminum side guards. If you select that option, it will add an extra half-inch of seat width.
Whew! As you can see, ordering a sports wheelchair by Quickie isn't a trivial matter. There are a lot of decisions to be made, and before you start down that path, you'll want to take a number of careful measurements so you can ensure that when you get your chair, it fits you like a glove.
Quickie Sports Wheelchairs Can Be Outfitted With Lots of High-Value Extras, Too
We view this as being another very strong component of our Quickie All Court Wheelchair review because, in addition to being able to augment and modify your chair with an almost unlimited number of aftermarket accessories, Quickie offers a number of accessories you can use to further personalize your chair. These include:
These are categorically superb. Our only minor quibble is that we wish at least one of the safety belt options was a standard feature, but we love that there are two options available on that front.
We love all of these!
Comfort Isn't a Big Priority
One potential point of weakness is comfort. This chair isn't designed for lounging around for extended periods. As such, the modest 2" seat pad you can get with the chair is fine, but if you want to increase the comfort level, that's pretty easy to do.
It won't be difficult to find an aftermarket seat pad capable of providing whatever level of comfort you like. Spend a little extra and get a memory foam seat cushion, and you'll be riding around in comfort AND style. Then again, that might be overkill given that you probably won't be in your Quickie sports wheelchair for longer than the length of the game.
Pros & Cons of Quickie Sports Wheelchair
The two things you'll almost certainly love about this chair are that it looks great, and just about every aspect of the design can be customized to taste so that the chair fits you like a glove.
Unfortunately, the tradeoff is that this is an expensive chair—so expensive that many people who might be interested in it will find it simply out of reach. That's really the All Court's only weakness. Other than a bit of sticker shock, we think you'll love it.
Quickie All Court Wheelchair Review Conclusion
This is an incredible design. It's a great-looking mobility aid, beautifully optimized for the basketball court. We love it and the company that stands behind it.
Unfortunately, as we said at the start, it's a pricey niche product that will only appeal to a tiny slice of the market.
If you happen to be in that segment of the market, we absolutely recommend it. If you're looking for a chair that will enable you to get on the court and compete, this is probably the one you want. For everybody else, it will be seen as interesting but not something to seriously consider buying.
Comparable Products to Consider
Not a basketball player? If you aren't, but you want to explore the world of sports wheelchairs more deeply, here are a couple of other options that deserve your attention:
If tennis is more your speed, you should know that the same company that makes the chair we just talked about makes another model called the Match Point, which is optimized for the tennis court.
Like the All Court, it's a spectacular design that gives you virtually unlimited customization and personalization options.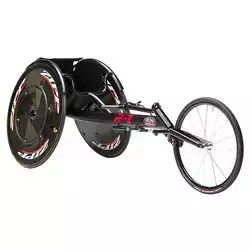 If racing is in your blood and you want to go FAST, then this is the chair you want. It's an almost stunningly good design and built for speed. You may not be able to afford it, but you'll absolutely love it.
---
References and Resources: