Summary
The Quickie Match Point is a top-notch specialty wheelchair optimized for the tennis court and one of Quickie's best values.
Recommended For: Anyone who weighs up to 250 pounds and is itching to get back in the game.
*Note regarding Brand Reliability: This metric is a measure of the strength and longevity of the brand, which by extension, is a measure of the level of support you can expect.
Before your mobility issue, did you play tennis? Do you miss it? Have you been searching for a way to get back on the court? If you answered yes to the questions above, this is the answer. And you're going to love what you read in this⁠—our Quickie Match Point review.
Haven't heard of the company? We'd be surprised if you had. While Quickie sports wheelchairs are wildly popular and the company is highly respected in the industry, these are, at the end of the day, niche products.
They're pricey, and unless you play one sport or another (the company makes a variety of models), you're probably not going to be all that interested in what they have to offer.
That said, if you were a sports enthusiast before your mobility issue, you could be again. And if you love the game of tennis, then this chair belongs on your shortlist of options to consider.
In the following sections, we'll show you why, and we'll step you through the surprisingly involved ordering process, illustrating how amazingly customizable these chairs are.
Even if you're not a tennis player, by the time you reach the end of this review, we think you'll be impressed. If your interest is piqued, read on, and let's take a closer look.
An Overview of the Quickie Match Point Tennis Wheelchair
Sports wheelchairs by Quickie all have a very distinct appearance. This one features wheels that are angled inward and offer a wide stance⁠—which is perfect for the tennis court⁠—offering a fantastic combination of stability and mobility.
The swept-in wheels help give the chair a graceful, elegant look. It's a handsome chair, making it a rarity in an industry that's not known for creating graceful, great-looking products. Even better, if you decide you want one of these, you can order yours in a staggering range of colors, and we'll talk more about that in the next section.
Normally, this would be the part where we'd list the basic stats and design specs for the chair, but here in our Quickie Match Point review, we're going to do things a little differently.
The reason for that is the fact that almost every aspect of the Quickie wheelchair can be customized to taste, which means that the chair you ultimately get will fit you like a glove. Unfortunately, it also means that you'll need to take a number of careful measurements before you step through the ordering process.
It's a little time-consuming but well worth the bit of extra effort required.
In any case, that's what we'll do next⁠—step through the ordering process, which will simultaneously outline the capabilities of the chair and the measurements that define it.
Ordering a Quickie Tennis Wheelchair
This is really the heart and soul of our Quickie Match Point tennis wheelchair review, and one thing you'll note about this company is they don't make "stock" wheelchairs. All of their designs are incredibly customizable, giving you the freedom and flexibility to get exactly what you want and ensure that when the product reaches your door, it fits you perfectly.
Ordering the wheelchair is no exception, but as we mentioned, it comes with a tradeoff. You've got to commit to taking a number of measurements in order to complete the process.
For reference, we'll be using the online ordering form here to step you through the process if you want to follow along.
The first decision you'll be asked to make is what color you want your Match Point to be.
Many wheelchairs don't offer a lot in the way of color selection, but here, you'll be absolutely blown away. The color options you can pick from are as follows:
The last four color options are considered premium and will add an additional cost to the base price. If you want them, you want them, and you may find the custom paint jobs to be worth the added expense.
Next up, you'll get to select your frame length. There are three options here: short (15″), medium (17″), and long (19″).
Then, your seat width. Depending on your measurements, you can choose between 12″ to 20″ in one-inch increments. Then, if a whole inch increment doesn't provide a perfect fit, you have the option of adding an extra half-inch in the "Optional Seat Width" section just below this one.
Where seat height is concerned, you've got all sorts of options. The front seat height can be set to your choice of 16″, 17″, 18″, 19″, 20″, or 21″, while the rear seat height options are 13″, 14″, 15″, 16″, 17″, 18″, 19″, 20″, and 21."
Similarly, you can specify your seat depth, choosing anything between 10″ to 20″ in one-inch increments.
The standard seat design for this chair is the seat sling, but if you prefer, you can spend a little extra and get a half-deep seat pan, with or without the 2″ seat cushion. If you're going to get the seat pan, we recommend the cushion unless you're planning to buy something custom, like a memory foam seat cushion, which you can pick up in the aftermarket.
After that, make your rear seat height selection, choosing from a range of 13″ to 21″ again, in one-inch increments.
Then, front seat height, choosing from a range that spans 16″ to 21″ in one-inch increments.
The seatback type is next, and you can choose either a folding or non-folding backrest, depending on your preference.
If you thought you were done with the ordering process, you're not even close (and we regard that as a good thing!). Next, choose your seat back height. 9″ is the lowest you can go. You can also select a fixed 10″ to 13″ range, a fixed 12″ to 16″ range, a fixed 15″ to 18″ range, or a fixed 17″ to 20″ range, at your option.
Then, you get to select your back upholstery. Only two options are to be found here. You can choose standard (PU) or "Adjustable Sports," which is more breathable and ultimately more comfortable. If you're serious about the game, we recommend the latter, even though it will cost you extra.
Footrest is next, and you can choose from either platform or high mount platform, depending on your preferences. You can also add neoprene impact guards if you like.
You can order your camber tube at either a sixteen-degree or twenty-degree angle.
Where your axles are concerned, you can select either stainless steel quick release or quick quad release.
Wheel type is next. Most of the choices here are 24″ variants, but there is one 26″ variant if you're interested in larger wheel sizes. Once you make that selection, you can choose between high-pressure clincher or turbo tread tires.
From there, you select your hand rims. Your two options here are aluminum anodized or black plastic coated.
On the subject of anti-tippers, you can pick either rear anti-tip integral or rear anti-tip quick release, as you prefer.
There are four different spoke guard options: clear, black, high profile sport, or low profile sport. This is mostly a matter of aesthetics, so whatever looks cooler to you, go in that direction.
Then, you can select either plastic side guards with clamps or aluminum folding side guards.
You can also add a backpack or seat pouch here. This is actually a bit perplexing because the company offers a wide range of extras you can purchase, but for some reason, the backpacks and seatbelts are given their own section.
As hinted at above, seatbelts are next, and you've got four different options you can choose from.
Finally, the last of the accessories, which include yet another safety belt option (chest straps), a backrest crossbar pad, tire pump, toe clips, and 5th wheel support if you want it.
As you can see, buying a Quickie Match Point is not a trivial task. There are a lot of decisions to be made, so you'll want to review this list and take all the measurements you'll need before you start.
In our view, it is well worth the time and effort because the end result is a chair that fits you beautifully and becomes an extension of yourself, which almost can't help but improve your game.
This Chair is Not Optimized For Comfort
Although you can order a 2″ seat pad from the company, and in spite of the sleek, elegant look of the chair, the reality is that this chair is not really optimized for comfort. It's just not a chair designed to spend the better part of a day in.
Sure, it provides a reasonable level of comfort for the duration of a match and perhaps a bit longer than that, but this isn't a lounging chair by any means, so we'd rate this as being only an average component of our Quickie Match Point review.
The good news is that if you decide you want to enhance the chair's comfort level, that's easy to do in the aftermarket (provided you selected the seat pan option—if you chose the sling option, then there's not much that can be done).
Pros & Cons of Quickie Sports Wheelchair
As we said at the start, at the end of the day, this is a niche product. It's pricey and meant to be used on the tennis court, which means you'll still need to buy a "regular" wheelchair. As such, something like this is going to be out of the reach of most people on a budget, no matter how much they love the game of tennis.
That's about the only negative thing we can say about it. Assuming you can afford one, if you love tennis, you'll straight-up love this chair and the fact that you can customize just about every aspect of it.
Quickie Match Point Review Conclusion
We love this chair, although we readily admit here in our Quickie Match Point review that it's only going to appeal to a tiny slice of the market.
If you have been looking for a way to get back into the tennis court, this chair belongs on your shortlist of options to consider. It's amazing.
If you don't care anything about the game, then while this is undeniably a cool-looking chair, it's probably going to feel overpriced for what you're getting.
Comparable Products to Consider
If you read this review with interest, but tennis just isn't your game, here are a couple of other options to consider:
Quickie All Court Ti Sport Wheelchair
Recommended For: Athletes who play different hard court sports. The frame is made from titanium, which is more expensive but has many customization options and storage.
If you prefer basketball over tennis, then you owe it to yourself to check out our All Court review. It's an incredible chair offered by the same company as the one we just talked about but optimized for a different sport. Not to be missed.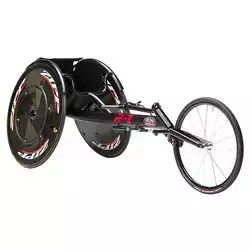 Do you have a need for speed? If so, then you should check out our review of the R1 by CarbonBike. Like the chair we just reviewed, it's not going to be for everyone, but if you're interested in racing or just like going really fast, then this is an amazing chair that might be perfect for you.
---
References and Resources: