Summary
A solid design, the Ranger Pathfinder X6 chair is optimized for use on flat, paved surfaces. It doesn't do well on uneven terrain. It is recommended for any frequent traveler who weighs 265 pounds or less.
* Note regarding Brand Reliability: This metric is a measure of the strength and longevity of the brand, which by extension, is a measure of the level of support you can expect.
Do you have a mobility issue that requires you to use a wheelchair or scooter for at least part of each day? Do you love to travel by air? If so, then you already know what a challenge it can be to find a powered wheelchair or scooter that's light enough to take onto the plane with you without draining your bank account.
While there are a few ultralight-powered models offered by the big, established brands, the fact is that such a product is highly specialized and the market for it is really quite small.
After all, these types of chairs make relatively poor choices for everyday use. The people who buy an airplane-friendly travel model will also need a budget that's robust enough to support that, plus another wheelchair or scooter for everyday use.
Since the major brands have mostly left this segment of the market alone, several smaller companies have stepped into the gap. Porto Mobility is one of these, and their Ranger X6 is a surprisingly capable, though somewhat narrowly targeted machine.
There's a lot to like here. In the sections that follow here in our Ranger Pathfinder X6 review, we'll not only tell you everything this little chair has to offer, we'll also point out the things that the Ranger doesn't do so well. That way, you'll have all the details you need to decide if this is the travel chair you've been looking for. If that sounds good to you, read on, and let's have a closer look.
An Overview of the Porto Mobility Ranger X6 Super Lightweight Wheelchair
Aesthetically speaking, the X6 Ranger is about as basic and bare-bones as it gets. Crafted from tubed aluminum with a modestly padded mesh seat and seatback, this one won't win any beauty contests. Most people are fine with that, though, because most of the chairs on the market today fall broadly into that category. They're generally designed with thoughts of function over form.
Before we say more than that here in this section of our Ranger Pathfinder X6 review, let's take a quick look at the chair by the numbers. Here's a quick overview:
Overall Product Dimensions: 24" (W) x 40" (D) x 34 (H) Folded Dimensions: 15" (W) x 40" (D) x 34" (H)
Seat Dimensions: 17" (W) x 17" (D)
Top Speed: 4.5 mph
Maximum Range: 10 miles with one battery, 20 miles with two batteries
Maximum Climbing Angle: 12 degrees
Wheel Size: Front: 7" x 1.75" Rear: 9" x 1.85."
Ground Clearance: 4."
Chair Weight: 41 pounds without batteries. 46 pounds with batteries.
Turning Radius: 31."
Maximum Supported Weight: 265 pounds
For the most part, these are good numbers. The chair is about average size and narrow enough so that it will easily pass through a standard-width door frame.
A significant percentage of the chairs on the market today have a top speed of four miles per hour.
The fact that this one is faster is a very good thing. Granted, it's only half a mile an hour faster, but that makes the Ranger X6 a bit better than average. It's still not a speedster by any means, but it's not horrible, either.
The range is very good, and we like the fact that you have the option of buying either 1 or 2 batteries, at your option. Though given that each battery only weighs a couple of pounds, we can't envision too many scenarios where a user would intentionally cut their range in half.
We love the fact that the Porto Mobility Ranger super lightweight wheelchair has a 4" ground clearance, which makes it capable of handling a wide range of terrains. Combined with the impressive slope handling, there's not much that the Ranger can't handle.
While it's true that you can't take it down a hiking trail, it'll handle just about everything else easily enough.
At 31," the turn radius isn't great. Unless you live in a tiny house or an efficiency apartment, you shouldn't have too many issues with it.
Unfortunately, the weight limit is a point of genuine weakness. Most of the chairs on the market today can support at least 300 pounds, and sometimes support far more than that. This one can't quite rise to the informal standard, and that's unfortunate. The chair is still useful to some 85% of the market, but if it supported 300 pounds, that percentage would rise to about 95%.
The weight of the chair, however, is the headline number. Forty-six pounds (with batteries!) is almost insanely light.
There are plenty of manual wheelchairs that weigh that much or even more. That makes the Ranger incredibly travel-friendly.
Adjustability and Comfort of Porto Mobility Ranger Super Lightweight
As is the case with most of the chairs and scooters offered by smaller brands, there's nothing adjustable with the Porto Pathfinder X6. What you see is what you get. The seat height is static and sits 18" off the ground. The armrests aren't adjustable in any way. There is also no headrest on the chair, so nothing adjustable on that front either.
Comfort-wise the Ranger is adequate, at best. It utilizes modest amounts of conventional block foam as padding with a breathable mesh material stretched over it. While it doesn't offer a luxurious seating experience, it's reasonably comfortable for shorter periods of 1-2 hours. Longer than that, though, the chair will get increasingly uncomfortable.
If your plan is to spend longer periods of time in the chair, you'll definitely want to invest in some additional padding. The good news is that there are tons of padding options available. You can find everything from gel packs to memory foam, so you can make the Ranger as comfortable as you'd like it to be.
Extras and Options of Porto Pathfinder X6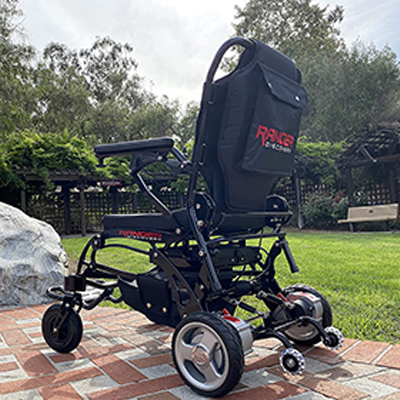 The Porto Mobility Pathfinder sports one small extra. On the back of the seat, you'll find a modestly sized storage pouch. We regard storage as being an essential component of any good travel chair. While the pouch isn't huge, it's big enough to be genuinely useful.
You'll almost certainly want to further enhance the chair's storage capacity, but we're thrilled to see at least some built-in storage on offer.
Unfortunately, that's the only extra there is, and the company doesn't sell any accessories for their chair. There are plenty of customization options available in the aftermarket, though, so you can still customize and personalize your chair as it pleases you.
Portability & Ease of Use
If you decide to buy one of these, everything we've said to this point is window dressing. This, the extreme portability, is the reason you'll choose the Porto Mobility Ranger X6 power wheelchair over some other. The Ranger presents a delightfully small folded footprint that will fit easily into the trunk space of most full-sized sedans and even a few smaller vehicles. It's a snap to store it in a truck, van, SUV, or hatchback.
Even better, it's not markedly heavier than an airplane-friendly manual wheelchair, so it won't cost you significantly more than those to take the Ranger on a plane with you.
If you decide to take it on an air trip, though, be sure to call whatever airline you're planning to fly with to be sure you understand what their policies are so you don't have any surprises when you arrive at the airport with your ticket in hand!
In terms of ease of use, the joystick controller used here is functionally similar to the controllers you'll find on every other electric wheelchair on the market. There are no surprises here, and it will only take you a few minutes to master the basics of the controls.
Pros & Cons of Porto Mobility Pathfinder
Porto Mobility might be a small brand, but the Porto Ranger X6 is nothing to sneeze at, and it definitely shouldn't be discounted, especially if you're a frequent flier.
While it's got its share of shortcomings and limitations, all of them arise as a consequence of the company's decision to keep the Ranger as lightweight as possible. So, there's not much we'd change if given the opportunity to do so.
Ranger Pathfinder X6 Review Conclusion
The weight limit of the chair, more than anything else, makes the Ranger a self-selecting chair. We'd say here in our Ranger Pathfinder X6 review that the ideal user for this model is someone who:
Weighs 265 pounds or less
Has the money to buy this chair, and something else for everyday use
Travels frequently
If all three of those apply to you, this chair belongs on your shortlist of options to consider. If not, you'll probably be unimpressed. On that basis, we provisionally recommend it.
---
References & Resources: