Summary
While some aspects of this design are masterfully engineered, the design team was too clever for their own good, and the various elements that make up this scooter wind up not working very well together.
Recommended For: We wanted to like this model, but in the end, it just has too many strikes against it. We cannot recommend it.
*Note regarding Brand Reliability: This metric is a measure of the strength and longevity of the brand, which by extension, is a measure of the level of support you can expect.
Do you suffer from some type of mobility issue? Have you been on the hunt for a portable, lightweight, capable scooter to help expand your horizons?
If you answered yes to the questions above, you might have been tempted by the Relync R1 ultra lightweight. Before you buy, we urge you to take a few minutes to read this Relync R1 review. If you do, you may well wind up changing your mind.
It's not that the R1 scooter is an inherently bad design. It's better than average, and it does have a few strong selling points that may be exactly what you're looking for. On the flip side, though, the design team made a number of unfortunate design decisions, which make this model a lot less attractive than it first appears.
In the sections that follow, we'll step you through all of that, both the good and the bad, so you'll have all the information you need to decide if this is indeed the scooter you've been looking for or if you'd be happier going in some other direction.
If that sounds good to you, read on!
An Overview of the Relync R1 Electric Scooter
First impressions matter and those are mostly governed by aesthetics. To be sure, the Relync R1 electric scooter shines here. It's an attractive little machine, sporting a sleek, modern look.
Of course, people who suffer from mobility issues care about aesthetics like everyone else, but what matters more is functionality and capability. Does the scooter solve a particular problem, or not?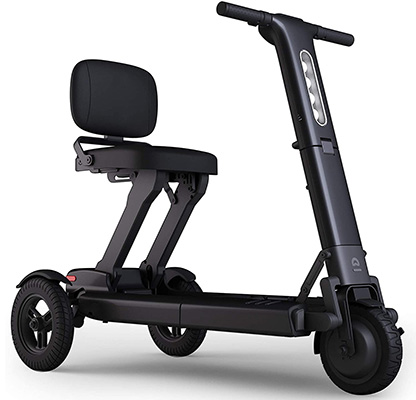 To answer those types of questions, we'll need to start by taking a look at the design by the numbers.
Here are the basics:
Overall Product Dimensions: 25.5" H x 18.7" W x 29" L
Seat Dimensions: 16" x 16"
Turning Radius: 61"
Seat to Floor Height: 18"
Top Speed: 4 mph
Range: 18.6 miles to a charge
Wheel Size: 8" front, 10" rear
Ground Clearance: 5"
Chair Weight: 59 pounds
Maximum Supported Weight: 265 pounds
Some of these numbers are quite good, but there are some problems that jump out at us immediately.
Starting with the good, we love the smallish footprint of this model, the seat to floor height is fine, the range is quite good, and the ground clearance is superb.
It seems clear that the design team wanted this scooter to be useful in a variety of situations and over a diverse set of terrains. With a 5" ground clearance and decent tread on the wheels that come standard with the scooter, it can trundle along over even moderately challenging outdoor terrains with minimal risk of getting hung up on something.
The bloom begins to come off the rose a bit for us when it comes to the top speed. Four miles per hour isn't very fast. Sure, it beats walking, but not by much. If you're looking for a scooter with some zip, we believe here in our Relync R1 review that this one will leave you feeling underwhelmed.
And then there is the supported weight limit.
Most scooters and wheelchairs can support at least 300 pounds of user weight, with big and tall models naturally designed with ruggedized frames that are capable of supporting even more.
A few products, however, can't quite rise to the occasion and meet the informal 300-pound weight limit standard. The Relync R1 electric scooter is one of those, and that automatically limits the appeal of this model and the size of the market for it.
Unfortunately, the problems don't stop with the modest weight limit. Check out the turn radius of this model. Take note of its seat size and total weight, and remember that this model is being marketed as an ultralight. It's not.
At nearly sixty pounds, it's not hard at all to find mobility scooters that weigh significantly less.
Most of the shortcomings that these numbers represent wouldn't be outright dealbreakers for most people (with the exception of the weight limit), but collectively, they describe a narrowly focused scooter that simply doesn't live up to its own marketing hype. We'll explore that more fully below.
Adjustability and Comfort
One of the common threads you'll find running through the Relync scooter R1 reviews you read online is the fact that the scooter just isn't all that comfortable.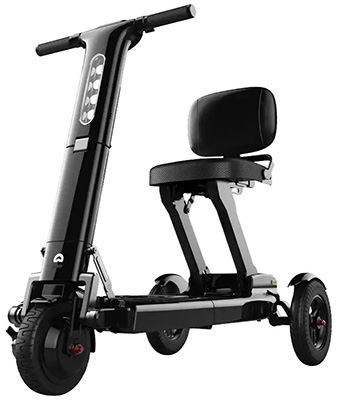 The seat is smallish in size, even given this model's modest weight limit. It's also padded with a modest amount of conventional block foam, with vinyl upholstery stretched over it.
That's fairly standard, but note the conspicuous absence of armrests here. At top speed, you could run this scooter for 4 hours before you'd need a recharge, but the scooter's seat simply isn't comfortable enough to accommodate that.
Not only will the vinyl upholstery make you hot and sweaty in short order, but the seat feels rickety. You'll also notice lots of creaks, squeaks, and groans as you shift your weight in the seat and drive around on the scooter. Not good.
Also, there's nothing about this scooter that is adjustable. It's strictly "what you see is what you get," so unless your measurements align perfectly with the scooter's, it's not going to be all that comfortable to use, and there's exactly nothing you can do in terms of on-board adjustments to fix that.
Sure, you could improve things a bit by investing in some additional padding for the seat and seatback, but that's not going to solve the rickety feel of the seat and may even make that problem worse.
Extras and Options
This is another point of relative weakness in our R1 scooter review. There's only one extra on offer here. It has LED headlights.
While that's good, there are sadly no anti-tippers, no safety belt, no built-in storage. If you want any of those things, you'll have to buy them separately at the aftermarket.
That, too, is a bit of a problem because if you check out the Relync R1 electric scooter's price, you'll see that the company is demanding a hefty premium for its product. After spending almost two thousand bucks for the scooter itself, depending on your budget, you may not have much, if anything, left over for the customizations you want.
Portability & Ease of Use
Thankfully, this is a bright spot in our Relync electric scooter review, but, even here, there are some points of weakness.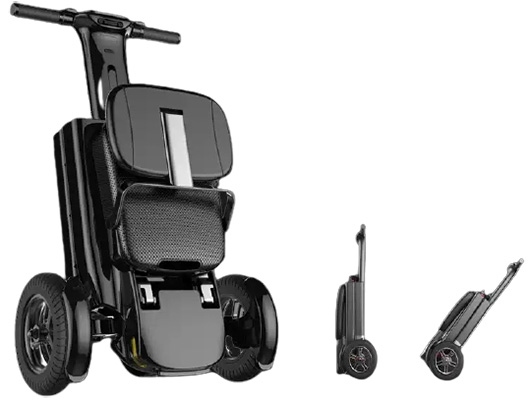 Starting with the good, we should point out that the R1 won design awards for its excellent engineering, and to the company's credit, they did a great job. It's a sharp-looking product that literally folds up for transport in three seconds flat. Collapsing it down for travel couldn't be easier.
Unfortunately, as we mentioned at the start, the company tries to market this as an "ultralight" scooter, but you can find plenty of other products on the market that weigh significantly less. At nearly sixty pounds, some prospective buyers may struggle to heft it into their vehicles when they want to hit the road.
The small footprint helps, of course, and the R1 will fit in the trunk of just about any mid-sized sedan with room to spare. Of course, if you have a truck, van, or SUV, storage is even easier, but there's no getting around the weight issue. It's probably not so heavy that it will wind up being a deal-breaker for many, but it may pose a problem for some, and that's a pity.
Unfortunately, even here, in one of the bright spots of the review, we find a few nagging issues.
The turn radius is a problem.
Since it takes more than 5 feet of space to turn around, this scooter is going to be difficult to use indoors if you live in a smaller home or apartment, and it's a complete non-starter if you own an RV and spend lots of time traveling in it and want to take your scooter with you to campgrounds.
In addition to that, a number of Relync R1 reviews we found on the web make mention of the fact that while the display panel is well designed, it's virtually invisible in any sort of light. So if you're outside on a sunny day, you probably won't be able to read your display.
Pros & Cons of Relync R1 Scooter
As we said at the start, we wanted to like the Relync R1 ultra lightweight scooter, but several of the decisions the design team made conspired to make that virtually impossible. Even so, this scooter does have a couple of strong selling points.
In our view, its best features are:
It's an extremely attractive scooter with a sleek, modern design.
It's got fantastic ground clearance that makes it useful on a wide range of terrains.
It's very easy to collapse, and it has a delightfully small footprint.
And it's got a range that's significantly above average.
On the other hand, it has a number of fundamental problems, which include:
It's expensive, especially for a scooter being offered by a small, off-brand company
Not at all adjustable.
No extras on offer, beyond headlights
Not very fast.
Not very comfortable.
Doesn't support much user weight.
Relync R1 Review Conclusion
While we feel certain that some users will find the strongest point of this design to be compelling; unfortunately, we find them to be completely overshadowed by this scooter's negatives.
We believe here in our Relync R1 review that if the company had put the same level of effort into the rest of the design that they obviously put into engineering the fast-collapse feature, this could have been a masterful design. As it stands now, we cannot, in good conscience, recommend it.
Comparable Products to Consider
Since we're unable to recommend this particular model, here are a few others you may want to consider:
Go-Go Elite Traveler by Pride Mobility
Recommended For: Anyone weighing up to 300-pounds, but especially those who love to travel. This is designed for flat, level terrain, not an off-road scooter.
Not only is this scooter offered by one of the biggest and most respected brands in the industry, but it also costs hundreds of dollars less and is brimming with extras.
iLiving V8 Foldable Electric Mobility Scooter
Recommended For: Anyone weighing up to 275 pounds. Even if you're not a fan of off-brands, this one's well worth considering, provided that you don't exceed its modest weight limit.
Comparably priced, also an award-winning design, but a much more robust design and, again, brimming with extras.
Comparably priced, sleek and stylish, more capable, and with more extras. Even better, this one's available in a variety of colors, too!
---
References & Resources: