Summary
Rocket Mobility Tomahawk All-Terrain Wheelchair is equipped with a steel frame and tracked wheels that allow it to travel over any type of outdoor surface. It's powered by a joystick, making it suitable for people with limited upper mobility and anyone looking for a budget-friendly track chair.
If you're in a wheelchair and think there isn't a powerchair on the market that can handle the wildest terrains, think again.
Offroad wheelchairs come in a multitude of designs, giving people with disabilities the freedom to explore outdoors and enjoy nature on their terms.
If you've been dreaming of a motorized offroad chair, then you'll probably love our Rocket Mobility Tomahawk review! We examine everything this device has to offer to the intrepid explorer.
Rocket Mobility Tomahawk All-Terrain Tracked Wheelchair Design Overview
For this review, we're heading to Lincoln, Nebraska – home of the Rocket Mobility Tomahawk All-Terrain Wheelchair. The Rocket Mobility brand is small, however, their track chair is anything but that.
Upon first glance, you might think this offroad machine is a mad scientist mix of a riding lawnmower, military tank, and mobility device.
The large, heavy 420 lb–build is thanks to a solid steel frame outfitted by revolving caterpillar track tires, all powered by a set of 2,880-watt electric motors.
This track chair can handle anything mother nature throws at it – from tight 0" radius turns in snowy slush to conquering rocky trails like a warrior.
The brain behind the design, Brice Crawford, created the Tomahawk as an easy and reliable way for people with disabilities to get outdoors, especially in rural areas.
It's as sturdy as an all-terrain chair can get, with a user-friendly left or right-sided joystick control that enables anyone to enjoy the merits of the land.
It's even suitable for larger body types, carrying a max weight capacity of 400 lbs.
Bear in mind that this type of track design with large, rubberized tires means it isn't suited for indoor use. With dimensions of 44-48.5"L x 36"W x 38"H, it's difficult to transport in tiny spaces.
But outdoors, it's all power and grace. Besides its exceptional turning capabilities, it can climb a 45-degree slope with finesse. This is perfect for farmers, hunters, hikers, or for working on a construction site.
Now if you're all about speed and distance, the Tomahawk may not be the best match. It only gets around 7 miles per battery charge, and its top speed is 4 mph. There are definitely other all-terrain options on the market that can feed your need for speed if it's a priority.
Another important factor to keep in mind is that the Tomahawk is manufactured by a small company. You won't find much information in regards to manufacturer support. This takes away the notion of a track record to give you peace of mind.
But you might not mind the gamble when you compare the Rocket Mobility Tomahawk price to other track chair prices on the market. It's the most budget-friendly option at around $10,000.
Next, we'll roll into the features so you can see exactly what this behemoth can do and whether it's the right all-terrain chair for you!
Rocket Mobility Tomahawk Wheelchair Features
The Rocket Mobility Tomahawk All-Terrain Tracked Wheelchair might look intimidating, but its design is actually quite minimal.
You won't find tons of customization options, which might be a drawback for some. But what it does offer is top quality, and it's completely geared to give you a good time in nature.
Comfort and Safety
Simplicity has its benefits, and with the Tomahawk, it couldn't be closer to the truth.
The intuitive joystick control panel is easy to use, so you won't have to jolt your way through a learning curve with a bunch of buttons.
You do have to get used to how a track chair rolls though. But this isn't anything uncomfortable, just different from the traditional wheelchair.
Comfort is basic but standard for this type of rig. The Tomahawk comes with a large, thick Captain's chair that provides ample support and sits you up high where you can see what's looming on the trail. The seat width is 19.5" and the seat height is 23".
We mentioned it's super durable, right? The steel frame alone ensures a safe, reliable ride through the wilderness compared to the lightweight aluminum of other offroad chairs.
Even when you're rocketing up slopes, specialized rear anti-tip wheels will keep you situated in place instead of rolling backward.
Adjustability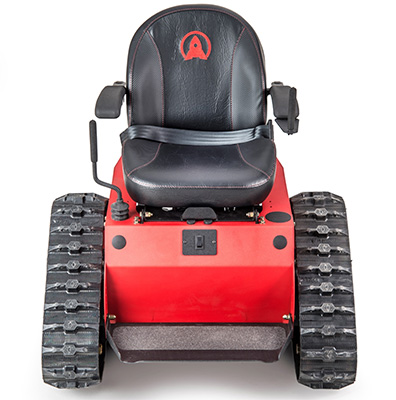 The adjustability on this thing is the bare minimum. But if you pay close attention to the seat height and width in correspondence with your dimensions, then you'll be able to tweak the seating a bit for an enhanced fit.
The lap belt is fully adjustable and non-restricting, while the armrests flip-up for easier vehicle transfers.
While some users prefer to fully modify their wheelchair, this isn't the case with the Tomahawk. But the overall design is still comfortable, while the motors take care of everything else.
Portability
Transportation is the one area where the Tomahawk might make you cringe. It's a big ol' thing that certainly doesn't fold or disassemble. That means it won't fit inside your car's trunk or even the trunk of an SUV.
Instead, be prepared to budget for your transportation method because the Tomahawk can only be hauled either…
Inside a van via a ramp
In the bed of a full-sized pickup truck via a ramp
Loaded into a pull-behind trailer
Attached to a large lift installed on the back of the vehicle.
Probably the biggest gripe about this is the extra expense. Depending on the type of vehicle and equipment on hand, you'll either spend very little or a bunch.
It's a good idea to put in the research before deciding on an offroad vehicle of this capacity, as even a car with a lift might not be the safest option.
We will say though that the Tomahawk isn't the only track chair with a transportation issue. This is the same story across the board with every track chair on the market.
Accessories
With a bare-bones design, you can also expect bare-bones accessories that come with the base model.
That's right, you won't find any fun extras included with the Tomahawk. However, there are plenty of accessories that you can purchase separately. This includes:
Custom frame colors
Racing seat with the option of a 4-point harness
Extended lap belt
Self-leveling drink holder
Fishing rod holder
Single LED headlight
Carrier for receiver hitch
Gun grip holder
Gun scabbard
Small side utility box
Large rear utility box
Rocket Mobility Tomahawk All Terrain Wheelchair Pros vs. Cons
PROS
CONS
The Rocket Mobility Tomahawk All-Terrain Wheelchair is a heavy-duty track chair that looks more like a mini tank crushing everything in its path than your standard mobility device.
But behind the cold steel frame and rubber track wheels, it's a highly durable, comfortable device that enables people of all disabilities to venture outside on any type of terrain.
A huge plus is that it's motorized, with a user-friendly joystick control panel that can be installed on either the left or right side of the chair.
It also comes with several outdoor accessories that make this ideal for hunters, farmers, and fishermen – although it's disappointing that you have to purchase these items separately.
Probably the biggest drawback with the Tomahawk is that it's a pain to transport if you don't have a ramp and the right vehicle.
But if you have been eyeing track chairs, then this is an excellent model. Not only is it built strong to safely handle rugged land, but it's also much more affordable compared to other track chairs on the market.
Just be prepared to sacrifice speed and distance. You won't get very far on a single battery charge, which might prompt you to consider purchasing solar panels to extend the range, but that's another investment, right?
We recommend the Rocket Mobility Tomahawk All Terrain Wheelchair for:
Larger body types, weighing up to 400 lbs
People with weak upper body strength who can benefit from the joystick control
People who live or work in rural areas
For traveling over hiking trails, snow, sand, rocks, and broken tree limbs
Rocket Mobility Tomahawk All Terrain Wheelchair Warranty
Rocket Mobility offers a One-Year Limited Warranty on the Tomahawk All-Terrain Wheelchair.
Comparable Products to Consider
If you've made it this far in our Rocket Mobility Tomahawk review and are still questioning whether the Tomahawk is the best wheelchair for your needs, we've compiled a list of similar products for comparison.
Action Trackchair
With five models, 14 sizes, and over 30 customization options, you can make this all-terrain chair exactly how you desire. It comes with high-tech features such as the option to go from a sitting position to standing with the push of a button and a 'tilt on the fly' seat adjustment system for the most comfortable fit. While it is versatile, it's more expensive than the Tomahawk.
TrackMaster All-Terrain Wheelchair
TrackMaster Series 1 Model
Recommended For: Anyone looking for a heavy-duty tracked wheelchair equipped with high-tech military-grade components.
This heavy-duty tracked wheelchair is manufactured by a veteran-owned company, with high-tech military-grade components that allow users to travel comfortably and safely over any type of terrain, including water with a depth of 12 inches.
TracFab Gas and Electric Wheelchairs
TrackMaster Series 1 Model
Recommended For: Anyone looking for a heavy-duty tracked wheelchair equipped with high-tech military-grade components.
This Pennsylvania-based company produces two types of tracked wheelchairs for outdoor use. One is battery powered and the other type is gas-powered. These chairs are popular with outdoorsmen and farmers due to their long-range capabilities and heavy-duty construction.
Rocket Mobility Tomahawk Review Conclusion
Your dreams of adventure in the outdoors can become a reality with the right offroad wheelchair. That means it's durable, easy to handle, and most importantly, it keeps you safe.
The Tomahawk checks all of those boxes, especially since it can roll over pretty much anything with its caterpillar wheels. It's the perfect mobility device for those with limited upper body strength, who rely on powered devices to get around.
To conclude our Rocket Mobility Tomahawk review, this design isn't the most practical for everyday use, but for those who love the look and feel of a track chair, the price is much more affordable than other track chairs on the market.
---
Resources & References: