Summary
Rubicon is a surprisingly capable, unlikely little scooter, offered by a brand you've probably never heard of.
Recommended For: Anyone on a budget, weighing up to 300 pounds who's in the market for a highly portable, travel-friendly scooter.
*Note regarding Brand Reliability: This metric is a measure of the strength and longevity of the brand, which by extension, is a measure of the level of support you can expect.
Do you have some type of mobility issue that sees you spending at least part of each day in a wheelchair? Do you find yourself dreaming of upgrading to a scooter instead? Are you on a budget and looking for something cost-effective, reliable, and maybe even travel-friendly too?
If you answered yes to those questions, then the little Wildcat, offered by ComfyGo, is going to surprise and intrigue you.
ComfyGO is by no means the first company most folks think of when they consider investing in a scooter or an electric wheelchair. The brand is not especially well known, and they import most of their products from China for resale here.
It's not that their products are bad; they're actually surprisingly good, but the quality isn't quite up to par with what you find available by the big, robust brands. This is reflected primarily in the warranties on offer. Most of the big brands offer 5-year, limited lifetime, or lifetime warranties on their scooters, while ComfyGo offers one year.
We note here in our Rubicon Foldable Scooter review that even though this machine isn't quite of the same quality, it represents good value for the money. In the sections that follow, we'll put the Wildcat under the microscope, examining everything it has to offer and outlining where we feel it comes up a bit short. If you're on a budget, you'll find a lot to like here. Even if you ultimately decide to go with a different model, we think you'll be impressed.
An Overview of the Rubicon Foldable Mobility Scooter Extreme 4
This is a very basic, minimalist scooter. While many designs offer a sleek, refined, polished look, this one focuses almost entirely on function and pays relatively little attention to form. It's not ugly; it's just somewhat Spartan. That's not necessarily a bad thing, but if you're looking for something sporty, this one will probably disappoint.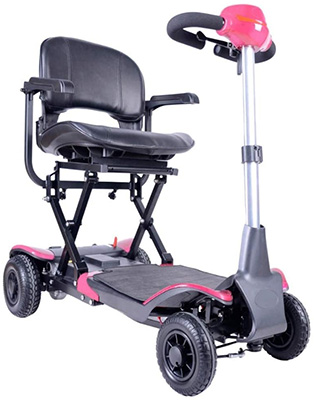 Before we say more than that in this section of our Rubicon foldable scooter review, let's take a quick look at the core stats that define this model. Here's a quick overview:
Overall Product Dimensions: 24" (W) x 39" (D) x 20" (H) (folded dimensions are 24" (w) x 28" (d) x 21" (h))
Seat Dimensions: 17" (W) x 18" (D)
Top Speed: 4 mph
Maximum Range: 13.7 miles
Wheel Size: front: 7" x 2" back: 8" x 3"
Maximum Climbing Angle: 10 degrees
Turning Radius: zero-turn
Ground Clearance: 2"
Chair Weight: 65 pounds
Maximum Supported Weight: 300 pounds
These numbers are good overall, with a few that underwhelm us and a few others that serve as genuine surprises. First and foremost, it's got a surprisingly small footprint. It's not a big machine at all. That's good because it makes it highly portable. Note the folded dimensions! That's not much bigger than a manual wheelchair!
The seat dimensions are about what you'd expect on a machine with a 300-pound supported weight limit and should provide a comfortable fit for most of this chair's users.
Unfortunately, the top speed leaves us wanting. Four miles an hour is definitely not speedy. Someone out for a powerwalk will likely outpace you, so don't get this model if you want something speedy. If you're not in a big hurry to get where you're going, it will serve you well enough.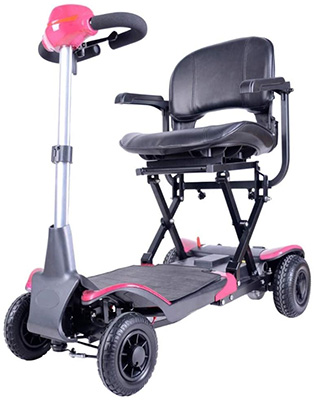 The maximum range is average, but trending toward the high end of average. It's not spectacular, but the Wildcat has enough range to make it genuinely useful.
One thing to note, though, is the ground clearance. The company markets this as an all-terrain scooter. It isn't. With a scant 2" of ground clearance, you can use it on flat, paved surfaces, inside your home (mostly thanks to the zero-turn radius), and on flat, level ground with freshly cut grass. Much beyond that, though, and you're asking to get hung up on something.
It is surprisingly good at handling slopes, which we're very pleased with, and it supports an average amount of weight. The weight of the machine itself, though, is the real selling point here.
At just 65 pounds, this little scooter doesn't weigh much more than a standard wheelchair, which makes it exceptionally travel-friendly. We'll have more to say about that a little later. For now, it's enough to point out that it's incredibly lightweight, and that's a very good thing.
Adjustability and Comfort
There are no adjustable features on the Rubicon foldable mobility scooter extreme 4. What you see is what you get. The armrests are fixed in their positions, and the seat sits 20" off the deck.
The seat is connected to the deck by way of folding legs, much like you'd find in a camping chair.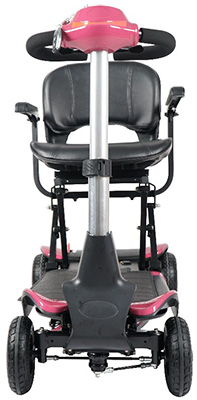 That's actually a really clever move by the design team, and part of what gives this model such a delightfully small folded footprint.
On the comfort front, the Wildcat is a bit wanting. The seat is only moderately padded with conventional block foam and upholstered with vinyl.
It's fine if you're only planning to spend an hour or two on the scooter at a stretch. If you mean to sit in the seat for longer periods, you're almost certainly going to want to invest in some additional padding for the seat and seatback.
Buying the extra padding will also help you get around vinyl's two big limitations: The fact that it's not breathable, which will make you hot and sweaty the longer you sit in on it, and the fact that vinyl tends not to age very well.
If you plan to use your Wildcat every day (or even nearly every day), and you're sitting directly on the vinyl, it will start showing its age by peeling and cracking after about eighteen months of use. Buying padding puts an extra layer between your body and the fragile upholstery, which will help make it last a bit longer.
Extras and Options
There are no extras built into the FDB01 Wildcat. Again, it's strictly what you see is what you get. Given the Wildcat's modest price tag, that's not really a surprise. Since it's not a terribly expensive scooter, you'll probably have some funds leftover that will allow you to shop the aftermarket for whatever accessories you might want.
There are tons of great options available, so the sky's the limit in terms of customization and personalization.
Portability & Ease of Use
Aside from its impressively low price, the other big reason you may gravitate toward this model is the fact that it's insanely portable. Not only is it incredibly lightweight for a scooter, but it also presents a surprisingly small folded profile.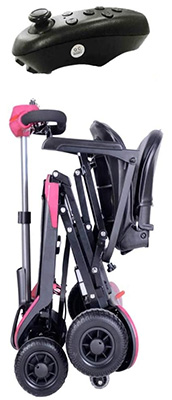 You'll have no difficulty fitting this scooter, folded, into the trunk of a full-sized sedan, and you'll have an even easier time of things if you drive a hatchback, truck, van, or SUV.
The battery that comes with this scooter is also airline-approved, so you should have minimal difficulty taking it with you on the plane when you fly. You'll want to call the airline you're flying with to double-check since each company sets its own policy. That's the kind of thing you want to know for sure before you show up at the airport, but most of the time, you won't have any difficulty at all.
Best of all, given its scant weight and the fact that it's not much heavier than a standard wheelchair, you won't have to pay an arm and a leg to fly with it.
The control system is a lesson in simplicity. It might take you ten minutes to master the basics and maybe five extra minutes to get used to the turning function. After that, you're well on your way to being considered a pro! Kudos to ComfyGO for doing a stellar job, both in terms of making a travel-friendly product and one that's so easy to use.
Pros & Cons of Rubicon Foldable Mobility Scooter Extreme 4
The single biggest drawback to buying one of these is the fact that it's offered by a smaller, relatively unknown company. ComfyGO has a pretty good reputation where post-sales customer service and support are concerned, but they're not as good as the big brands like Pride or Drive.
It's not necessarily a deal-breaker, but it is something to be mindful of.
The other thing to bear in mind is that this scooter has a 1-year warranty. That's a solid indication that it's just not of the same quality as the products offered by the big brands. Then again, it's significantly less expensive than most of the products offered by the big brands. If you're on a budget, that matters too.
If we could somehow gain the ear of the design team, we would ask that a safety belt be included as part of an upgrade, making that standard equipment. We'd also love to see a variant of this scooter that sat at least 4" off the ground, making it much more capable of handling a range of terrain, and a speed boost of some kind would be welcome indeed.
As you can see then, it's definitely got some limitations and those limitations will make it a poor choice for everyone. As long as you don't expect too much from this modestly priced machine, it really is a surprisingly good piece of engineering.
Rubicon Foldable Scooter Review Conclusion
We almost love the little Wildcat. We mentioned early on here in our Rubicon Foldable Scooter review that it falls just slightly shy of greatness, but even so, it managed to impress us. This is a surprisingly great little scooter, and we recommend it.
---
References & Resources: