Almost everyone who uses a wheelchair to help them get around could benefit from having a wheelchair seat lift. The problem ultimately comes down to money. Buying a wheelchair with a seat lift is an expensive proposition, and it is simply out of reach for most folks.
On top of that, most insurance companies don't regard the lift function as being medically necessary, which means that most policies won't cover the cost.
That means that wheelchair users will, by and large, be on the hook for the entire cost, which makes this subset of wheelchairs very much a niche product. A fabulous idea that is simply out of reach for many.
If this is the first time you hear about seat lifts and you're curious to know more, read on. We'll tell you all about them and how they can change your life. Even better, at the very end, we'll tell you about a fascinating option that stands to be a total game-changer in terms of making seat lifts more accessible for everyone.
Starting From the Beginning
Let's start with the basics in case there are readers who aren't 100% sure what a seat lift is. Seat lifts are a wheelchair enhancement designed to give you some vertical mobility. If you've ever gone shopping in your wheelchair or scooter and had to get help reaching something on a high shelf, you'll immediately see the value here.
By giving you a boost and making you "taller," the chair becomes more versatile, which makes it more useful to you day-to-day.
Here, we should also point out that when we're talking about seat lifts, in all cases but one, which we'll mention at the very end of this article, we're talking about augmentations to power wheelchairs—powerchairs with an elevating seat.
In a very few cases, you may be able to order this option as customization to a high-end chair you already own. However, the vast majority of the wheelchairs with elevating seats on the market today are engineered around that concept. Where aftermarket augmentations are possible, they tend to be pricey.
Different Types of Power Chairs With Seat Lift
Rather than talking about individual models here, we'll use this section to highlight the three different types of seat lift engineering you'll find when you start looking for the right power chair with a seat lift. You'll find three options on the market today. They all accomplish the same goal; they just do so in very different ways.
Here are your options:
Single Post Lifts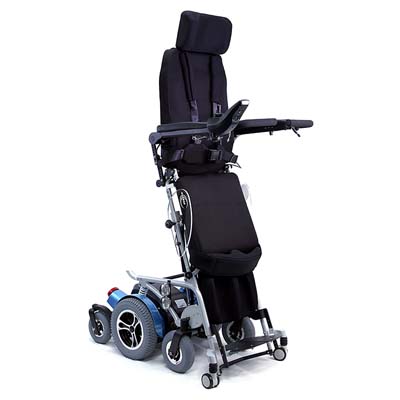 Far and away, the most common type of power wheelchair elevating seat, single post lift mechanisms can be found in everything from light rehab power chairs to high-end power wheelchairs with elevating and reclining seats.
As the name implies, this type of lift is built around the wheelchair seat itself and is essentially a pillar that can move up and down at the touch of a button like a telescoping flagpole.
It's a good, simple solution, but it does have certain limitations, with the biggest one being that the amount of lift you get from this solution is somewhat limited. In general, you can expect between 5″ to 8″ of seat lift with a single-post lift seat for a wheelchair.
The other significant limitation is that the mechanism almost always reduces the size of the battery compartment since they're competing for the same space. These types of chairs tend to use smaller batteries, which limits the range these models have.
Scissor Lifts
Scissor lifts are strikingly different from a single post because they sport a four-corner mounting system, both on the seat and the base of the chair itself. The system has the advantage of providing much greater side-to-side and front-to-back stability.
Thanks to this vast increase in stability, scissor lifts are capable of providing greater total lift. In fact, it's not uncommon for the vertical lift to be as high as 12-13." Even better, the mounting strategy allows for the use of full-sized batteries, so chairs with this type of lift configuration tend to have better ranges. A scissor lift is an outstanding choice for users looking for both tilt and recline, plus elevation.
Cantilever Lifts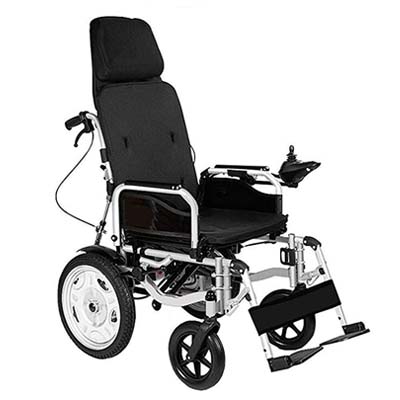 Cantilever lifts share one important similarity with scissor lifts. They also mount atop the base, which allows the use of full-sized batteries here as well and can support a lift function of up to 12."
The key difference between this type of lifting system and scissor lifts lies in the fact that in addition to providing vertical lift, cantilevered systems also provide forward movement of up to 4.5" as they elevate.
The combination of both upward and forward movement is situationally incredibly useful and allows users employing such a system to rise up to check a just-out-of-reach mailbox, for example.
Options to Consider
As we said at the start, the biggest drawback where power chairs with elevating seats are concerned is price. They're significantly more expensive than other models. Even so, there are a couple of good options to consider that are at least within reach for most folks.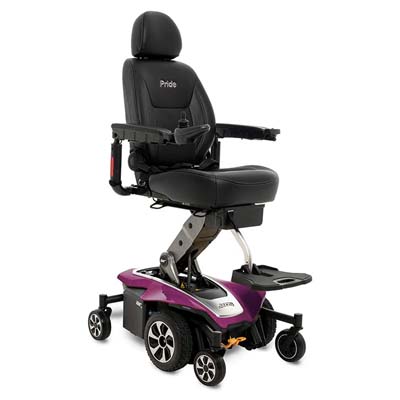 Merits Health offers a few different models that are reasonably priced, but they're not an especially well-known brand and may not be a good fit for brand-conscious buyers.
If you're looking for something from a well-known brand, the best option on the market today is the Jazzy Air 2, offered by Pride Mobility. You'll pay a premium for it, but it's an excellent option offered by one of the biggest and best-known companies in the industry today.
At the start, we mentioned that we had a surprise and now is the time to bring it to your attention.
So far, everything we've talked about has been in the context of power lift wheelchairs, but there is another option. So far, we've found exactly one good manual wheelchair with an elevating seat, the Leo II standing wheelchair. Here's a link for reference – not sure if you want to put it in an informational style article tho:
This chair is flat-out amazing. Not only is it great looking, but it sports an innovative design that allows the person using the chair to raise and lower the seat using nothing but the power of their arms. It's still a fairly pricey option, on par with the Merits Health options but significantly less expensive than the Jazzy Air 2.
Manual wheelchairs aren't for everyone, and it may be the case that you simply can't use something like the Leo II. In our view, any conversation about wheelchairs with lift mechanisms is incomplete without at least giving it a mention. It's absolutely superb, and we feel it is a potentially game-changing model.
Final Thoughts on Power Wheelchair Seat Lifts
Almost everyone would gain some benefit from owning a lift chair, whether powered or manual. The key thing that keeps them from going mainstream is the cost. Even so, there are some excellent values available on the market today. If you're curious to give seat lift a try, now is an excellent time to invest in one. Whatever sort you purchase, you'll almost certainly love it!