Summary
The Shoprider Dasher mobility scooter is a well-designed, surprisingly low-cost machine. It has its limitations, naturally, but is remarkably versatile.
Recommended For: Anyone weighing up to 250 pounds and who plans to use the machine in urban or indoor environments.
*Note regarding Brand Reliability: This metric is a measure of the strength and longevity of the brand, which by extension, is a measure of the level of support you can expect.
Do you have a mobility issue? Have you decided that you're simply not going to let a little thing like that get in your way, keep you from seeing the world, and enjoying life to the fullest?
If you answered yes to those questions, then you may love what you read here in our Shoprider Dasher review. Maybe.
Unfortunately, you may absolutely love it but be dismayed to discover that despite how much you like it, this model just isn't going to work for you.
A lot of people wind up in that boat because although the Dasher has good bones and is offered by a well-respected company, the fact is that it's a really narrowly focused machine that's built to cater to a specific, rather small slice of the market.
If you happen to be a member of the demographic that this machine is targeting, you're going to absolutely love it. If not, then it won't matter how impressed you are with it—this machine is simply going to be a bad fit for you.
In the following sections, we'll step you through everything the Dasher gets right, and we won't pull any punches when describing the scooter's shortcomings and limitations. That way, you'll have all the information you need to make an informed purchasing decision.
If that sounds good to you, read on, and let's take a closer look.
An Overview of the Shoprider Dasher Scooter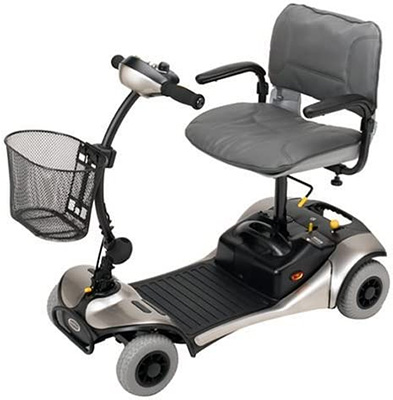 Before we start talking about this model, in particular, there are a couple of details we need to give a brief mention.
First, if you haven't heard of Shoprider, you may be inclined to view them as an off-brand.
This would be a mistake. While they're not the biggest name in the mobility industry, they've been in the game since the eighties and know a thing or two about building great mobility devices.
The other thing you should know is that this model used to have two different variants. You may have come here looking for information on the Shoprider Dasher scooter.
If that's the case, we're sorry to disappoint you. Even though you can still find a few references to this variant on Amazon, the Shoprider Dasher 3 no longer appears on the company's website, and it seems that they no longer make it. All that to say, this review will be focused entirely on the four-wheeled variant of the scooter.
The Dasher scooter makes a great first impression. It's a sharp-looking, very polished machine.
Unfortunately, a pretty exterior will only take you so far, and on the whole, we rate this as being only an average strength component of our Shoprider Dasher review. The numbers tell that story better than we could, so let's start by taking a closer look at them:
Overall Product Dimensions: 22" W x 39.5" L
Total Weight: 94 pounds (the scooter can be broken into three pieces, with the heaviest being just 26 pounds and the batteries weighing in at 22 pounds)
User Weight Limit: 250 pounds
Top Speed: 3.8 MPH
Seat Dimensions – there are a number of options here:

18" W x 16" D Stadium Style

16" W x 16" D Seat Pan, Captain's seat with back recline

17" W x 14" D Stadium Style (standard seat)

17.5" W x 15" D Seat w/ recline function

Max. Slope: 6 degrees
Wheels: 7" solid (drive wheels are 8" solid)
Range: 7.5 miles
Ground Clearance: 1.5"
Turning Radius: 37"
Seat height range: 18.5" to 22.5"
These numbers aren't awful, but there are a few of them that are problematic. The thing we like best here is the fact that the seat comes in a wide range of sizes and styles. The good news is that you can order your Dasher 4 with a seat that fits you like a glove. The tradeoff is that you'll need to take a careful measurement before you place your order.
The turning radius and slope handling capabilities of the Dasher are both quite good, but beyond that, we're a little underwhelmed, and here's why.
First, check out the seat height adjustment range vs. the supported weight limit. The seat height adjustment range is solidly in "big and tall" territory, so clearly designed for taller folks with longer legs, but the weight limit definitely won't support most big and tall folk.
While there's no formal industry standard, in general, you'll find that most scooters support in the neighborhood of 300 pounds, with many models supporting substantially more weight than that.
This one is rather lightly built, which, in our view, paints this scooter as one designed for taller people with lighter builds.
If you happen to be in that group, fantastic! This scooter will almost feel like it's custom-made for you. Unfortunately, those design choices really limit its mass-market appeal.
Next, take a look at the range. It's easy to find scooters that offer more on the range front. We read this, especially when taken together with the minimal ground clearance, as a scooter that was made for urban environments.
It's small enough to be used in most homes, to go on short shopping trips, and as long as you stick to the pavement or flat, hard surfaces like you'll find in shopping centers and the like, but don't try to take this model over open terrain.
You may get away with it on hard-packed, flat ground or freshly cut grass, but the least little obstruction will cause you to get hung up, so you'll want to be very careful when using it anywhere but pavement.
The short-range underscores its urban-centric focus, as if you stick to that environment, you'll never be far from a power outlet. And when you're riding about, you'll want to keep the location of the nearest power outlet very much in mind, so you can recharge as needed.
Similarly, the speed is a bit underwhelming. It's certainly fast enough to take into a store and do some shopping, but if you're out on the sidewalk, you can bet that power walkers will be passing you by.
As long as you're not in a hurry to get wherever you're going, you won't have a problem with it, but if you have a need for speed (relatively speaking), then this model isn't the one you want.
The Shoprider Dasher Mobility Scooter is Moderately Comfortable and Has Two Adjustable Features
We'd rate this to be an average to slightly above average component of our Shoprider Dasher review.
Most scooters don't offer a lot in terms of adjustability, and you'll find two on offer here, which is more than we were expecting.
First, the seat is the big thing to talk about here. Not only does it swivel, making transferring into and out of the machine a simple proposition, but as we mentioned in the last section, the seat is also height adjustable. We love that, and we think you will too.
Second, you can also adjust the angle of the tiller. Those two things taken together give you a surprising amount of flexibility, and assuming that the seat height range is a good fit for you, you'll find that you can fine-tune the seat's position and the tiller to create an almost perfect riding experience.
Things are a bit less rosy on the comfort front. The seat is only moderately padded, so this isn't the scooter you want if you're looking for something you can spend the better part of the day in.
That makes sense, given the Dasher's shortish range. It seems that it's designed to get you where you're going, with the unspoken expectation being that you'll transfer out of it and into a comfy chair when you arrive at your destination.
With that case in mind, the level of comfort is perfectly acceptable, but of course, enhancing the comfort of the Dasher is easy. There are all sorts of padding options to be found at the aftermarket. If you invest in a memory foam cushion for the seat, you'll increase the overall comfort level dramatically for a nominal investment.
Shoprider Dasher 4 Mobility Scooter Accessories
We'd rate this as one of the strongest components of our Shoprider Dasher review. While there's only one built-in "extra" in the form of a horn when you place your order, you can, at your option, add any of the following:
A mesh oxygen tank holder
A walker holder kit
A safety belt
And a cup holder
We wish that the safety belt was a standard piece of equipment on all scooters, but the manufacturers in the industry see things differently.
In any case, all of these are good, and all but the cup holder are high-value additions. We love it!
The Dasher 4 Gets High Marks For Portability and Ease of Use
As we mentioned earlier in this review, the cool thing about the Dasher is that it breaks down quickly and easily for transport, coming apart in three separate pieces—with the heaviest weighing in at just 26 pounds.
Even if you have limited upper body strength, it shouldn't be much of a challenge to store it in the trunk of any mid-sized sedan (and if you have a truck, van, SUV, or hatchback, you'll have an even easier time), then pull it back out when you get to wherever you're going.
Just put the pieces back together, and you'll be off and running, or rather, riding.
Some people just prefer to have folding models rather than something they have to take apart and reassemble. And if you like the notion of a folding scooter better, there are plenty of those to be found, and this one will be a poor fit for you.
While it's true that it takes a bit longer to disassemble and reassemble, on the whole, we like both options about equally. There are no right answers here—it comes down to what works best for you.
In terms of ease of use, Shoprider really deserves kudos. The control system is a lesson in simplicity, and the Dasher will take you less than five minutes to get the hang of driving. If you get into a tight spot, you might spend another five to ten minutes experimenting with backing up and executing three-point turns, but the controls are incredibly intuitive.
Great job, Shoprider!
One final note regarding air travel before we leave this section. Although the batteries have been approved for air travel, be aware that each airline gets to set its own conditions. So if you're planning to fly with the Dasher 4, be sure to call ahead and let the airline you'll be flying with know what you have so they can make a determination. Better to get that sorted up front!
Finally, be aware that airlines charge by the pound, so lighter is better. While the Dasher 4 is light enough to be considered somewhat airline-friendly if you're on a budget, be aware that there are more lightweight models out there that will save you money when you fly.
Pros & Cons of Shoprider Dasher Mobility Scooter
We want to love this little scooter, but we don't. This great-looking machine is incredibly travel-friendly and has a decent collection of high-value accessories you can add to it as needed. We wanted to love this machine, but we couldn't.
It's very good, but it's also very narrowly marketed. If you happen to be in the demographic that this little scooter was designed for, then it belongs on your shortlist of options to consider.
If you don't, then its limitations (most notably, the interaction between the seat height adjustment range and the scooter's modest weight limit) will probably be outright dealbreakers for you.
Shoprider Dasher Review Conclusion
We'd say here in our Shoprider Dasher review that the ideal user for the Dasher 4 is someone who:
Doesn't mind going slow when riding a scooter
Has fairly long legs
Has a light to medium build
And plans on using it mostly indoors or around town (urban environments)
If that's you, then this is a great option! Unfortunately, due to its relatively narrow targeting, we can only give this one a provisional recommendation.
Comparable Products to Consider
If you've reached the end of our review of the Dasher and have concluded that it's just not the scooter for you, here are some other options you may want to look at.
WHILL is a great company and kind of a hidden gem in the same way that Shoprider is. We're making this recommendation for people who have specifically concluded that they don't want to have to pull their scooter apart and put it back together again.
If you're looking for a foldable option, this is a very good one for the right user.
Forcemech Navigator XL
Recommended For: Anyone weighing up to 400 pounds. As long as you like the color yellow.
The first two things you should know about this machine are as follows: it's more expensive than the model we just reviewed, and it looks like a Tonka Toy for grownups.
Assuming you're fine with both of those points, this is an amazing machine. It's rugged, versatile, and can go places that the scooter we just reviewed simply can't. Highly recommended.
---
References and Resources: