Summary
The Shoprider Echo 3-wheel folding mobility scooter is a well-designed, surprisingly low-cost machine. It has its limitations, naturally, but is surprisingly versatile.
Recommended For: Anyone weighing up to 200 pounds (folding version) or 250 pounds—if you're using the non-folding version—and who plans to use the machine in urban and/or indoor environments.

* Note regarding Brand Reliability: This metric is a measure of the strength and longevity of the brand, which by extension, is a measure of the level of support you can expect.
Do you have a mobility issue? Have you resolved not to let it get in your way or slow you down? If you answered yes to those two questions, you're going to be very intrigued by what you read here in our Shoprider Echo 3 review.
Haven't heard of Shoprider? Many people haven't, although the company has been a player in the mobility industry since 1988.
They have a solid reputation, though they don't have a market footprint quite as big as Drive Medical or Pride, and they have a long history of taking good care of their customers. So although the name brand may be new to you, you can buy from Shoprider with confidence!
While we regard this model as being quite good, it does have some limitations you need to be aware of before you commit to spending your hard-earned money, and in the sections that follow, we'll outline every aspect of this machine—both the good and the bad.
That way, you'll have all the information you need at your fingertips to make an informed purchasing decision.
If that sounds good to you, read on, and let's dive into the particulars.
An Overview of the Shoprider Echo 3 Scooter
We regard this as an above-average component of our Shoprider Echo 3 review. It's a good-looking machine, and even better, it's offered in three different colors (red, black, or yellow), which gives you at least a token choice.
Sure, we'd love it if the Echo was offered in a dozen or more colors, but the simple truth is that most mainstream brands offer either very limited or no color options on most of the machines they sell, so we like that we at least have a couple of options.
The other thing to mention right up front is the fact that there are actually two variants of this machine—the Echo 3 scooter and one that doesn't fold but disassembles for easy transport.
For this review, we'll be focusing mostly on the folding variant, but where the two differ, we will highlight those differences in the event that the non-folding variant is a better overall fit for you.
While we're on that topic, the color options are different for the non-folding variant. If you decide you want one of those, you can order yours in either red or blue. There are some other differences apparent in the basic stats that drive and define both variants of this model. We'll take a closer look at those just below:
These numbers are all pretty good, and as you can see, the folding and non-folding variants are fairly close to each other, with the non-folding supporting slightly more user weight but having less in the way of ground clearance and slightly less range.
The slope handling of the Shoprider Echo scooter is about average, and the top speed is underwhelming but pretty standard when you compare it to most of the similarly priced scooters on the market today. Sure, it's possible to find something that's faster, but you'll pay a premium for the added speed.
If that's important to you, then this probably isn't the scooter you're looking for.
At first glance, the seat might feel a bit on the small side, but bearing the modest weight limit in mind, it's actually a pretty good fit, and we were pleased to see that the non-folding variant offers a larger seat given that it supports more weight.
The turning radius is quite good, making this scooter a good fit for indoor use, even if you live in a smaller home or apartment. But the weight limit is underwhelming and, in our view, the single biggest point of weakness of the design.
If you look at the broader market, most of the scooters for sale today support somewhere in the neighborhood of 300 pounds. Both Echo 3 Shoprider scooter variants support significantly less than that, making this a much more narrowly targeted machine than we prefer.
Naturally, if you weigh less than the weight limit, that won't be an issue at all. Sadly, if you happen to weigh more, that factor will be an outright dealbreaker.
The 2" ground clearance (1.5" on the non-folding variant) is quite low and paints this scooter as one that is meant to be used in urban environments. While you may be able to use it on hard-packed earth (say, at a campground) or in short-cropped grass, bear in mind that you're going to get hung up on the least little obstruction, so use it off-pavement with care!
Finally, the range is average but also a bit underwhelming. Again, this paints the scooter as one meant to be used in urban environments so that you're never far from a power outlet for when it's time to recharge. It's not hard to find machines offering a substantially better range, but you'll pay a premium.
Overall then, these are decent numbers for the most part, but few are exceptional. That's about what we'd expect from a scooter offered at this price range.
The Shoprider Echo Scooter Isn't Big on Adjustability or Comfort
We'd rate this as being about an average component of our Shoprider Echo 3 review.
Making a travel-friendly mobility scooter is hard. It's all about trade-offs. One trade-off here is that this scooter isn't big on comfort or adjustability.
Comfort-wise, the vinyl-clad seat is moderately padded, providing an acceptable level of comfort for relatively short periods.
That's actually not a bad thing, given the shortish range that the scooter has. This isn't a machine with the range to keep you in it all day, and once you get to wherever you're going, the unspoken expectation is that you'll transfer out of the scooter and into something more comfortable to sit in.
We don't have an issue with that. The comfort level pretty much aligns with how this scooter was designed to be used. If you decide you want to enhance the level of comfort that the seat provides, that's easy to do. The aftermarket is brimming with seat pads, and you can create pretty much any level of comfort you desire for a nominal additional investment.
On the adjustability front, the Echo 3 mobility scooter offers a single adjustable feature. The seat height can be adjusted within a range of 15" to 18". That's a good range given the seat dimensions and the weight limit that comes with this model.
We would love to have seen a swivel seat, armrests that could be adjusted, and the like, but at the price point that the Echo 3 scooter is being offered at, those kinds of niceties are somewhat rare. It's not impossible to find a machine that offers more in the way of adjustability, but those models tend to be more expensive and at least somewhat less travel-friendly.
Echo 3 Mobility Scooter Accessories
Of course, the aftermarket is brimming with add-ons you can buy that fit most machines, so you've got plenty of options when it comes to customizing your ride, but even taking third-party options off the table, you can get a few extras from Shoprider when you place your order.
This varies depending on whether you're ordering the foldable or the non-foldable variant.
If you buy the foldable variant, you'll get an all-weather vinyl cover for your scooter, and you have the option of adding a handy cup holder to your purchase.
The non-foldable variant comes with the vinyl cover and a wire mesh front basket, and at your option, you can add a mesh oxygen tank holder and a safety belt.
Honestly, we wish the safety belt was offered with both variants, and for that matter, we wish that it came standard, but that's just us.
In any case, there are at least a few options and extras on offer, and we count that as a good thing.
We Rate the Shoprider Echo Folding Scooter Very Highly For Portability and Ease of Use
This, in our view, is the single strongest component of our Shoprider Echo 3 review. Whichever configuration (folding or non-folding) you buy, it's super easy to travel with.
If you get the folding variant, it folds down in less than ten seconds, and if you've got reasonably good upper body strength, you should be able to heft it into and out of your vehicle, set it up, and get moving.
Its footprint is small enough that it will fit easily into the trunk space of most mid-sized sedans, and if you have a truck, van, SUV, or hatchback, that will make your life even easier.
If you decide to purchase the non-foldable variant, you'll find that you can disassemble it quickly and easily.
And given that the heaviest individual component is just thirty-five pounds, it may be even more travel friendly than its folding counterpart, with the trade-off being that it takes a bit more time to get it put back together and ready for use when you get to wherever you're going.
Even better, the batteries that the Echo 3 Shoprider uses have been approved by most airlines, but be aware of the fact that each airline sets its own policies. So you'll still want to call whatever airline you're flying with, tell them what you've got, and make sure it's okay before you actually buy a ticket!
In a related vein, actually using the scooter is a lesson in simplicity. With a simple T-bar tiller, it will probably only take five minutes to master the basic controls.
Pros & Cons of Echo 3 Shoprider
We want to love this little scooter, but we don't. We do genuinely like it. It's a solid machine and easy to travel with, and that's its key selling point. In addition to that, it's incredibly easy to use and even comes in a modest selection of colors. That's all good.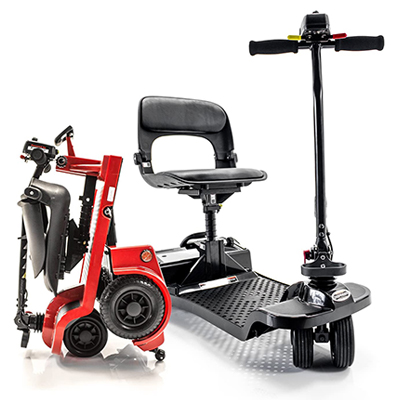 On the other hand, it has an exceptionally low ground clearance that limits you from using it in urban environments or indoors (any hard, flat surface), and it doesn't support much user weight.
Those two things combine to make this a narrowly targeted product.
The ideal user will be someone who is lightly built, not especially tall, and only plans to use the scooter in urban environments or indoors (home, shopping, etc.).
Shoprider Echo 3 Review Conclusion
If you are the person we described in the last section here in our Shoprider Echo 3 review, then this little scooter absolutely belongs on your short list of options to consider.
If you don't, then you're either not going to be able to use it at all (weight limit), or it's not going to be suitable for how you want to use it (ground clearance and range). On that basis, we can only give this one a provisional recommendation.
Comparable Products to Consider
If you've reached this point of our review and have pretty much decided that the Echo just isn't the right model for you, here are a couple of other options to consider:
Offered by Pride Mobility, this scooter is also a great option to consider. It supports a bit more weight than the foldable version we just talked about (250 pounds, like the non-foldable variant of the Echo) and has a similar profile, but comes with more extras built-in, which we really like.
This one's a bit more expensive, and honestly, it looks like an adult-sized Tonka toy, but if you find that oddly appealing, you'll probably love this machine.
It's more capable across the board than the scooter we just talked about, and it's got a better ground clearance to boot. But it's not quite as travel-friendly, and you may have to save up a bit for it.
---
References and Resources: