Summary
Glion Snap N Go is a surprisingly good-quality, capable off-brand mobility scooter. It is provisionally recommended for anyone weighing up to 300 pounds if you're not finding what you're looking for in the product lines of mainstream brands.
* Note regarding Brand Reliability: This metric is a measure of the strength and longevity of the brand, which by extension, is a measure of the level of support you can expect.
Has your search for the "right" mobility aid been a frustrating one? Are you overwhelmed by the sheer number of options available in the world of electric wheelchairs?
If you answered yes to the questions above and you still haven't found a good, capable scooter to help you regain your freedom and independence, then you're going to be intrigued by what you read here in our Snap n Go scooter review.
Haven't heard of the Snap and Go scooter until right this second? Honestly, we'd be surprised if you had. It's offered by Glion, a tiny company in a crowded market.
Since Glion is an off-brand, some people will be inclined to discount it right out the gate, preferring to buy a mobility aid from an established, well-respected brand. If that's what you're looking for, then no matter how much we sing the praises of this model, you're probably not going to like it.
On the other hand, there's a lot to like here if you're not especially brand conscious and are willing to give an off-brand a try.
Is it a perfect scooter? Absolutely not, but it may hit all the right notes and be an excellent fit for the right user.
Is it right for you? Well, in the sections that follow, we'll tell you everything it has to offer and point out the areas where it doesn't shine as brightly as it could. That way, you'll have all the information you need at your fingertips to make that determination. If you're curious to know more, read on, and let's take a closer look.
An Overview of the Glion Snap n Go Mobility Scooter
The Glion Snap n Go makes a decent first impression. It's not a beautiful machine, but it does have a certain stylishness. Its three-wheel design won't be for everyone, though. Some people simply prefer the increased stability that four-wheeled models offer, but you'll probably like the look of this one well enough if you're okay with a three-wheeler.
It manages to be stylish but in an understated sort of way. The folks at Glion seem to have taken a page from Henry Ford's playbook. You can have their scooter in any color you want, as long as it's black.
Before we talk about more than simple aesthetics in this section of our Snap n Go scooter review, it's necessary to dig into the raw numbers that define this model. Here's a quick overview:
Overall Product Dimensions: 23" W x 33.5" D x 38" H (Folded dimensions: 14" W x 22" D x 40" H)
Seat Dimensions: 18" x 18."
Turning Radius: 41.5."
Seat to Floor Height: 31."
Top Speed: (3 Settings: Setting 1: 3 mph, Setting 2: 4.5 mph, Setting 3: 6 mph)
Range: 15 miles to a charge
Wheel Size: 8."
Ground Clearance: 2.75."
Chair Weight: 34 pounds (31 pounds, without its battery)
Maximum Supported Weight: 300 pounds
These are generally good numbers, but there are a few different points of interest here.
First of all, note that this chair is only equipped with a single battery. Most mobility scooters come with two, but this model manages to turn in an impressive fifteen-mile range even with just one.
Also, the top speed of this model is somewhat higher than the top speeds offered by many well-established brands. Pride Mobility, for example, offers a number of broadly comparable machines, but they tend to top out at around four miles per hour. This one is 50% faster. It would be overselling it to say it's a speed racer, but it does have some zip compared to many of its peers. That's a good thing.
It's also got a reasonably small footprint and is very lightweight, two points we'll have more to say about a bit later on.
In addition to that, note that the seat on this model is quite high. Sitting on this scooter is more akin to sitting on a barstool than sitting in a chair. It's not something that will be a deal-breaker for most folks, but it does bear mentioning.
Then there's the turn radius. It's not bad, but if you plan to use this in a smaller home or apartment, you will probably find yourself doing a fair number of three-point turns if you need to change direction. Again, not the end of the world, but something to be mindful of.
Finally, there's the ground clearance. With 8" wheels and a 2.75" ground clearance, this scooter can travel over paved surfaces with ease, even navigating uneven pavement without difficulty. Inside, it can power its way over thresholds with no difficulty.
It doesn't do well outside. If you keep your grass cut fairly short and you don't have lots of rocks, roots, or other potential obstructions in your yard, you should have no particular difficulty there either, but you will have to be a bit more mindful/watchful.
Adjustability and Comfort of Glion Snap and Go
You won't find a lot of adjustability here, so we wouldn't rate this as being one of the stronger points of our Glion Snap n Go review. You can adjust the position of the seat somewhat in that it swivels, and the armrests can be removed if you like but are not height adjustable. Even so, the swivel seat and removable armrests do make transfers into and out of the chair a simple proposition.
Other than that, you can adjust the angle of the steering tiller to bring it closer to you, which does have the effect of making it more comfortable to use because you can make it so that you don't have to fully extend your arms to steer the little craft.
That's it, though, where adjustability is concerned. That's all there is.
Comfort-wise, the SnapnGo travel scooter fares better. There is a surprisingly generous amount of conventional block foam in both the seat and the seatback, and you'll find vinyl stretched over that for the upholstery.
Vinyl isn't a great choice in our view, but we can't really hold the decision against Glion. Most scooters like this use vinyl for the upholstery. The problem is that it's not breathable and gets uncomfortably hot the longer you spend in the seat.
The good news is that there's a super simple fix for this. There are literally dozens of seat and seatback padding options on the market, so you can buy something upholstered in something other than vinyl to solve that problem and make the seat even more comfortable to boot.
Even if you don't opt to do that, you'll find that this model offers a reasonably comfortable seating experience for up to four hours or so of continual use. After that, you'll probably want to get up and do something else for a while unless you've invested in some kind of seat pad clad in a different type of upholstery.
Extras and Options of Snap N Go Glion
Most off-brands don't offer much in the way of extras on the products they sell, relying on the fact that there's a bustling aftermarket and assuming that buyers will simply head there and customize to their heart's content.
The Glion is a bit of an exception on this point, offering two high-value extras on their remarkable little Snap and Go scooter. The first of these is an LED headlamp.
You wouldn't think it, but this is actually a huge improvement and addition, essentially doubling the number of hours per day you can potentially use the machine. We're not thrilled at how low to the ground the headlamp is, but that's a minor quibble, all things considered.
Second, you'll find a generously sized built-in storage basket on the scooter. It's not huge, but it is big enough to be genuinely useful. With a bit of applied creativity, you can likely find a way to affix additional storage to the scooter if you wanted. There's really no such thing as too much storage, so we were glad to see its addition here.
It gets better, though, because if you head to the company's website, you'll find that they offer several "optional equipment" that you can either bundle with your purchase or buy later if you discover that you want or need it. These items include:
A large travel seatItem 2
Two different types of batteries (6.4A and 7.8A)
An extra charger
We love that the company sells extra batteries but observe that there's really nowhere to put a second battery. Though with some applied creativity, you can probably rig up some kind of storage solution for it and effectively double the range of your scooter.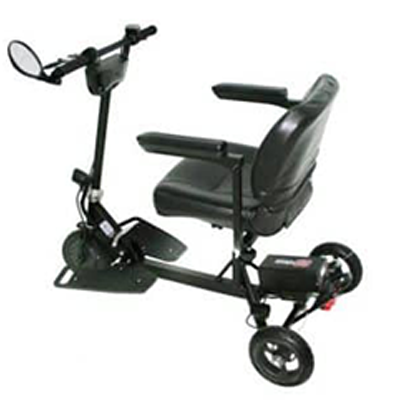 Finally, if those options aren't enough for you, there's always the aftermarket, which is brimming with customization possibilities. Overall, though, we were impressed by the tiny company's offerings here, and we think you will be too.
Portability & Ease of Use
This is another area where Glion does exceptionally well, and we'd rate this as being yet another strong portion of our Snap n Go scooter review. Even counting the battery, this little scooter only weighs in at 34 pounds. That's lighter than many manual wheelchairs on the market today.
Combine that with its smallish folded footprint and its "hand truck" design that helps keep it standing upright when folded, and you've got an exceptionally travel-friendly little runabout.
As ever, if you plan on flying with the Glion Snap and Go, be sure to call whatever airline you're flying with in advance before going to the airport. We say this because each airline gets to set its policy about what is and is not allowed. It's always better to call and be sure than to risk a nasty surprise when you show up at the ticket counter ready to fly.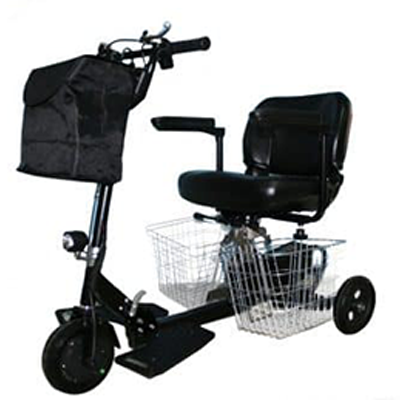 The model is also incredibly easy to use. You'll find a simple throttle and braking system on the steering tiller and a small but functional LED panel that displays all the information you'll need while operating the scooter.
The only thing that will take a few minutes to get used to is the amount of space it takes to stop and the turning radius, but that's true of any scooter you buy. After about ten minutes' worth of practice, you should be well on your way to mastering its use.
Pros & Cons of SnapNGo Travel Scooter
Having spent most of this review singing the Glion Snap n Go 315's praises, we won't rehash all that here. In our view, this little scooter gets a great many aspects of its design just right. There are only really two things that may give some buyers pause. These are:
First, is the fact that the scooter is offered by an off-brand. Smaller brands don't generally offer the same level of support that the titans of the industry do, and as we said at the start, this might be off-putting to some potential buyers.
The second is the issue of seat height. While not an outright deal-breaker for most, it may simply be impractical or uncomfortable to use if you're a shorter individual.
Snap n Go Scooter Review Conclusion
Our two minor quibbles aside, this is a very good little scooter and well worth your time and consideration. It falls a bit shy of true greatness, but we emphasized in the previous section here in our Snap n Go scooter review it may be perfect for you if you're looking for a robust scooter that can get you from Point A to Point B relatively quickly and is exceptionally travel-friendly. On that basis, we provisionally recommend it.
You May Also Want To Consider
If, whatever the reason, the Glion Snap n Go isn't a good fit for you, there are a number of comparable alternatives which include:
The iLiving V8 is slightly more expensive, but has a similar feature set and comes brimming with extras and innovations. A very good alternative choice.
In addition to that, the EV Rider Transport AF+ is also well worth a look (https://www.amazon.com/EV-Rider-Automatic-Mobility-Burgundy/dp/B01N9F7L8Z/ref=psdc_3776851_t2_B07CPD2HQ4 ). It's also offered by a smaller, off-brand, but sports similar features and has an amazingly sporty aesthetic you're sure to love. Even better, it's offered in a range of colors, giving you yet another way you can customize and personalize your ride.
Finally, if you're on a tight budget, would prefer to buy something from a brand that's more established, and would rather have the added stability that a four-wheeled model brings to the table, then you can't go wrong with the Go Go, offered by Drive Medical. Don't let the whimsical name fool you, this is a serious, versatile mobility aid, offered for a song.
The only caveat to bear in mind where the Go Go is concerned is that it doesn't support as much user weight, being rated for only 260 pounds. Even so, if you're a smaller individual, this one is well worth considering.
---
Official Manufacturer Support:
References & Resources: