Summary
The Top End Eliminator OSR racing wheelchair is a moderately priced sports model that can be fully customized to the user's needs. It's ideal for beginners and advanced athletes since it comes with the option of four cage styles for different experience levels.
*Note regarding Brand Reliability: This metric is a measure of the strength and longevity of the brand, which by extension, is a measure of the level of support you can expect.
Racing wheelchairs are elite mobility devices that give serious athletes with disabilities the capability to push their physical and competitive limits out on the road.
If you're serious about racing, then the good news is that there are numerous models on the market boasting the latest racing technology. The hard part is choosing one!
In our Top End Eliminator review, we look at an advanced wheelchair that will feed your need for speed!
Top End Eliminator OSR Racing Wheelchair Design Overview
Invacare is one of the leading wheelchair manufacturers, with a reputation for quality craftsmanship and excellent customer support.
They have a few racing wheelchairs that are custom-built to accommodate the user's experience and disability. The one we are focusing on in this review is the Top End Eliminator OSR racer.
This is a popular choice for serious athletes, and it's no surprise as to why. The sleek and futuristic design features a 6061-T6 aluminum racing frame, wrap-around fenders, and aluminum side panels.
Three tire-coated push rims consist of two 700c high-performance rear wheels and a 20" front wheel for speed and durability.
For optimal stiffness, it's equipped with an oversized raked fork and roll-formed horizontal main tube, increasing overall stability.
You also get plenty of speed on straightaways and turns, thanks to the precision track compensator system and adjustable handlebar bar-ends.
Note that the frame type can be either kneeling or standard, depending on your order. One of the special features of the Top End Eliminator is that it comes with four different cage styles for users to choose from, including V, Open V, U, and I cages.
Overall, this is a superb design that is utilized by top wheelchair sports competitors such as Krige Schabort, Kurt Fearnley, and Aaron Gordian. The price is also moderate, considering the quality performance it provides for new and advanced racers.
Let's go deeper and break down the features in this Top End Eliminator review to get a feel for how this work of road mastery operates.
Top End Eliminator Racing Wheelchair Features
Ready to see what makes the Top End Eliminator OSR racing wheelchair coveted by professional athletes? From complete customization to durable materials, it's a versatile racer that gives wheelchair users of all levels a chance to compete.
Comfort and Safety
This is always important when choosing a wheelchair, and with a racer, it's no different. The Top End Eliminator OSR is designed for strength and reliability while moving at high speeds.
A relaxed head tube angle and super-stiff main tube are what give it phenomenal stability and enhanced aerodynamics.
Besides an intuitive design, the beauty of this racer is the amount of customization you can do to make it as comfortable and safe as possible. Extras like a safety flag, lights, helmet, and strap options are available—just check off the ones you want on the order form.
A seat cushion gives the athlete a bit of comfort. But since this is a racing wheelchair, the less drag there is, the faster you go—and that is the name of the game here, not plushness.
Adjustability and Customization
As mentioned, the biggest perk to the Top End Eliminator OSR is how it can be customized from head to toe. Now, admittedly, this is pretty standard across the board for racing wheelchairs, but what we love are the four different cages that are chosen based on experience level and disability.
Starting with the athlete's dimensions, the frame is built to perfectly accommodate the unique needs of the user. This gives you the ultimate amount of comfort and the optimal design to help you perform at your best.
There are 11 different rear seat height options from 15" to 20" in 0.5" increments, plus a custom rear height option for an additional cost. You can also adjust the steering bars to your liking to help streamline movements and maintain control while out on the track.
Remember that since this is a racing wheelchair, there are strict design regulations that must be adhered to compete officially. This includes no mechanical gears or levers, and the wheels must comply.
Portability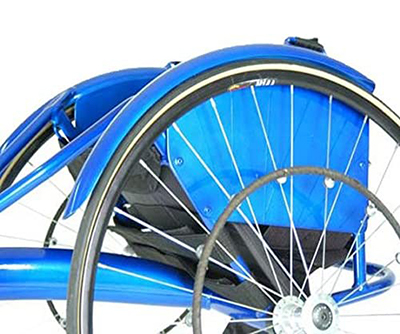 The good news is that this is an ultralightweight manual wheelchair that weighs 15 lbs or less.
That means, you probably don't need a wheelchair lift or ramp to get it into your vehicle—an expensive addition on top of the price of your wheelchair.
There is a bike rack that you can purchase separately that attaches to a trailer hitch, but this will cost an extra $450.
Storage and Accessories
We are happy to report that there is a robust selection of accessories for the Top End Eliminator, but sadly, there are no storage capabilities. However, this is to be expected with racing wheelchairs since they're not designed for everyday use.
The only catch with the accessories is that they aren't included with the wheelchair, so the more you add on, the higher the cost climbs.
Here is a list of the accessories you can choose on the order form:
Top End Racing Wheelchair Pros vs. Cons
Wheelchair racing has come a long way, especially with the technological advancements that enable racing chairs to be incredibly lightweight and fast.
The Top End Eliminator OSR is a shining example, built using industry-standard materials for durability and performance.
But what sets this racer apart from the others is its versatile design. It's suitable for beginners and professionals, all thanks to the four different cages and full customization.
However, note that this moderately priced wheelchair is meant for racing only. You'll need space to store it when not in use, and you'll also have to consider the cost of your standard everyday wheelchair. When you look at it that way, not everyone might be able to afford this type of setup.
Still, if you're serious about racing and it's something you do weekly, then it doesn't get any better than the Top End Eliminator.
You can expect speed and agile maneuvering, thanks to the track compensator system and adjustable handlebar bar-ends. This is the perfect setup to push your limits and reach your athletic goals.
Top End Eliminator OSR Racing Racer Warranty
The warranty coverage for the Top End Eliminator OSR racing wheelchair applies only to newly purchased models.

Invacare offers a two-year warranty for the Eliminator OSR frame and a one-year warranty for all component parts including, but not limited to, fork, compensator, and upholstery.
You can read the warranty fine print, which is outlined in the Owner's Manual.
Comparable Products to Consider
Are you still trying to decide if the Top End Eliminator OSR racing wheelchair is the speedster for you? We've listed other similar models for you to compare!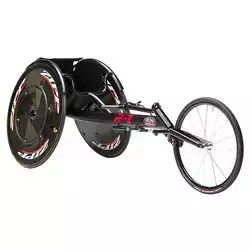 This racer is similarly priced to the Eliminator, developed by Chris Peterson for Carbonbike USA. It comes in two cage styles: U and V. It's built for precise handling according to your measurements and comes with a 1 1/8" cycling headset to enhance steering capabilities.
This is a youth racing chair designed with adjustable features, so the chair "grows" with the child. It's perfect for wheelchair-bound youngsters who want to dip their toes into sports, and it encourages an active lifestyle.
Eliminator NRG Racing Wheelchair
Recommended For: Serious athletes, but might not be the best choice for beginners. Anyone who wants the fastest, lightest high-performance racer
This is another stunner from Top End but more expensive than the OSR. The Eliminator NRG is the fastest, lightest high-performance racer they produce, with a carbon mainframe, fork, and a modular custom seat cage. This is recommended for serious athletes and might not be the best choice for beginners.
Top End Eliminator Review Conclusion
Wheelchair racing is a full-throttle sport that demands a high-performance mobility device that can withstand high speeds and rapid maneuvering. The Top End Eliminator OSR racer provides the grit, with an advanced design that's so responsive that is why many of the top competitors use it.
To conclude this Top End Eliminator review, this racer is moderately priced, but we think you get plenty of bang for your buck because of how versatile it is. You can customize everything, and with four cage styles to choose from, this is an excellent choice for beginners and experienced racers to reach their full potential on the track.
---
Resources and References: