Summary
Travel Pro is a smallish but full-featured little scooter that's both highly adjustable and comes standard with a surprising number of extras.
Recommended For: Anyone on a budget who's looking for a good, lightweight, travel-friendly mobility aid offered by one of the best brands in the industry, provided that you only plan on taking short trips on flat surfaces with it!
*Note regarding Brand Reliability: This metric is a measure of the brand's strength and longevity, which by extension, is a measure of the level of support you can expect.
Do you suffer from some type of mobility issue that has caused you to be in the market for some type of electric mobility aid to help you live life to the fullest? Are you on a budget but hoping to score something from a well-known, well-respected brand in the industry?
If you answered yes to the questions above, then you're going to like what you read here in our Pride Travel Pro scooter review.
Pride Mobility is such a well-known brand that even many people who don't have a mobility issue are at least familiar with the name, and that name recognition matters. The company got it because they've spent years proving that they're among the best in the business. Their products are consistently excellent and versatile. Even better, they tend to be surprisingly well-priced, which means that mere mortals can actually afford to buy and use them.
We'll be the first to admit that while the Travel Pro 3-wheel scooter has its limitations and is not going to be a good fit for everyone, it's a very good product.
In the sections that follow, we'll walk you through everything it has to offer and be sure to key in on the things it's not so good at. That way, you'll have all the information you need to decide if this is the mobility aid you've been looking for. Sounds good? Let's dive right in and take a closer look!
An Overview of the Pride Travel Pro 3 Wheel Scooter
The first thing to talk about here is something that's honestly a minor point relating to aesthetics. Still, minor or not, it will be off-putting to some: Travel Pro is a three-wheeler, and that invariably evokes images of riding a tricycle, which automatically serves as a strike against it in the minds of some.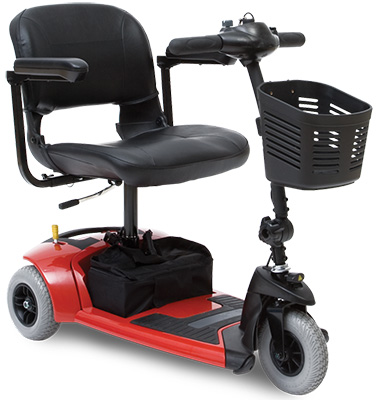 If you don't get that vibe from it, or if you do and it doesn't bother you, fantastic! You'll find a lot to like here. The good news is three-wheel models tend to be nimbler and capable of making tighter turns than their four-wheeled counterparts, so that's a point in this model's favor.
Even so, some people just can't get past the "tricycle" look, and if it bothers you, then it's probably best to give this one a pass right out the gate. The company makes a number of exceptional four-wheel models you'll almost certainly like better.
Aside from that, it's a sporty-looking little thing with a red and black frame and a 'Captain's Style' seat that's reasonably well padded.
We'll talk more about particulars in just a moment, but in order to get our Travel Pro scooter review off on solid footing, let's start by reviewing the basic stats that define this model. Here they are:
Overall Product Dimensions: 22.3 "(W) x 37" (L)
Seat Dimensions: 17″ x 17″
Seat to deck height: 17.25″ max
Top Speed: 4 MPH
Maximum Range: 6.3 miles
Wheel Size: 8″ flat-free
Maximum Climbing Angle: 6 degrees
Ground Clearance: 2″
Chair Weight: 126 pounds (breaks into five pieces for transport, heaviest is just 27.5 pounds)
Maximum Supported Weight: 275 pounds
There's a lot to like where these numbers are concerned, but there are also a few areas of weakness and some limitations to be mindful of.
The seat dimensions are good, especially given the scooter's modest weight limit. If you have an issue with this model anywhere, that's likely to be the first stumbling block. We would have much preferred to see the frame ruggedized here, enabling the scooter to support at least 300 pounds. As long as you're mindful of the weight limit and are careful not to exceed it, you should be fine.
The top speed isn't the best in class by any means, but it's not the worst we've seen either. Although this scooter isn't exactly a speed demon, it's faster than walking and will serve most people well. One thing that really disappointed us, though, was the limited range of this model. It's not (at all) difficult to find comparable machines with double, and in some cases, even triple the range that this one offers.
The limited range isn't necessarily the kiss of death. Still, the Travel Pro scooter battery is undoubtedly a point of weakness, and it defines this little scooter as one that's best suited for home use or use on flat, urban surfaces like parking lots, shopping malls, and inside retail stores.
Its limited ground clearance strengthens this argument. With just 2″ between the bottom of the frame and the ground, using this scooter on uneven terrain will be challenging. Roots and small rocks will likely hang you up. Of course, being a three-wheeled model, it's not as stable as its four-wheeled cousins, which makes it less than ideal for outdoor use anyway.
That's not to say it's impossible to use outside. If you keep your grass cut short and your yard is level, you should have few difficulties. Similarly, if you own an RV and like to head to campgrounds, most camping areas you'll find are flat and level enough that you could use the Pride Travel Pro Premium, the three-wheeled variant, without any significant problems.
What you can't do, though, is use this little scooter as an adventure chair. The range is too short, and the ground clearance is too low. You'd wind up either hung up on something or running out of battery power before you got very far at all down even a moderately challenging hiking trail.
Adjustability and Comfort
Honestly, we regard this as one of the best points of our Pride Travel Pro review and one of the strongest selling points of the scooter. It's delightfully adjustable, and there are many significantly more expensive products on the market that are not.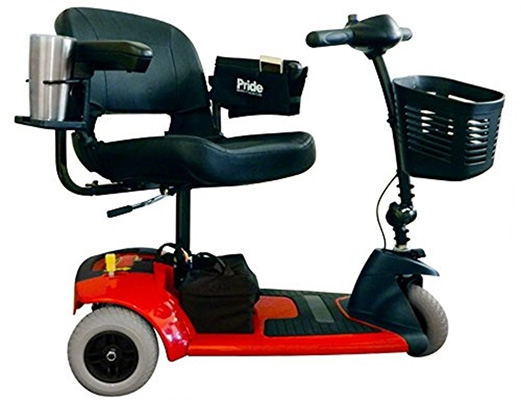 This one, though, gives you all sorts of ways to customize your ride for optimal comfort, including:
The steering tiller may be tilted back toward you, angled to taste.
The seat height is adjustable.
The seat itself spins, which not only gives you more flexibility in terms of how you sit on the scooter but also makes transfers into and out of it more manageable.
And the width between the armrests is adjustable too!
We love it, and we think you will too!
In addition to that, the scooter offers a fairly comfortable ride. The seat is padded with a moderate amount of block foam and is upholstered in vinyl.
Normally, we'd take at least some issue with the padding, agitating for more, and we'd complain that vinyl isn't a breathable upholstery material, and as such, sitting in it for extended periods will make you sweat, but remember the limited range this scooter offers.
This isn't a model you're going to be spending all day in anyway, so the company can get away with relatively less padding. In this case, the vinyl upholstery isn't that big of a deal either since you probably won't be in it long enough to start sweating.
If you find that you are less comfortable than you'd like to be, it's always easy to add more padding. Most of the aftermarket seat and seatback pads you can buy are covered in something other than vinyl, which neatly solves both issues at once. Given the modest price of this little guy, you're almost certain to have funds left over for some extra padding if you decide you want it!
Extras and Options
This is another area that Pride excels at, and you'll find all sorts of Travel Pro scooter accessories here. While the company may change their policy at some point, when you order one of these at the time this review was written, you get a cup holder and a free saddlebag to store more of your stuff.
In addition to that, the Travel Pro Premium 3-wheeled scooter comes with a storage basket on the front and anti-tippers built onto the frame, both of which are excellent, high-value additions to the basic design!
Besides that, Pride offers a wide range of additional accessories that are designed to fit the products they sell. Suppose you don't find exactly what you're looking for on the Pride Mobility website. In that case, there are an almost endless array of accessories available on the aftermarket, allowing you to customize to your heart's content. Even without that, though, Pride did a great job on this front.
Portability & Ease of Use
At first glance, with a total weight of 127 pounds, the Travel Pro 3 wheel scooter doesn't seem all that portable or travel-friendly. It's actually a lot easier to travel with than you might think, though, and this is something else that Pride has really gotten good at. This scooter breaks down quickly and easily into five distinct sections, with the heaviest section weighing just 27.5 pounds.
True, you've got a bit of prep work to do before you leave and when you get to where you're going. But, it's actually an amazingly travel-friendly scooter if you're willing to take a few minutes on disassembly and reassembly.
However, one thing to point out is that if you fly frequently, you can almost certainly find a lighter-weight alternative to take with you on the plane. Airlines charge by the pound, and although most airlines would probably let you board with this model (you'd still want to call and check!), you'll pay a premium for the pleasure.
In terms of ease of use, operating the scooter is about as simple as it gets. The controls are easy to understand and intuitive. With a turning radius of 36," you'll be able to navigate in smaller homes and apartments with relative ease. If you're in an RV, you can expect to find things a bit more challenging, but not by much, though you will do relatively more backing up and executing multi-point turns.
If there's one slight negative to talk about here, it lies in the little talked about subject of the Travel Pro scooter's troubleshooting routines. As with many of its peers, it communicates with you via a series of beeps, all of which are spelled out in the well-written user manual. So any time your scooter starts beeping at you, you'll want to crack open the manual and see what it's trying to tell you.
This, however, is a missed opportunity in our view because the steering console has plenty of room for a small LED screen. It would have been easy and not added much to the machine's cost to include one that simply displayed in English whatever was wrong with the scooter.
We would have liked that better, but we can't really take points from this model's final score since very few companies actually do that. Still, it's something we'd love to see added.
Pros & Cons of Pride Travel Pro Premium Scooter
At this point, we think you'll agree: The Pride Travel Pro Premium scooter is a solid product, but it's not for everyone. In our view, this model's strongest points are as follows:
It's highly adjustable
Surprisingly travel friendly
It comes with lots of extras and options (with many more that could be added if you want)
Offered by one of the best companies in the business
And offered at a really, surprisingly low price
That combination of features is tough to beat, but having said that, it does have a couple of limitations to bear in mind. These include:
It has a really disappointing range.
It doesn't support as much user weight as we'd like.
And it has a very low ground clearance.
Pride Travel Pro Scooter Review Conclusion
The combination of the short-range and low ground clearance defines this as a scooter primarily meant for indoor use and use in urban settings where you'll primarily be driving on flat, paved surfaces and will never be far from a power outlet.
We'd be honest here in our Travel Pro scooter review that the relatively low weight limit defines this chair as one meant for people of average to light builds.
A heavier person would likely exceed the manufacturer's recommended weight limit, making this scooter a nonstarter.
If the above is an apt description of you and how you plan to use the scooter, this one is an exceptional, affordable choice that will serve you well. If you fall outside of the bands described above, we can't recommend this model. There are simply better options available to you.
On that basis, we provisionally recommend it. If you decide to get one, you'll probably love it!
---
References & Resources: