Summary
TravelScoot is a minimalist, Spartan design that won't be for everyone, but an incredibly sturdy and capable little scooter.

Recommended For: Anyone in the market for an exceptionally travel-friendly scooter who weighs 350 pounds or less, and who appreciates the Spartan aesthetic.
* Note regarding Brand Reliability: This metric is a measure of the strength and longevity of the brand, which by extension, is a measure of the level of support you can expect.
Are you in the market for an exceptionally lightweight mobility aid you can take just about anywhere? Do you admire the sleek, minimalist designs prevalent these days? If you answered yes to both of those questions, then the TravelScoot belongs on your shortlist of options to consider, and you're probably going to love our TravelScoot review. It's a cool, capable machine offered by a company you may not have heard of.
The TravelScoot scooter and its smaller cousin, the TravelScoot Shopper Junior, are both manufactured by hand out of tubed aircraft aluminum and then sent to the USA (Washington state, to be specific) for final assembly. As such, these machines do cost a bit more than you may be used to paying for a product from a smaller, relatively unknown brand.
In this case, however, the premium you're paying is for the quality of the machine. Most off-brand scooters, especially those that are exceptionally lightweight, support a disappointing amount of user weight and aren't very capable. As you'll see in the sections that follow, that's definitely not the case here.
Below, we'll give you full details on this model. We'll tell you everything the designers got right and reveal the TravelScoot's weak points, so you can decide for yourself if this is the model you've been searching for. If that sounds good to you, read on, and let's take a closer look!
An Overview of the Travel Scoot Folding Mobility Scooter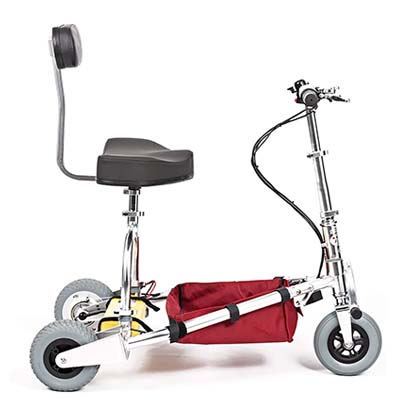 Aesthetically speaking, there are two things about this model which will put some people off.
First, it's a three-wheeled design. Many people simply prefer four-wheeled scooters for the increased stability. Second, it's got a very minimalist look to it. It's not ugly, by any means, but it's clear that the design team poured the majority of their effort into making a lightweight, functional machine and didn't pay much attention to aesthetics.
We're totally fine with that, and we suspect that a solid majority of the market for this model will be too.
After all, at the end of the day, what people with mobility issues want is a machine that gets them where they're going. If it looks awesome while it does that, that's a bonus, but looks alone don't sell mobility aids. They actually need to work, and as you'll see, this one works really well. Let's take a quick look at the core stats that define the Travel Scoot. Here's a quick overview:
Overall Product Dimensions: 37" L x 23" W x 27"-39" H (Folded Dimensions: 33.5" L x 15" W x 10" H)
Seat Width: Triangular: 18" wide at the base, 9" wide at the point.
Seat to Floor Height: 21.5" to 23.5" (lightweight model is 19.5" to 21.5")
Top Speed: 3.75 mph
Range: 13 miles
Wheel Size: 8"
Ground Clearance: 2"
Maximum Slope: 15 degrees
Scooter Weight: 35 pounds (Shopper Junior weighs just 26 pounds!)
Maximum Supported Weight: 320 pounds
The big thing that strikes us is that, for the most part, these numbers are strictly average, which in the context of this machine, is actually amazing.
Most ultralight scooters make all kinds of performance sacrifices to keep the weight down. This one doesn't. It sports an average speed, an average to slightly above average range (you can coax more range out of it if you weigh less than 260 pounds), and about average ground clearance for this type of machine.
On the other hand, look at the supported weight. Most scooters designed to be travel-friendly wind up supporting in the neighborhood of 250-265 pounds. This one supports significantly more than that, and it still manages to weigh in at just 35 pounds, which makes it exceptionally travel-friendly. It also excels at handling slopes, which makes it the perfect choice for someone who lives in a hilly area.
Where the ground clearance is concerned, it defines the scooter as one that's most at home on flat, paved surfaces or in-home use. As an around-town scooter, it's superb. If you do a lot of RV traveling, and given that most campgrounds have fairly flat camping areas, it'll get the job done there too. If your yard is fairly level and mostly free of obstructions, you shouldn't have any issues there either.
Having said that, this is definitely not an adventure chair. The ground clearance is too low, and the range is too short to take it on a hiking trail, for example. You'll want to stick fairly close to a power outlet, so you can recharge as needed. You definitely can't do any "off-roading" with this little guy. It's just not big or robust enough for that. So ultimately, it comes down to exactly what you need a scooter to do and how you plan to use it.
If you live in an urban area or plan on using it mostly for shopping or inside your home, it's amazing. If you want an adventure chair or something with some zip to it, this one will probably leave you unimpressed.
Adjustability and Comfort
This is a surprisingly strong section of our TravelScoot review. Normally, travel-friendly scooters are strictly "what you see is what you get," with little, if anything, in the way of adjustability. Here, you can adjust the height of the seat within a narrow band. If the seat settings on this model are too high, you can opt for the smaller "Shopper Junior" model, which has a different seat height range as outlined above and is optimized for people 4'6" to 5'3" tall.
Note that the weight isn't materially different, just the footprint. The Shopper Junior was designed for smaller folk and is a pretty kid-friendly design. If you're buying for a younger person, the Shopper Junior is probably the one you'll want, and it has the advantage of offering enough flexibility that it can actually grow with your child, at least to a point.
In addition to being height adjustable, the seat also swivels, which makes transferring into and out of the scooter an easier proposition. The steering column/handlebars can be height adjusted to taste, giving you a surprising amount of flexibility when it comes to tweaking your ride for optimal driving comfort.
On the comfort front, however, the TravelScoot doesn't fare as well. The seat is generously sized, but at the end of the day, it's basically an oversized bicycle seat with a back. The back is height adjustable, and the company contends that it provides lumbar support, but we're honestly not seeing it. About all that can be said is that the diminutive backrest will provide a bit of posture support, but there's certainly no real therapeutic value to the seat itself.
Also, note that the seat is upholstered in vinyl, which will tend to make you hotter and sweatier the more time you spend in it, and that the padding is conventional block foam.
There's enough of it to provide a reasonably comfortable ride, but this is not the kind of scooter you'll be wanting to lounge around in once you get where you're going.
The good news is that you can buy additional padding for the seat from any number of third-party vendors to make it more comfortable, but there's not going to be much you can do about the seatback. It's so small that finding an aftermarket seatback pad that will fit it is likely to be a challenge.
Extras and Options
Most smaller companies don't offer anything in the way of extras, either built into their products as standard features or as accessories for sale on the company's website. Here, the TravelScoot scooter is a happy exception to the rule, and we'd rate this as another very strong segment of our review.
While the scooter doesn't have any built-in extras, you'll find a surprisingly robust collection of TravelScoot accessories and spare parts available from the company's site. Among other things, you'll find:
Spare batteries for sale
A suspension system for the seat, adding shock absorbers for an even smoother ride
A folding storage basket
An optional foot tray (which mounts atop the folding storage basket, allowing you to enjoy a meal from your scooter).
A portable curb ramp, useful to help you navigate curbs that would otherwise be too tall for you to travel over.
An auxiliary battery tray for mounting and storing any extra batteries you invest in to extend the range of the scooter.
A folding storage crate with a handle for even more storage.
Best of all, though, in our view, is the fact that TravelScoot sells a little pull-behind cargo trailer that's big enough to accommodate a pet carrier for a medium-sized dog. The pull behind can also be used to support a second seat, so you can add a "backseat" passenger! That's something you only find on a handful of scooters on the market today, and the addition of the cargo carrier makes this an incredibly versatile machine.
Portability and Ease Of Use
If you weren't wowed by the last section, then you'll probably find this to be the most compelling portion of our TravelScoot Deluxe review. The designers really went the extra mile here to build a machine that was easy to use and incredibly travel-friendly.
Check out the folded footprint again, and prepare to be impressed. This little scooter will fit in just about any trunk. If you drive a larger vehicle like a van or an SUV, you'll have plenty of extra space for whatever else you may want to travel with. Combine the fact of its small footprint with its incredibly low weight, and it's hard to go wrong here.
You don't have to be particularly strong to haul the TravelScoot out of storage and unfold it for use, which means that most people won't have to rely on an assistant when traveling.
The control system is a lesson in simplicity as well, and it should only take you a few minutes to master the basics. It's also airline friendly. Given its lightweight, you'll be hard-pressed to find another model that is easier to travel with.
Remember, though, that each airline gets to set its own policy about what's allowed and not. Before you fly, you'll want to check with the airline you'll be using and let them know what you've got so you don't run into any surprises at the airport. In our view, its travel-friendliness is one of the TravelScoot's strongest selling points.
Pros & Cons of Travel Scoot
There aren't really any cons to talk about with the design of the machine itself. It's superb, and it's offered by a great company that too few people have heard of.
The fact that it's offered by a relatively unknown company will be off-putting to some, who prefer to buy from bigger and more established brands. That's baked into our rating model.
It's also a three-wheeled design, which will turn off a segment of the market. Again, that's a conscious design decision to help keep the total weight down, and we can't fault the company for that.
Finally, the aesthetic is pretty Spartan, which some people aren't going to like. We understand though that all the extras that would give the scooter a more polished look would also add to the weight. Tastes also vary where aesthetics are concerned, so there will be some people who really like the look of this model, just like a certain segment of the market prefers three-wheeled scooters to those with four-wheels.
We don't see any outright flaws in the design, but the consequences of some of the company's design decisions will limit this model's appeal somewhat.
The only real negative to talk about here is the TravelScoot's price. You will pay a premium for it because top-quality materials were used in its construction. Also, this isn't a Chinese import, unlike so many other products offered by smaller brands.
On the other hand, you seldom see a used TravelScoot for sale, and finding a TravelScoot for sale on Craigslist is about like finding a unicorn. The people who own them love them, and tend to hold onto them, which speaks volumes about the overall quality of the machine.
TravelScoot Review Conclusion
Here's a snapshot of what we feel is the ideal user that the Travel Scoot was designed for:
We believe here in our TravelScoot review that the more of those bullet points that apply to you, the more you're going to love the TravelScoot. The fewer that apply, the less impressed you'll be.
Comparable Products to Consider
If for any reason, the TravelScoot just doesn't work for you, you may want to consider the following alternatives:
Travel Pro 3-Wheel Scooter by Pride Mobility
Recommended For: Anyone on a budget who's looking for a good, lightweight, travel-friendly mobility aid from a reputed brand, provided that you only plan on taking short trips on flat surfaces with it!
This one is specifically for people who don't trust, or want to take a chance on a smaller brand. Pride is one of the biggest names in the mobility industry. While this model doesn't support as much user weight (275 pounds vs. 320 pounds of TravelScoot), it is brimming with extras and has a very polished look.
This one's also offered by a smaller brand. It is a bit less expensive, but also less travel friendly, though it does have one exceptional "superpower." It automatically folds itself up for transport at the touch of a button. If you love little tech flourishes like that and prefer a machine with a more polished aesthetic, this one is an excellent option indeed.
---
References & Resources: