The beach is a destination that should be accessible to all, including people who rely on mobility devices to get around. Unfortunately, deep sand and water are a wheelchair's two worst enemies.
The beach wheelchair enables people with physical limitations to access the sand and sea without a hitch.
There are many different types of beach wheelchairs, but we break them down to give you an idea of the best features available for your needs.
What is a Beach Wheelchair?
A beach wheelchair is designed with specialized features that make it safe and comfortable for people with disabilities to enjoy the seaside.
Standard manual wheelchairs and powerchairs aren't able to roll over the sand due to their narrow, smaller wheels. They end up getting stuck in the deep, soft sand, which can lead to the wheelchair user becoming stranded under the hot sun.
Powerchairs are especially not suited for the beach as the electric controls can become seriously damaged if exposed to water. The frames are also made of metal materials that corrode from saltwater.
Beach wheelchairs, on the other hand, come in all sorts of designs, shapes, and materials that offer different types of outdoor experiences—depending on the person's physical limitations.
To summarize: there is a beach chair for everyone! We'll examine all of the different options later on in the article, but first, let's look at the benefits a beach wheelchair provides.
5 Benefits of Using a Beach Wheelchair
Beach wheelchairs can turn a sandy situation into smooth sailing thanks to human innovation! Here are the most essential benefits these wheeled sea warriors offer people with mobility issues.
1. You Won't Get Stuck in the Sand
The wheels are probably the most distinctive feature that sets beach wheelchairs apart from other devices. They are large, soft, pneumatic, and most commonly made from plastic.
Beach wheelchair tires can roll and maneuver through deep sand with ease, ensuring the rider won't get stuck baking in the heat. They're also ideal for moving over rough terrain and on uneven surfaces.
2. Lightweight and Portable
Beach wheelchairs are made from breathable, lightweight materials that don't weigh as much as standard wheelchairs or powerchairs.
Depending on the model, they can weigh between 31 lbs and 160 lbs. Some manual models break down into smaller parts or are foldable, making it easy to slide them into the trunk of a car without investing in an expensive lift.
3. Non-Corrosive
Standard wheelchairs are comprised of metal frames that can rust when exposed to water. Beach wheelchairs are a little more creative than that.
For example, there are PVC beach wheelchairs with frames made from PVC pipes. Not only is this type of frame non-corrosive, but it's also lightweight.
There are also beach chairs manufactured from metals that are specially treated to go in salt or freshwater without rusting.
4. Customization
You can find beach wheelchairs that are ready for immediate use, or you can have one customized for your physical needs.
Some models even come with separate components, so you can change out certain parts to use the chair as an all-terrain device.
5. Versatility
You don't have to get stuck with a wheelchair beach chair that's not comfortable. There are plenty of options on the market, including manual beach chairs, powerchairs, and amphibious wheelchairs.
There are even conversion kits that allow you to change the wheels of your everyday manual chair into a beach chair without having to invest in another model.
We'll take a look at each type of beach sand wheelchair and the different features each offers users. But first, here are some tips on how to choose the right model for your needs:
Things to Consider When Choosing a Beach Wheelchair
You might be on the fence about whether a beach wheelchair is right for you.
If you live near the ocean or other bodies of water or enjoy partaking in watersports, then it could be worthwhile to invest in one alongside your everyday standard wheelchair.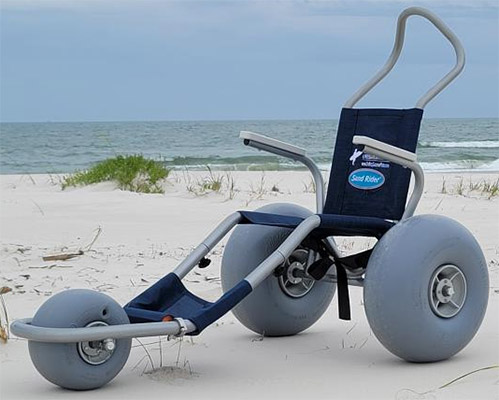 However, if you only frequent the beach a handful of times each year, you might be better off with a conversion kit that lets you adapt your standard wheelchair so it can operate on the beach.
Here are some other considerations to keep in mind when browsing different beach chair models:
What Do You Want to Use it For?
First and foremost, be honest about your physical abilities and what you'll want to do with your chair.
Do you prefer to sit under an umbrella and enjoy the view? In that case, a manual beach wheelchair might be best.
Do you want to take your wheelchair into the water, over the sand, and also on trails? An all-terrain beach wheelchair offers the versatility you crave.
Manual or Power?
This depends primarily on your physical abilities. If you have the upper body strength to propel yourself forward, then a manual wheelchair is ideal.
Beach powerchairs are available for those who lack mobility in their arms, but bear in mind these types of chairs can't get wet due to the electrical components.
Beach Wheelchair Wheels
The most common type of beach wheel looks like a balloon. It's large, wide, and soft for rolling over deep sand, and some types can float in the water.
As mentioned, some wheels can function on the beach and also other types of rough terrains, such as rocky, steep trails.
If you travel frequently, look for lightweight wheels that can be disassembled and stored easily.
Customization
Seniors or people with mild physical limitations might not be worried too much about modifying their beach wheelchairs, in which case some standard models are affordable and practical.
On the other hand, people with more severe disabilities might need more modifications, and there are beach wheelchairs that let you customize the components from top to bottom. Bear in mind that this usually ends up being expensive, though.
The Accessories
There are tons of fun and necessary accessories to enhance your beach experience. Some beach wheelchairs come equipped with accessories such as an umbrella holder or reclining seat, while you might have to purchase others separately.
Here's a list of common beach wheelchair accessories:
Attachable beach bag
Fishing rod holder
Drink holder
Cushion set
Carrying case
Buy or Rent?
If you don't have the funds to purchase a beach wheelchair, or you don't think you'll use one enough, and it'll end up collecting dust in your garage, there is the option to rent!
Many recreation centers, parks, and beaches rent out beach wheelchairs—all you have to do is call ahead and ask.
Different Types of Beach Wheelchairs
Now that you are well-versed in the intricacies of beach wheelchair design, it's time to look at the various models available on the market and the features that make them unique.
Manual Beach Wheelchairs
A manual handicap beach chair features a basic chair design with wheels that can be self-propelled, or a companion can push the chair.
Manual beach chairs come in all sorts of designs, with four-wheel standard chair models and low-to-the-ground three-wheel trike models that can be pushed and pulled like a rickshaw.
This is the model you'll want to go with if you plan on getting into the water. There are floating beach wheelchairs and models that submerge but bear in mind that you'll need one or two people to help push the chair in and out of the water.
Motorized Beach Wheelchairs
Electric beach wheelchairs enable users to enjoy more independence since an assistant is not needed to push the chair.
A heavy metal frame is equipped with controls and a joystick for steering, with large wheels designed to roll through the sand.
While power beach wheelchairs are ideal for people who lack the strength to propel themselves, this type is generally more expensive than a manual chair.
You need to ensure the battery is always charged and keep an eye on the range to avoid getting stuck outdoors.
One important thing to remember is that motorized chairs can't be exposed to water as it can severely damage the controls. Therefore, if you plan to use your chair for swimming, you might want to consider a manual chair.
Amphibious Beach Wheelchairs
You might've seen some beach wheelchairs labeled as 'amphibious,' which means that the chair can be used on land and in water.
Common features found on amphibious wheelchairs include a harness to keep your body stable while traveling over uneven surfaces, floating armrests, and the ability to recline the seat for a comfortable position in the water.
The floating armrests and wheels balance out the chair while in the water, with ergonomic handles added for rider support.
Typically these chairs are made from non-corrosive aluminum and stainless steel.
All-Terrain Beach Wheelchairs
If you're more interested in participating in adaptive outdoor sports, then an all-terrain beach chair offers versatility as a wheelchair for beach sand and also for exploring trails.
This is ideal for someone who doesn't visit the beach as often but loves spending time outdoors. An all-terrain model ensures you can still roll over soft sand and get the chair wet without consequences.
Some models come with specialized kits that allow you to change the inflated wheels with mountain bike wheels or even skis for waterskiing.
Portable Beach Wheelchair
Traveling with any type of wheelchair can be tricky if it's not manual or made with lightweight materials.
A powerchair often requires a lift to be transported, which can be an expensive addition to your motor vehicle.
If portability is important to you, look for a collapsible beach wheelchair with a lighter frame that folds down to a smaller size to fit seamlessly in your trunk or passenger seat.
Reclining Beach Wheelchairs
This type of chair offers the user more adjustability to find the most comfortable fit for their needs.
These models are equipped with elevated leg rests and a fully reclining backrest. You can stretch out your legs under the sun to get a tan or relax in the water as if you're on a pool float.
Beach Wheelchair Platform
Not sold on purchasing a beach wheelchair? If so, there are a couple of devices that allow you to still enjoy water activities from the comfort of your own custom-fit wheelchair.
A wheelchair platform or dolly is designed to carry your wheelchair, so you don't have to worry about rolling over sand or touching the water. There's not much to it; you simply fasten your device on top of the platform.
A beach wheelchair mat is another option. This waterproof mat is lightweight and can be disassembled into multiple pieces that fit together like a puzzle to create one long pathway that can be configured however you like.
For instance, you can lay the mat down from the sand to the water, creating a smooth surface to roll over.
It's also versatile for camping trips, attending outdoor events, and gardening.
Types of Beach Wheelchairs Conclusion
If you're an ocean lover, a beach wheelchair gives you the freedom to feel the sand on your toes and play in the surf. The thing is, there are many different types of beach wheelchairs to choose from, with varying features and designs.
Consider your physical abilities and goals for the chair, then scout out the types of features that best suit your needs. Several models make it possible for people with a wide range of disabilities to enjoy the beach on their terms.
---
Resources and References: