An electric scooter is the perfect middle-ground device for those who have limited mobility but don't want to sacrifice their independence.
However, choosing the right model is crucial to get the most functionality and enjoyment out of your experience.
In this guide, we discuss the different types of mobility scooters to give you a clear idea of what could be your best match. Let's get started!
Mobility Scooter Overview
Before we jump to the many different mobility scooters on the market, it's important to clarify what this mobility device is and how it's different from a power wheelchair.
A wheelchair is designed for disabled individuals who lack use or have limited mobility of the legs, spine, or arms.
In comparison, a scooter is for those who can still walk, sit upright, and steer while seated.
The user must be able to balance their weight from a sitting position since scooters don't offer the support of cushions or side laterals like a wheelchair.
Mobility scooters can be used indoors or outdoors, with the user utilizing a joystick to maneuver with ease. It's the perfect portable companion for everyday errands or trips, where walking long distances can be tiresome.
Comparing 3 Wheel vs 4 Wheel Mobility Scooters
It's important to note that there are two main types of mobility scooters: three-wheel and four-wheel.
Both feature unique characteristics for a varied user experience. It's time to compare mobility scooters!
Three-Wheel Scooter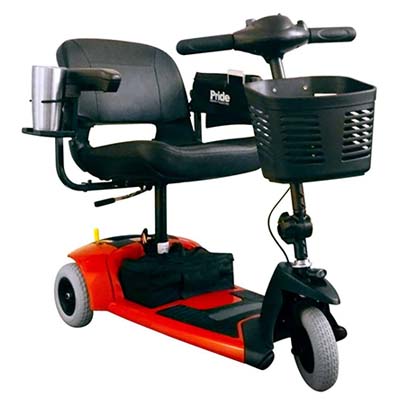 With a narrow base and single wheel in the front flanked by two back wheels, the three-wheeler is a compact mobility scooter that is adept at maneuvering in tight spaces.
It also operates as a fold-up mobility scooter since there are fewer parts to disassemble. Therefore, it's a traveler's dream machine.
This type of device is ideal for zipping around doorways and sharp turns indoors since the maneuverability is more streamlined than a four-wheeler.
However, be prepared to sacrifice ample footrest and stability due to the narrow design.
Four-Wheel Scooter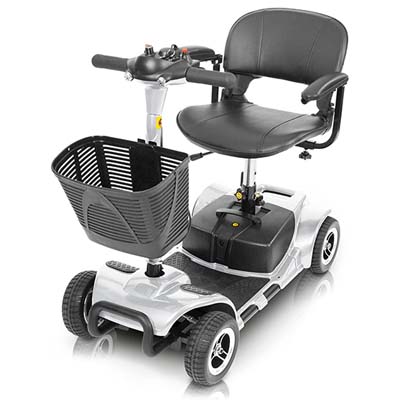 The four-wheel mobility scooter features a broader base that isn't as adept at maneuvering as the three-wheeler, but it does boast more stability and added comfort if you prefer a lot of legroom.
The extra stability and larger turning radius make the four-wheeler ideal for use outdoors. It can handle the slight bumps of an uneven surface, move over grass, and also tackle gravel without complaint.
Indoors is another story, though. While you can use a four-wheeler inside comfortably, you'll have to take care when turning in small rooms, narrow hallways, and doorways.
Alright, now that you have a solid understanding of the two main types of scooter wheel designs, let's move on to our mobility scooter guide.
Portable Mobility Scooters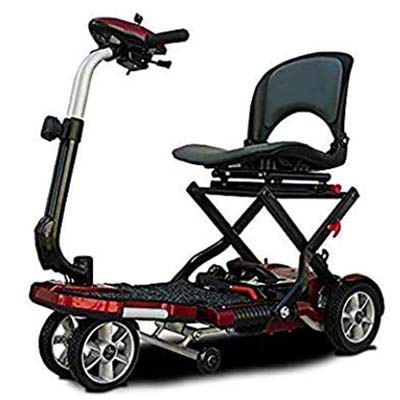 A travel mobility scooter is the bee's knees if you want to avoid purchasing an expensive car lift or taking the time to transfer a wheelchair or full-size scooter onto public transit.
It's manufactured from high-quality aluminum, which makes this an incredibly lightweight mobility scooter.
This gives you the power to jet set without the hassle, especially since it's a folding mobility scooter that disassembles for easy storing in the trunk of a car or on a plane.
Another bonus is that this smaller electric mobility scooter is powered by a non-spillable battery that is safe for airplanes.
But don't let the compact size fool you. It has a weight capacity of 250 to 400 lbs, depending on the model.
While this type of mobility scooter is the most convenient option for travel, bear in mind that comfort is sacrificed for portability.
For instance, you won't find a captain seat or cushy accessories on a travel scooter.
Mid-Size Mobility Scooter
The mid-size mobility scooter is a happy medium for those who spend ample time both indoors and outdoors.
It's equipped with large, wide wheels that increase traction and stability over rugged terrain. However, it also maneuvers well to tackle sharp turns in public areas such as malls or cafes.
Not many mid-size scooters fold, but you can still disassemble the parts to transport them in a car without a lift.
Full-Size Scooter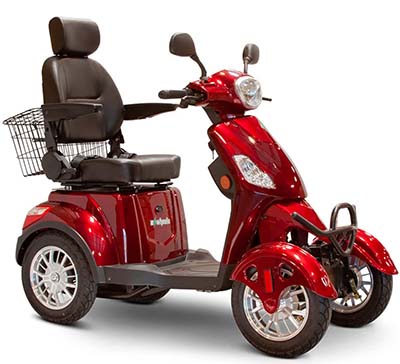 For larger body types, the full-size scooter is your most comfortable option, accommodating between 300 to 500 lbs.
The seat is wider with a taller backrest for added support. But the hefty size doesn't deter this scooter from traveling long distances, thanks to a high capacity battery that does 10 to 30 miles, depending on the model.
Although large, the full size is equipped with a three-wheel design to enhance maneuverability indoors.
Therefore, if you live in a large apartment or house, you'll be able to take on those sharp corners like a pro.
All-Terrain / Heavy Duty Mobility Scooter
As the name suggests, all terrain mobility scooters are born to be wild…out on gravel paths, that is.
If you enjoy playing sports such as golf, live on a farm, or just want to get an adrenaline rush on some rough trails, then this is the durable, fast mobility scooter that can handle what nature throws at it.
It features a higher ground clearance than your standard scooter, allowing it to bypass most obstacles.
The design is also incredibly sturdy, with a reinforced undercarriage and wheels that won't quiver under some off-road strain.
Now here's what makes it one of the most attractive mobility scooters for adults: it's heavy-duty enough to accommodate up to 500 lbs, with a long-range battery that promises hours of power.
There is one major drawback, though. Don't expect the same indoor efficiency as you would get with a mid-size or full-size scooter.
Final Thoughts on the Types of Mobility Scooters
There are numerous mobility scooters to buy on the market. Knowing what the main features are all about and underlining your objectives give you a clear perspective of what model fits your lifestyle.
To conclude this guide on the different types of mobility scooters, remember that there are indoor and outdoor options, with various accessories that either enhance comfort or increase performance.
For more guidance, you can always talk with a supplier, who possesses the expertise to nudge you in the right direction.
---
Resources & References: