Do you enjoy sports but physical limitations are keeping you from being able to participate in the fun?
Wheelchair innovation has come a long way, with many different types of sports wheelchairs available for athletes to push their physical limits despite having disabilities.
In this article, we explore the world of adaptive sports and the wheelchairs that make it possible for millions to partake in the physical activities they love. Let's roll right into it!
What is a Sports Wheelchair?
A sports wheelchair is a specialized device that enables people with mobility issues to partake in competitive or recreational sports.
This is not your standard manual or electric wheelchair and shouldn't be regarded as a device to help you get stuff done around the house throughout the day.
Instead, if you participate in sports, you should count on having a sports wheelchair alongside your standard everyday wheelchair.
Sports wheelchairs are manufactured from lightweight, strong materials, such as titanium or aluminum. The design is customized to fit your measurements, ensuring the center of gravity is stable, and the base of the chair is wide enough to help you perform at your highest peak potential.
These wheelchairs are built for speed and precision. They're durable enough to withstand sudden movements yet light enough to maneuver and propel with streamlined agility.
Depending on the sport you play, the wheelchair is modified for indoors or outdoors for use on courts, tracks, trails, or fields. Some versatile models are built for nature, with all-terrain features that allow the user to enjoy rugged trails, steep slopes, and trips to the beach.
In other words, this is a high-tech device that isn't cheap. You can expect to pay at minimum a few thousand dollars, but since these wheelchairs are highly customizable, the total price varies greatly depending on the modifications you have done.
If you're new to adaptive sports for people with disabilities, below is a list of some of the most popular activities.
Basketball
Tennis
Rugby
Hockey
Soccer
Cycling/Racing
Trail Riding
We'll be covering several different manual and electric sports wheelchair models to give you an idea of what's available to pursue your athletic passions.
What to Consider When Choosing a Sports Wheelchair
A sports wheelchair is a high-end mobility device that demands meticulous planning. Depending on the sport, there are strict wheelchair design regulations that must be followed by all players.
Don't forget, you'll most likely be paying a pretty penny for one, so you'll need to consider a few factors before making your decision.
We give you a brief overview of important details that shouldn't be overlooked.
What Sport Do You Want to Play?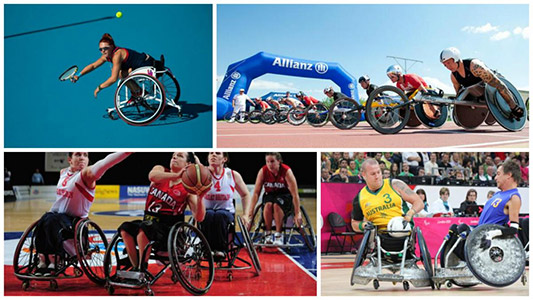 The first thing you'll want to ask yourself is what you plan to use your sports chair for. Also, consider your athletic experience and physical abilities.
Do you want to train seriously for a race or are looking to join a fun recreational team? Think about the activity you want to do, the amount of time you plan on dedicating to the sport, and the types of modifications you might need based on your disability.
The sport you choose may require a specific type of chair, or if it's a recreational activity such as hiking, you might be fine with an all-terrain model.
Whatever sport you want to do, check with the respective adaptive sports organization first for recommendations and chair requirements.
Transportation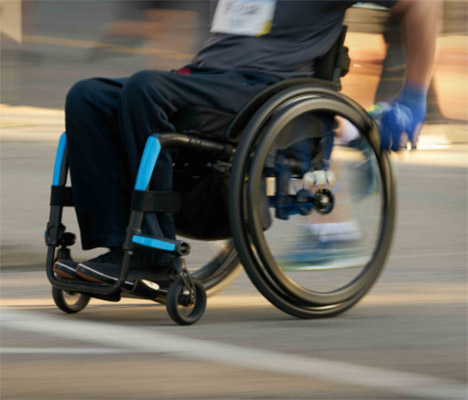 Transportation is always a priority to consider when shopping for any type of wheelchair. The type of vehicle you own and the size/weight of your wheelchair determine how much more time and money need to be spent to make transportation as easy as possible.
It's safe to assume that if you're playing sports, you're going to need to get to the field, trail, or court somehow.
Look at folding sports wheelchairs or lightweight sports wheelchairs. These types are easiest to transport since they can collapse and fit inside the trunk of a vehicle.
Powerchairs are bulkier and typically do not fold, requiring a vehicle lift to be installed. This can get rather expensive, especially if you own a small vehicle that requires heavy modifications.
Financing Options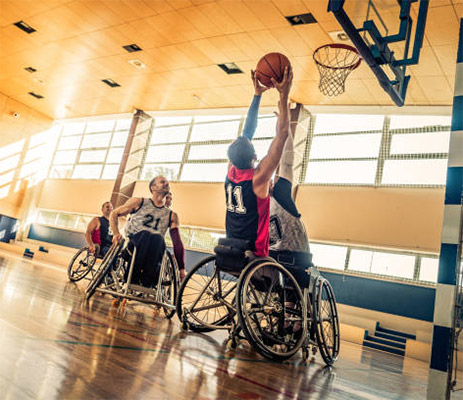 Finally, consider how you'll pay for your sports wheelchair. As mentioned, this heavy-duty device is a serious investment.
The best course of action would be to talk with your insurance agent regarding what's covered on your policy. Specifically, ask about protection for damages or loss.
You can also get recommendations from your wheelchair supplier regarding the best sports wheelchair manufacturers and the costs to expect.
8 Different Types of Sports Wheelchairs
Alright, without further ado, let's dive into sports wheelchairs! Generally, you can categorize them into four groups: handcycles, all-terrain, court chairs, and racing wheelchairs. We cover them all!
1. Basketball Wheelchair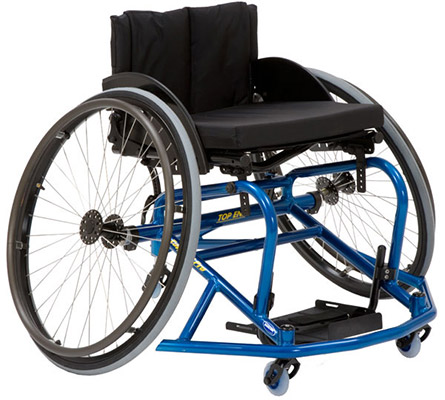 With wheelchair basketball, every chair is different—depending on the player's physical ability.
Wheelchair basketball is based on a point system from 1.0 to 4.5 that classifies players depending on functionality.
For example, a player who is paralyzed from the waist down receives a lower classification than an amputee. Furthermore, the chair is tailor-made to accommodate these disabilities.
The lower the player's classification, the lower the seat is to the ground to enhance stability and balance.
A low-point chair generally sports two-caster wheels in the front and one in the back, which enables the player to reach for the ball without tipping.
However, high-point designs may have a wheelbase with four casters evenly dispersed, allowing them to reach back and forward without flipping over in the chair.
The chair is manual, with cambered wheels that are inclined at an inward angle. This supports a wider wheelchair base, preventing tipping while allowing the player to maneuver and turn quickly.
The basketball wheelchair frame is lightweight—made from titanium, carbon fiber, or aluminum. It's rigid, and designed for impact resistance on the court.
2. Handcycles/ Racing Wheelchairs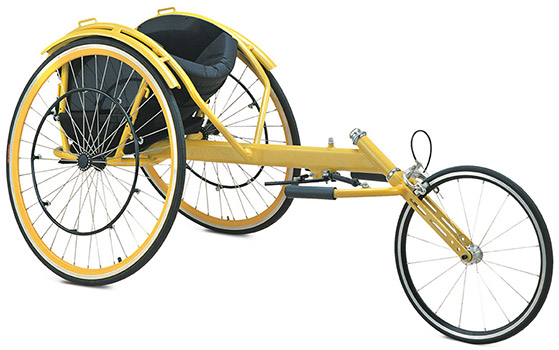 Handcycles come in a variety of designs, depending on the activity you want to try and your physical limits.
This is often the wheelchair of choice for adaptive cycling, both for recreational use and racing.
Lightweight materials and thin hollow tubing are used to decrease weight and enhance durability. For example, racing cycles weigh a mere 25 to 30 lbs.
There are different types of handcycles adapted to the type of activity you want to partake in.
Upright handcycle: This is the most basic choice for those who want to cycle recreationally or for beginners who want to try out a handcycle. It features a higher center of gravity that makes it easier to control speed and distance.
Recumbent handcycle: This type of cycle features three or seven speeds that limit the top speed to under 15 mph. It features a fork-style steering system that is either basic fork-steer or lean-to-steer.
Fork-steer is the most common type, utilizing a single frame with a fork that turns independently as the user controls a shaft. It's a versatile setup, suitable for people with mild to severe disabilities.
Lean-to-steer is more advanced, featuring a two-piece frame. The rider must lean their body to turn the front wheel, which takes some practice to master. This type of setup is suited for people with lower-level disabilities.
3. Tennis Wheelchair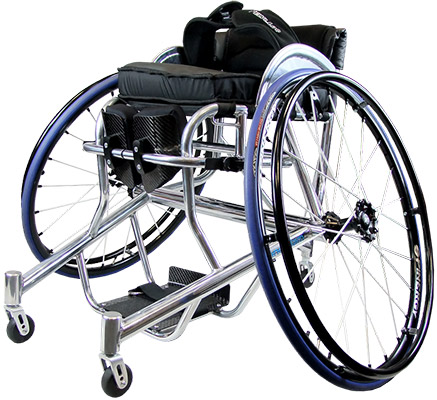 Tennis wheelchairs come in all sorts of designs and can be customized as needed to provide the player with the most comfort and best performance capabilities.
There are manual and electric options, with the defining features being extended wheels in the front that enable the player to reach forward for shots without falling over.
It's a sports wheelchair, made with lighter materials and designed to allow for the max flexibility of movement on the court.
Straps are positioned across the waist and thighs to prevent the player from falling out. Grip devices allow players without arm mobility the chance to hold the racquet.
4. Rugby Wheelchair
Also known as "murderball", this is a high contact sport played on a hard indoor court.
The wheelchair is manual and custom-made to fit the dimensions of the player. The wheelchair must also follow the specifications outlined by the sports organization.
Key elements include a strong front bumper that enables the player to strike or hold another player's wheelchair.
Offensive chairs feature a front bumper with wings that prevent other wheelchairs from latching on and holding it back. These chairs are designed for speed and maneuverability.
Defensive chairs feature bumpers that can hook onto other players and prohibit them from moving.
Since there is heavy contact, spoke protectors are utilized to prevent wheel damage, and an anti-tip mechanism is situated on the back of the wheelchair for stability.
5. Multi-Sport Wheelchair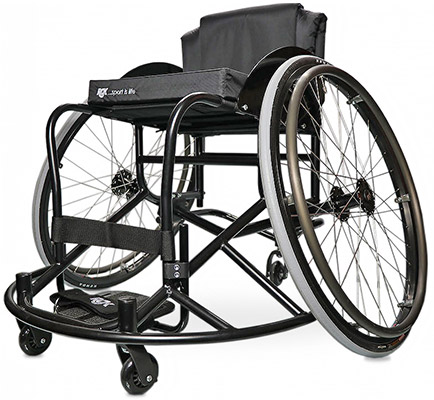 For children and adults, there is such a thing as a multi-sport wheelchair. This design is more affordable than a professional, custom-built sports wheelchair. You can play court sports, including tennis and basketball.
The multi-sport wheelchair comes with a variety of adjustable features, including the following:
Adjustable backrest and back wheel
Inclined/angled wheels
Lightweight frame
Removable toe guard
Quick-release wheels
This is recommended for individuals who want to partake in a wide range of recreational sports or for those who just want to get outside and be more active.
6. All-Terrain Wheelchair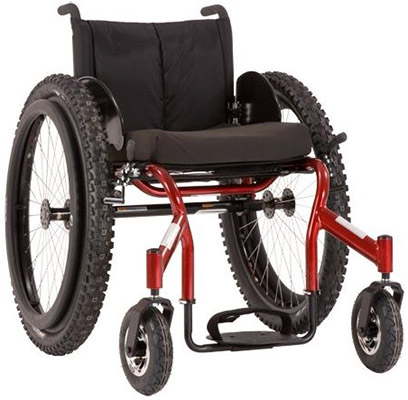 This type of wheelchair isn't a sports wheelchair, but it is designed to get the user outside and be active.
This type of chair is heavy-duty and comes in a multitude of designs. It allows the user to travel over rough, rugged terrain without tipping over or getting stuck. It's the perfect model for those who love hiking trails.
The defining features of an all-terrain wheelchair are a strong, lightweight frame and large, wide wheels with enhanced traction.
These wheelchairs can be pushed by a companion, while some models feature unique steering systems for the rider to be in full control.
Transportation is usually easy, depending on the model. All-terrain wheelchairs can be either manual or electric. Manual versions fold or break into separate parts, while heavier motorized models often require a lift.
7. Beach Wheelchair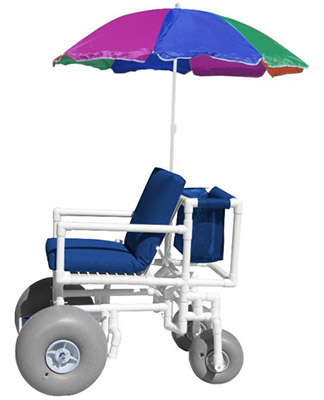 Beach wheelchairs are also designed for outdoor use, particularly if you enjoy water sports or live near the beach.
The frame is made using specially treated materials that won't corrode, or it can be made with PVC pipes.
The key feature though is the wheels. Typical beach wheelchairs sport large, inflatable tires that roll through soft, deep sand without a hitch.
Manual chairs come with different modifications depending on the user. For example, there are floating chairs that can be pushed into the water or reclining chairs that maximize comfort.
8. Electric Wheelchairs for Sports
If you're a powerchair user, two sports have especially been adapted to use with electric wheelchairs. This includes power soccer and power hockey.
Power soccer is played indoors on a regulation basketball court. The players travel around the court in electric wheelchairs modified with footplate bumpers used to "kick" the ball. These bumpers also protect the wheelchair components and the player's body.
Power hockey is also played on an indoor basketball court with a small plastic ball instead of a traditional hockey puck.
Only powerchairs are allowed to be used, giving people with a wider range of disabilities the chance to participate. Players who lack hand mobility to hold a hockey stick are allowed to attach it to the wheelchair.
Types of Sports Wheelchairs Conclusion
Adaptive sports are constantly evolving, opening up the possibilities for exercise, competition, and outdoor recreational activities for people with disabilities.
There are several types of sports wheelchairs customized especially for the sport in question.
If you are interested in a particular sport, our recommendation is to reach out to the adaptive sports organization in your area for advice on choosing the best type of sports chair.
---
Resources and References: