Like people, wheelchairs come in all shapes, sizes, and designs. You'll find hundreds of different types of wheelchairs, from custom-built to all-terrain beasts that look like mini tanks.
It can be overwhelming to decide on one, which is why it's important to do your research and consider your lifestyle priorities.
We've put together an extensive list of wheelchairs to give you a taste of the most popular options on the market. Let's get rolling!
An Overview of Different Types of Wheelchairs Available
What exactly is a wheelchair? The name is pretty self-explanatory- this is a seated device outfitted with wheels to help a person with limited mobility move and live independently.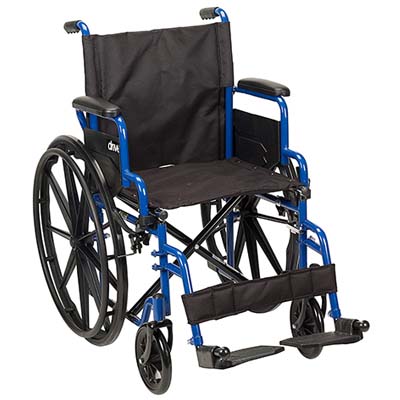 And, there's no limit to what wheelchairs can enable individuals to accomplish, regardless of the disability.
Today, wheelchair users have made incredible strides to live life on their terms, whether it's competing in the Paralympics or even scuba diving under the sea- all in a wheelchair.
A wheelchair is a testament to the ingenuity and brazen creativity of the human mind. As you'll see in our guide, there is a multitude of specific designs suited for a broad range of lifestyles, body types, and activities.
Let's start with the basic manual wheelchair!
Different Types of Manual Wheelchairs
The traditional wheelchair is one that we are all probably most familiar with. It doesn't utilize any electricity to function, and the user must propel themselves forward by moving the drive wheels with their hands.
Because manual wheelchairs are not powered by electricity, they are easier to use and maintain than motorized types.
They're also more durable and less expensive, making this an ideal choice for many.
The basic structure of a manual wheelchair means it can be customized to suit the user's needs.
For example, a heavy-duty or bariatric wheelchair is designed to hold a weight capacity of up to 700 lbs, instead of the average 300 lbs.
That's because this type of wheelchair is manufactured out of steel, making it solid for bigger bodies, although it is heavier to transport.
But as you can see, every wheelchair serves its purpose. A simple switch of materials is enough to make a difference in whether someone can move comfortably and safely.
Below, we've listed some of the most popular types of manual wheelchairs.
Active Wheelchairs: Best for the Busy Lifestyle
It's impossible to describe this type of wheelchair in one way, as it comes in numerous varieties, including rigid, ultra-light, folding, and general sports active.
But the objective is the same: to be highly versatile and adjustable for users who lead a busy lifestyle and need a wheelchair that can handle constant movement and maneuvering.
Folding/Airplane Wheelchairs: Best for Frequent Travellers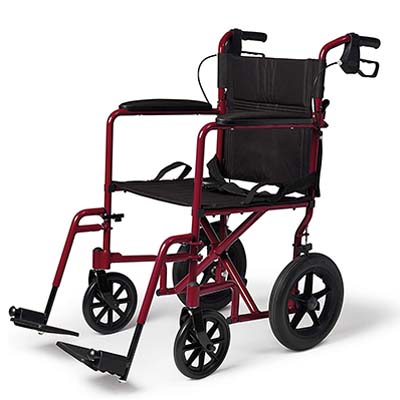 If you're always on the road for work or are an avid traveler in general, then an airplane wheelchair or folding wheelchair makes it easier to maneuver in tight corridors and crowded airports.
The key features of this chair are that it's lightweight and foldable, so you can quickly collapse it, slide it into a carrying case, and store it safely on the plane, in the trunk of a car, or even in a cupboard.
Ergonomic Wheelchairs: The Best for Enhanced Maneuverability
For wheelchair users who find it challenging to maneuver a wheelchair and perform basic daily tasks, whether it's due to a physical limitation or lack of stamina, the ergonomic wheelchair lightens the load.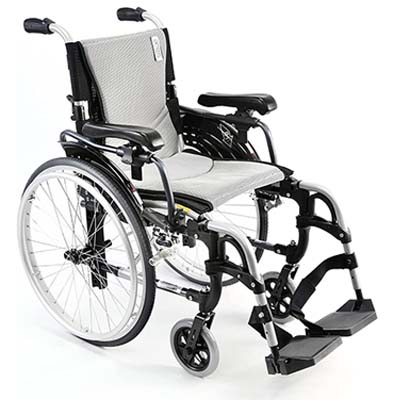 Equipped with an ultra-light frame and a special pressure relieving seat, the user gains comfort since they don't have to push a heavy frame around.
Transport Wheelchairs: Best for Rapid Transport with Assistance
Though lightweight and compact, transport wheelchairs must not be mistaken for a traditional manual wheelchair.
This type of chair lacks many of the functions needed for independent use, and therefore should not be regarded as a necessary device to help tackle daily activities.
Instead, it's meant for quick transport to and from locations, requiring the assistance of a caregiver.
Narrow Wheelchairs: Best for Small Houses or Apartments
The narrow wheelchair is just that- incredibly narrow. Its dimensions can span from 18 inches to 22 inches, giving users who live in a small home or apartment the ability to move smoothly through tight hallways and corridors.
Shower Commode Wheelchairs: Best for Bathroom and Shower Use
One of the most difficult places for a wheelchair user is the bathroom. Trying to maneuver around ceramic appliances on wet surfaces is a recipe for an accident.
That's where shower commode wheelchairs come in handy. They're designed specifically for wet environments, with a waterproof exterior and stainless steel components that enhance safe operation.
Single-Arm Wheelchairs: Best for Individuals with a Single Fully Functioning Hand/Arm
One of the drawbacks of a traditional manual wheelchair is that it's not operational for people who lack mobility in one of their arms.
Typically people with this type of disability opt for a powerchair, but not everyone prefers this, wanting the lightweight feel and simplicity of a manual chair instead.
The single-arm wheelchair is specifically designed to be used by one arm and can be customized to suit either the right or left side.
A special mechanism moves both wheels at the same time as the user propels one of the wheels forward.
Different Types of Electric Wheelchairs
On the opposite side of the spectrum, we have powerchairs, which use electricity to propel the wheelchair forward and backward.
Powerchairs come with many benefits that manual chairs don't and are a necessity for many types of disabilities, particularly those without the upper body strength to propel and maneuver.
However, motorized types are also quite versatile and can be modified to suit the user's needs.
This is one of the most popular types of wheelchairs for paraplegics, depending on the person's mobility, strength, and stamina.
Do note that they are more expensive than manual wheelchairs to buy or repair, and require more maintenance.
This type of wheelchair is not the safest in wet environments, as the electronic components can become damaged if exposed to liquid.
Here is our list of the most common motorized wheelchairs.
All-Terrain Wheelchairs: Best for Those Who Spend Ample Time Outdoors
This type of manual or electric wheelchair was born to adventure, no matter if you're rolling over sand, grass, or rocks.
The difference is all in the wheels. All-terrain chairs feature wider tires that increase traction and can roll over uneven surfaces without slipping and sliding.
While this is a great option for outside activities, wider tires aren't the best for indoor maneuvering. Plus, this type of wheelchair is expensive and requires regular maintenance.
Mobility Scooters: Best for Individuals with Partial Use of Their Legs
Mobility scooters are one of the best types of wheelchairs for elderly people or individuals who have partial use of their legs but lack the strength and stamina to get through the day by walking.
Scooters are smaller and weigh less than bulky powerchairs but are operated in a similar fashion with the user sitting upright on a seat attached to a wheelbase.
Scooters are ideal for running daily errands or for excursions that require a lot of walking.
Standing Wheelchairs: Best for Relieving Stiff Muscles and Joints From Prolonged Sitting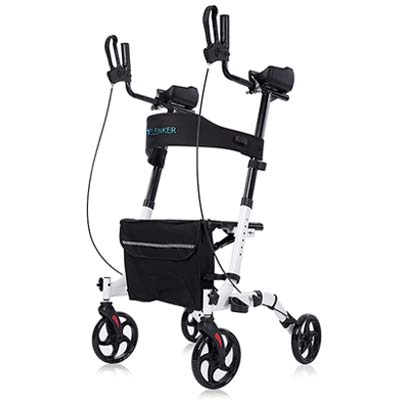 Wheelchairs require the user to sit for long periods of time, which can impact blood circulation, leading to stiffness, muscle pain, and issues with the hips, knees, and ankles.
A standing wheelchair looks like a typical wheelchair, except it features a mechanism that raises the user's upper body into a supported standing position. It comes in manual or electric designs.
This facilitates movement throughout the body so the blood can flow and the muscles can get relief.
Smart Wheelchairs: Mobility of the Future
It doesn't get any more technologically advanced (or expensive) than this, folks. A smart wheelchair is fully automated, with savvy features such as obstacle detection, and artificial intelligence that collects information on the user's behavior then does the hard work for them.
Different Types of Pediatric Wheelchairs
Pediatric wheelchairs are designed for children to use, so naturally, they are smaller in size.
They come in manual and power varieties, with an adjustable seat that allows the chair to "grow" with the child.
Hemi height wheelchairs are one type that is built with a dual axle frame to administer height adjustments.
This type of wheelchair is ideal for any height but pertains mainly to those below 5 ft. tall.
Best Manual Wheelchairs for Sports
Sports wheelchairs need to be two things: fast and light.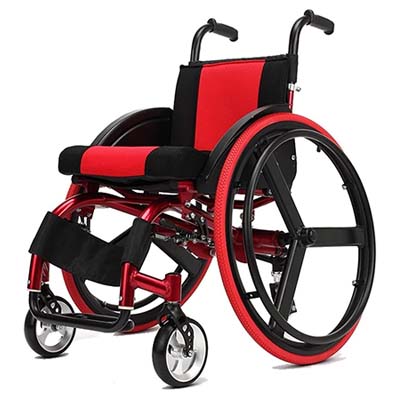 This is achieved using strong metals such as titanium, combined with cutting-edge ergonomic designs and adjustable wheels that can handle high speeds and intensity.
Bear in mind that these are not your everyday comfort wheelchairs or even active wheelchairs. Sports wheelchairs are for serious athletes who compete at a professional level.
Recliner and Tilt Wheelchairs
Recliner and tilt wheelchairs share many similarities. Both enable the user to recline or tilt back to the desired angle for enhanced comfort.
These types of wheelchairs target users who suffer from health issues such as hypertension, hip extension problems, digestive problems, and pressure sores.
By reclining from the conventional seat position, blood can flow properly throughout the body while also fostering improved posture.
Comfort is of the essence with a recliner wheelchair, and the backrest can be adjusted without much effort. This type of wheelchair comes with both power and manual models.
Tilt wheelchairs can be adjusted like a recliner model up to 60 degrees, depending on the model. Like the recliner, it also can be powered or manual.
The biggest difference between the two is that the tilt wheelchair doesn't change the user's posture. So if a recliner wheelchair user is angled backward, if they aren't able to sit upright on their own, they could slide out of the chair.
The tilt wheelchair doesn't pose this risk. The user is tilted straight back with the help of a caregiver and doesn't require the user's position to be readjusted.
The drawbacks are the same for both types of wheelchairs. They are heavy, bulky, and difficult to maneuver in tight spaces or store with ease.
Final Thoughts: Different Types of Wheelchairs
To conclude this guide on the different types of wheelchairs, there is a wheelchair for everyone, and if by some reason you can't find it, there's always the option to custom build one from scratch.
Whether you're an athlete, senior, child, or adventurer, the designs, materials, and sizes determine how you move, where you can move, and the amount of comfort you experience.
---
Resources & References: