Summary
The Tzora Titan 4 is a surprisingly good-quality, capable off brand mobility scooter.
Recommended For: Provisionally recommended for anyone weighing up to 300 pounds, if you're not finding what you're looking for in the product lines of mainstream brands.
*Note regarding Brand Reliability: This metric is a measure of the strength and longevity of the brand, which by extension, is a measure of the level of support you can expect.
Do you have a mobility issue that sees you using a wheelchair and/or scooter on a regular basis?
Do you have a good chair for everyday use that struggles outdoors? Are you looking for something robust enough to allow you to enjoy the great outdoors?
If you answered yes to the questions above, and if you haven't been overly impressed by the products offered by the major mainstream brands, then the Titan mobility scooter might be a good fit for you.
We'll admit early here in our Tzora Titan review that this is not a perfect scooter. It's got its share of issues, not the least of which is the fact that it's an off-brand and a Chinese import.
That's not the end of the world, though. There was a time, and not very long ago, at that, when the phrase "Chinese import" meant abysmally low quality that would break down at the drop of a hat.
In recent years, though, Chinese manufacturing quality has gotten quite good, and the quality gap, has closed markedly while not completely gone. All that to say that although this model isn't perfect, it is pretty good, and it's well worth a closer look, especially if you haven't found what you're looking for elsewhere.
In the sections that follow, we'll do a deep dive into the capabilities of the Titan, and in many ways, the model lives up to its name. Even if you ultimately decide that it's not the scooter you're looking for, we think you'll be impressed. If you're curious to know more, let's jump right in and take a closer look.
An Overview of the Titan Hummer XL Mobility Scooter
First impressions are important, and the Titan makes a good one. The frame is mostly white with red highlights. This model can be ordered in yellow with red highlights if you prefer a bolder, more eye-catching paint job.
The Titan's design team did a good job providing an aesthetic that looks both polished and ready for action, which may seem to be a contradiction at first, but not an unappealing one. It's sharp-looking, and more than that, it looks like it's fun to drive. You can see some traces of Go-Cart and ATV in the overall shape of the scooter. It's like an ATV's little brother.
Before we get into the specific features on offer here in our Tzora Titan 4 review, let's take a quick look at the statistics that define the Titan. Here they are:
Overall Product Dimensions: 24" (W) x 54" (D) x 37" (H)
Seat Dimensions: 18" (W) x 18.5" (D)
Top Speed: 7 mph
Maximum Range: 15.5 miles
Maximum Climbing Angle: 8 degrees
Wheel Size: Front wheels are 10.2," and rear wheels are 13.4."
Ground Clearance: 3.9."
Chair Weight: 159 pounds with batteries.
Turning Radius: 85."
Maximum Supported Weight: 300 pounds
With one notable exception, these are good numbers. The scooter is larger than average, but despite that, it's surprisingly lightweight. The seat size is a good fit for the weight limit, and the top speed is impressive and fairly zippy at 7 miles per hour.
The range is slightly above average, and although we'd love to see more here, 15.5 miles per charge is certainly enough to be of genuine value. The slope handling is a bit above average, beating out most of the offerings by the bigger brands, which typically stick to a 6-degree limit here.
The ground clearance isn't quite 4," which makes this model good, but not great at handling challenging terrains. It's obviously fine on pavement and flat level ground, but the Titan can tackle moderately rough terrain too, provided you move cautiously and keep a watchful eye out for obstructions big enough to hang you up. It's not quite a go-anywhere adventure machine, but you could reasonably expect to take it down relatively tame hiking trails if you were feeling adventurous.
Finally, at 159 pounds (with batteries), you might not think the Titan is all that travel friendly.
The reality, though, is that it's better in that department than you might think. We'll tell you more about that a little later in this review. For now, just know that this is a surprisingly travel-friendly scooter!
Adjustability and Comfort
Most of the wheelchairs and scooters offered by smaller brands aren't very adjustable, and the Titan Hummer XL mobility scooter follows this paradigm. The seat sits 17.5" from the deck and cannot be adjusted in any way. The padded armrests are also fixed in their positions, but they do flip up, allowing easier transfers into and out of the scooter.
The one adjustable feature you will find relates to the steering tiller. You can adjust the angle as you see fit to increase your comfort while driving it.
Although it's not very adjustable, the Titan wins very high marks when it comes to comfort. The seat boasts vinyl upholstery, which isn't great, but the upholstery is stretched over memory foam, which is fantastic.
The memory foam is comfortable enough to spend all day in the chair if you wanted to, but the vinyl upholstery works against that. After about four hours in the chair, the vinyl will start making you hot and sweaty.
In addition to that, vinyl doesn't age well, so after about 18 months of regular use, you can expect it to start peeling and cracking.
If there's a silver lining in the equation, it lies in the fact that there's not a ton of upholstery to contend with, so when it comes time to have the seat re-covered, it won't be a major expense.
t's worth mentioning that the Tzora Titan mobility scooter comes with a five-year warranty, which is on par with many of the chairs and scooters offered by the big brands. That both speaks to the quality of the scooter and underscores the fact that since the upholstery only has about 18 months of use in it, you'll definitely have to re-cover before you trade the scooter in.
There is a simple way to help extend the life of the upholstery, though. Buy a pad for the seat and the seatback. Granted, you won't need it for comfort because the memory foam is amazing, but by sitting on a pad, you'll reduce the wear on the upholstery. So, it may be a good investment.
Extras and Options
Most smaller brands don't offer much, if anything, in the way of extras. The Tzora Titan scooter represents a pleasant surprise in this regard. While the scooter only has one extra on offer, it's a very good one; a roomy rear-mounted basket!
We regard storage as an essential element in any mobility device, especially one you plan to take on the road with you, so the fact that this model has some built-in storage is a very good thing.
Granted, by itself, the basket probably won't be enough storage. But, it's easy enough to add more, with saddlebags offered by third-party vendors being your best bet. There are literally dozens of customization options available if you're willing to dip your toe into the aftermarket.
Portability & Ease of Use
Let's start with ease of use because there's not a lot to say about that. In short, the Titan Hummer scooter is delightfully easy to use. The control system is simple and intuitive. Even if you're not an especially technical person, you'll be able to master the controls in a matter of minutes.
One thing that will take some getting used to, though, is the turning radius. Until you get 100% comfortable driving the Titan, you'll probably find yourself having to back up frequently. But, you won't mind having to practice a bit because the Titan is so much fun to drive.
Earlier, we mentioned that the Titan is more travel friendly than you might think. That's because it breaks into two pieces, with the heaviest weighing 59 pounds.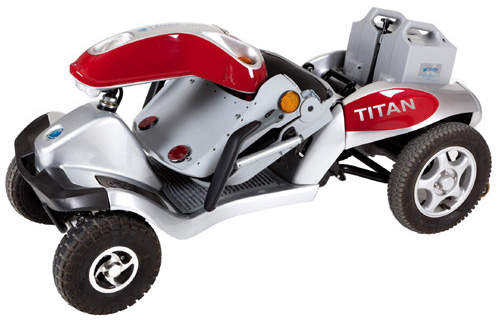 That's still fairly hefty, but it's not all that much heavier than your average manual wheelchair, and when disassembled, the pieces can easily be stored in the trunk space of most full-sized sedans. If you have a truck, van, or SUV, you'll have an even easier time of things.
Unfortunately, disassembling the scooter whenever you want to go somewhere is a bit of a time-sink.
If you want to avoid that, then you have two good options: A ramp or a lift.
Ramps are good but are only an effective solution if you drive a truck or a van. Lifts can be used on the back of almost any vehicle, but are relatively more expensive and, as such, might be out of reach by some.
Even so, those are two good alternatives if you'd rather not spend the time dismantling and reassembling your scooter when you take it on the road.
Before we close out this section of our Tzora Titan scooter review, we should say a few words about air travel. Airlines charge by weight. A travel-friendly manual wheelchair weighs 30-40 pounds, versus 159 for this model. That makes the Titan significantly more expensive to fly with. If you don't mind paying a hefty premium, it's still possible, but it will be fairly expensive.
If it's something you've got your heart set on, you should still call whatever airline you plan to fly with because each airline sets its own policies, and you don't want any surprises when you arrive at the airport with your ticket in hand!
Pros & Cons of the Tzora Titan Mobility Scooter
In our view, here are the biggest weaknesses of the Tzora Titan Hummer XL 4 wheel scooter:
On the other hand, it's got a number of strengths that include:
Overall, we feel that the various strengths of the model outweigh its weaknesses by a hefty margin.
While it's not a great scooter, it is very good and worth your consideration.
Tzora Titan 4 Review Conclusion
We like the Tzora Titan mobility scooter, but we don't love it. It's a sturdy, capable machine that's fairly travel friendly if you're planning to pack it in the back of your car or RV, but not as friendly to frequent flyers.
Its turning radius marks it as an outdoor use-only machine. So if you buy one of these, you'll be buying it as a spare, for outdoor use only, and in addition to your everyday use, indoor wheelchair or scooter. That makes it a niche product, and as such, we can only give it a provisional recommendation.
---
References & Resources: