Summary
Ventura DLX is a competent design that's overshadowed by its peers in the Drive lineup of scooters.
Recommended For: Unless you're just crazy about the styling, we actually don't recommend this one.
*Note regarding Brand Reliability: This metric is a measure of the strength and longevity of the brand, which by extension, is a measure of the level of support you can expect.
Are you in the market for a new mobility scooter to help you get where you want to go? Have you been considering investing in a Ventura, by Drive Medical?
If you answered yes to the questions above, we're glad you're here. The Ventura is actually one of a very few products we don't recommend from Drive, and we'll tell you why in this Ventura scooter review.
It's not that the Ventura is a bad machine. It's actually not, and our rating is reflective of that fact. We're not sure Drive is capable of making a substandard machine; it's just that its peers, the Phoenix HD and Panther HD both wind up doing a better job. In our view, the Ventura tries to fill a niche that's not really there. As such, it winds up floundering a bit.
In the sections that follow, we'll tell you all about this machine and why we can't recommend it. If you're curious to know more, read on!
An Overview of the Drive Medical Ventura DLX Scooter
The Ventura is a stylish scooter; there's no denying that. Tastes and preferences will vary, and you may or may not be a fan of the aesthetic, but we find it to be an eye-catching design. There's certainly nothing wrong with it in the looks department.
We'd say here in our Ventura scooter review that the best way to view the Ventura, though, is not in isolation but in the context of its peers.
It's marginally more expensive than the Phoenix HD and less expensive than the Panther HD, which can rightly be considered to be this model's big brother.
To start that process, let's take a quick look at this model, by the numbers. Here they are:
Overall Product Dimensions: 25" (W) x 48" (D) x 40" (H)
Seat Dimensions: 18" (W) x 18" (D) or 20" (W) x 18" (D) (make your selection at the point of sale)
Top Speed: 6 mph
Maximum Range: 16 miles
Wheel Size: 10" x 3"
Maximum Climbing Angle: 7.5 degrees
Turning Radius: 54"
Ground Clearance: 4"
Chair Weight: 185 pounds
Maximum Supported Weight: 400 pounds
Comparing these numbers to the less expensive Phoenix, we find that it's mostly superior. It has a slightly larger seat (both options), it is faster than the Phoenix, and it does offer a significantly better range.
In addition to that, it's got larger wheels and nominally larger ground clearance, though not really enough to make a significant difference. It's also physically larger, which adds significantly to its weight, and yet, it can support no more weight than the less expensive Phoenix. The difference in the turn radius is so small as to not really be noteworthy.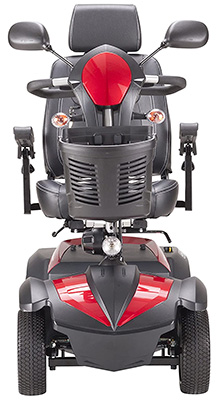 Overall then, for a bit more money than you'd spend on the Phoenix, you'll be getting an extra mph in speed, slightly better incline handling, and a longer range, which means less time between recharges.
Of those, the range boost is the most significant, but that comes with a rather significant tradeoff.
This model is quite a bit heavier than the Phoenix. Other than pulling the battery and removing the seat, you can't break it down, which means that traveling with it is going to be significantly more challenging.
We'll have more to say about that later on in the review. Based on the numbers, unless you absolutely need the range, you're better off saving some money and getting the Phoenix. If you do need the range, then you're better off spending a bit more and getting the Panther, which gives you a whole raft of upgrades, besides. Range alone isn't enough to carry this model, in our view.
Adjustability and Comfort
The Ventura DLX scooter is as adjustable as the Panther and slightly more adjustable than the Phoenix. You can adjust the height of the seat (which also swivels), the angle of the seatback, and the padded armrests can be height, width, and angle adjusted for optimal comfort.
On top of that, you can pull the steering mechanism toward you or post it farther away, depending on the length of your arms. Taken together with the seat adjustment options, you're virtually guaranteed a comfortable ride in the Ventura.
The seat is quite good, comfort-wise, but suffers from the same drawback and limitations present in Drive's other scooter options. Namely, the seat is upholstered in PU.
We like PU for some things.
It's very pretty, and it will serve you well enough if you only mean to use the scooter occasionally. There are two catches, though, and they're important.
First, PU isn't breathable.
The more time you spend in it, the hotter and sweatier you're going to get. That'll happen sooner if you live in a hot climate and not quite as quickly, but it will still happen if you live in a cooler climate.
Also, PU just isn't durable enough to stand up to the rigors of heavy daily use. After about 18 months of using the machine on a daily basis, you can expect your pretty seat to start peeling and cracking, at which point you'll have to have it re-covered.
Recovering the seat isn't enormously expensive, but it's something you're pretty much going to have to do a couple of years after you buy this model.
Extras and Options
The Drive Ventura scooter comes with rearview mirrors, turn signals, and a small headlamp, all of which serve to dramatically increase when, where, and how you can use the scooter. We love that! As we said, the design itself is quite competent, and those are excellent, high-value extras to be sure.
You'll also find a handy front-mounted storage basket that is featured on many of the company's designs, including both the Phoenix and the Panther.
Notably, absent here, though, is the safety belt. In our view, that's a genuine point of weakness in the design.
The good news is that Drive makes a number of great extras and add-ons you can buy for your scooter.
These include:
A cover, to protect your scooter from the elements
A pull-behind trailer with a removable cover
An Oxygen Tank holder (mounts behind the seat)
A crutch/cane holder (mounts behind the seat)
A cup holder (mounts beside the seat)
A rear basket for extra storage
An armrest bag for yet more storage
And a backpack (slings over the seat) for yet more storage!
As you can see, this is quite a collection, and we love the emphasis on storage!
If that's not enough options for you, you can, of course, turn to the aftermarket, where you'll find a whole host of options offered by third-party vendors. You've got plenty of opportunities to trick your scooter out any way you like.
Portability & Ease of Use
As we said early on, the Ventura mobility scooter is a lot heavier than its close cousin, the Panther, and yet, it doesn't offer any additional weight support. The extra weight makes it incredibly less portable, which means that this machine is simply more difficult to travel with.
Maybe you're not a traveler.
Maybe you plan to use the Ventura exclusively in and around your property. If that's the case, then the fact that it's not very portable isn't going to be a big deal to you.
If, however, you see yourself hitting the road and you want to take your scooter with you, it's going to be a bit of a challenge.
Even if you remove the seat and pull the batteries, this is still a heavy device. Someone's going to have to manhandle it into your van, truck, or SUV. There's no way it fits into the trunk of a car or even a hatchback.
There are a couple of workarounds here, but both require spending more money. First, you can invest in a ramp. Then, when you're ready to travel, just drive the scooter into the bed of your truck or van, secure it, and drive it back down the ramp when you get where you're going.
That's great if you have a truck or van, but totally unworkable otherwise.
The other option is a lift.
This scooter is light enough to play nicely with a lift, so that's a good option, but – lifts are expensive (and significantly more expensive than ramps), which is going to add to the total cost of ownership of this model. It's not necessarily a deal-breaker, but it is something to think about.
One final note on portability has to do with air travel. You're almost certainly not going to be able to take this model on a plane with you. Most airlines will turn you down flat because the batteries are a fire hazard, and planes and fire aren't ever a good combination.
Even if you did find an airline that would theoretically allow it though, airlines charge by weight.
This is a heavy scooter. You'd pay through the nose to get it in the air with you. It'd simply be cheaper to fly without it and rent something once you reached your destination.
All that to say, this isn't a flight-friendly machine. At all.
In terms of ease of use, you'll have no problems mastering the controls. If you can or have ever played a video game, you'll find things very familiar indeed. Even if you haven't, and even if you're not especially tech-savvy, the controls are well organized and easy to understand.
The turning radius isn't horrible, either. Though you may find yourself getting stuck a time or two early on, and having to back up to get out of whatever tight spot you've gotten into. That will pass quickly enough, though, as you gain some hands-on driving experience.
Pros & Cons of Drive Ventura DLX 4 Wheel Scooter
We've said it a couple of times, and it bears repeating: From a technical standpoint, there's not a thing in the world wrong with the Drive Ventura 4 wheel.
It gets a lot right.
Our issue is that when compared to its peers in the Drive family of products, this one seems like a duck out of water. It just doesn't offer enough to be a viable alternative to the Phoenix. If you want an upgrade to the Phoenix, then what you really want is a Panther.
Drive Medical Ventura Scooter Review Conclusion
It might seem as though we don't like this model. That's actually not true, though. We'd say here in our Ventura scooter review that the model is fine. It's just that Drive has better options available, and we cannot, in good conscience, recommend this one. We will add, though, that if you're wild about the styling and decide to get one anyway, it will certainly serve you well.
---
References & Resources: