Summary
Get outside and even into the water with the high-performance, budget-friendly Vipamat Hippocampe beach wheelchair. It's almost fully customizable, making it suitable for people of all ages and disabilities to enjoy the outdoors.
*Note regarding Brand Reliability: This metric is a measure of the strength and longevity of the brand, which by extension, is a measure of the level of support you can expect.
Nature belongs to everyone. However, for people with mobility issues, it can be a challenge to partake in outdoor activities such as hiking or swimming.
Thankfully, all-terrain wheelchairs are changing with innovative designs that appeal to a wide range of disabilities. The trick is finding the best device for your lifestyle.
In our Vipamat Hippocampe Beach Wheelchair review, we look at a highly versatile European model that operates on land and in the water!
Vipamat Hippocampe All-Terrain Wheelchair Design Overview
The first thought that might come to mind when reading the name of this all-terrain wheelchair is that it has something to do with a hippopotamus, but it's nothing like a bulky, heavy, lumbering animal.
The name is actually French for seahorse, and as you can guess, France is where this work of art hails from.
The Vipamat Hippocampe wheelchair is sleek and stylish, with a single wheel up front and two flanking the rear.
It's also highly customizable, so you won't have to worry about achieving the perfect fit. Everything is taken care of during the order process, and a beautifully crafted chair arrives at your doorstep ready for adventure.
Two things immediately stick out with the Vipamat Hippocampe. First, it's a versatile design that can be self-propelled or pushed by an assistant, thanks to the ergonomic push bar.
Second, this wheelchair can go in the water – fresh or salt. It's manufactured using lightweight, specially treated seawater aluminum and stainless steel that won't tarnish from exposure to moisture.
This makes it ideal for those who live close to the beach, who love to spend time in the surf or moving in the sand. The Vipamat Hippocampe can roll through soft, deep sand without issue.
Even more impressive, it can be adapted for skiing, whether in snow or water. It comes with a bevy of accessories, and a ski kit is one of the options. However, bear in mind that the accessories are a separate purchase.
Anyways, you can take this bad boy on rocky trails, slopes, over snow, kayaking – you name it! It's incredibly durable, giving people the independence to enjoy the great outdoors just the way they like it.
The Vipamat Hippocampe is conveniently lightweight at only 37.5 lbs, and it comes in four different sizes:
Small: 28" x 65" x 13"
Medium: 32" x 70" x 13"
Large: 36" x 73" x 13"
Extra Large: 42" x 79" x 13"
Between these sizes, the chair can comfortably seat a person between 4'5″ to 6′ tall and accommodate a maximum weight of 286 lbs. This makes it suitable for children, adults, and the elderly.
There are a few drawbacks with the Vipamat Hippocampe, but these are mainly preferential. For example, while it's moderately priced, the accessories are expensive and will quickly increase the cost depending on what you choose.
Also note that this is purely for outdoor use, as the large wheels just don't maneuver well with tight turns and narrow spaces in a home. You could probably get away with using it in a mall, but it must be a wide-open space to maneuver easily.
Other than that, it's a user-friendly manual chair that doesn't hassle you with a learning curve to master a control panel. With that being said, to self-propel this chair, the rider must possess upper body strength. Otherwise, a powerchair might be a better fit.
Alright, enough about the design. Let's get into the features so you can see what the Vipamat Hippocampe can really do!
Vipamat Hippocampe Features
It's difficult to highlight the features of the Hippocampe wheelchair since it comes with so many customization options. However, this is a good thing, as it allows the user to get exactly what they want in terms of comfort and functionality.
We take a deeper look at what to consider in this section!
Comfort and Safety
Safety is at the forefront with the Hippocampe wheelchair. And it has undergone intensive testing to ensure it gives users the protection they need when traversing even the most rugged terrain.
For comfort, you can expect a near-perfect fit since it's modified to your dimensions, but there is one slight factor to think about.
The Hippocampe wheelchair is low to the ground, which can make it a challenge to enter/exit for people with severe mobility issues. Low-slung chairs tend to cause muscle strain for some people as well, depending on the nature of the disability.
It's not a dealbreaker, but something to think about if you struggle with transfers or back pain.
At least you don't have to worry about padding. The seat is well-cushioned with hydrophobic foam. It's water-resistant, keeping you dry amidst a splashdown.
One last component to consider is the brake system. The brakes on the Hippocampe wheelchair function more like a parking brake, locking the chair firmly in place.
However, if you comb the trails often, you won't be able to control stop-and-go movement like with some other models.
Customization and Adjustability
As we mentioned, the Hippocampe Beach All-Terrain Wheelchair components can be modified to your heart's content to ensure you get the perfect fit for your needs.
The frame comes in two colors: blue and pink, with some options that allow the user to interchange parts depending on what they're using the chair for.
Here is a list of the components that can be customized/adjusted:
Armrests

Backrest

Headrest

Choose a harness or waist belt

Wheels
The wheelbase of the Hippocampe Beach All-Terrain Wheelchair is unique because you can change it out with multiple accessories.
If you want to use it primarily for the beach, then the large balloon-like wheels are ideal for rolling through sand without getting stuck.
On the flip side, if you plan on using this chair for trails and slopes, then there is also an option for mountain bike-style wheels. The configuration is slightly different, as you have two wheels on the back instead of four, giving the user more adept handling and increased traction.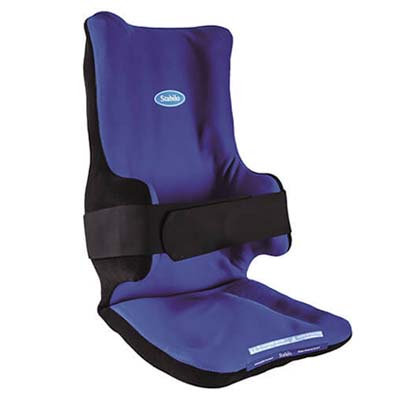 There's also the ski kit, which allows the user to attach adaptive skis to the base for use in water and snow.
If you're torn on which type of system to pick, you can opt for all of the sets and change them out whenever you feel called to do so. This is one of the neatest features in our opinion, giving users access to the outdoors and a multitude of sports!
Since the Vipamat Hippocampe can be customized in so many ways, adjusting the parts shouldn't be a big deal, but some parts can still be modified for added comfort.
For starters, the armrest height can be adjusted. Plus, they swivel and retract to make mounting and dismounting a breeze.
The backrest comes in two options: fixed or adjustable. The headrest also moves forward, backward, and side-to-side for finetuned support depending on the user's preferences.
If you choose the harness over the basic lap belt, it can also be adjusted to fully secure the rider when traveling over especially bumpy terrain.
Portability
Transportation always raises questions when it comes to choosing an all-terrain wheelchair. You'll be traveling to different wilderness areas with your Hippocampe wheelchair, which means you want the process to be fast, smooth, and easy.
Fortunately, the Hippocampe wheelchair is one of the all-terrain beach models that is super compact and lightweight.
The anodized aluminum tube frame is hollow, not only reducing weight but also making the entire model collapsible.
You can slide it into the trunk or passenger seat of a large car, SUV, truck, or van without issue. This is gold since you won't have to worry about investing in a vehicle lift or ramp, which gets expensive.
You can also take this chair virtually anywhere, whether you're hopping on a plane, train, or boat!
Accessories and Storage
The creators of the Hippocampe wheelchair actually consider several vital components "extras", such as the parking brake for instance. But obviously, this is a necessity and not what we would consider an accessory!
It's a bit tricky because you are given the choice to add many of these necessary components, which in turn adds to the price.
However, one extra they do offer is a bag for travel and storage. The transport bag allows the user to encase the folded chair safely inside – perfect for car rides or travel on a plane.
There is also a backrest bag for carrying your supplies, although it is a bit on the smaller side.
Pros & Cons of the Vipamat Hippocampe Beach Wheelchair
PROS
Lightweight and compact

Folds down for easy portability

Highly durable for all types of terrain

Goes in water and on snow

Different wheel options available, including a ski set

Affordable

Highly customizable
CONS
Has a small amount of storage

You must buy many of the accessories/features, which can bulk up the price

Not suitable for indoor use

The low-to-ground design might be challenging for some people
The Vipamat Hippocampe wheelchair is an all-terrain all-star, with a carefully thought-out design that makes it one of the most versatile models we've seen on the market for people of all ages, with all types of disabilities.
It's rare when you can tackle intense trails with ease, then switch out the wheels for skis when the slopes are calling. We also love that the frame and mechanics are made from stainless metals and anodized aluminum, so you can even go for a refreshing dip without issue.
The fact that the Vipamat Hippocampe wheelchair can be customized from head to toe is also a plus, as it ensures a comfortable fit no matter your body type.
Best of all, its lightweight frame can be folded in minutes and stashed in the trunk of most vehicles, making it an efficient travel buddy for avid adventurers.
The drawbacks are minimal and preferential at most. It's more or less an outdoor chair only, so you'll have to consider storage space and the cost of having two wheelchairs for activities and everyday use.
The accessories are a bit confusing to navigate, mainly because many of what the company considers to be add-ons are what some consider essential components.
Still, you can opt for beach wheels, mountain bike wheels, or a ski set…or all three if you want to change them out!
All in all, this is a top-quality chair that offers the one thing at the forefront of everyone's mind: freedom. It's a reliable and cost-effective choice for those who possess the upper body strength to propel themselves or have an assistant to push them.
Warranty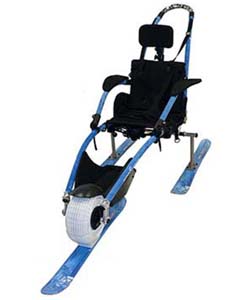 The Hippocampe in the US offers a One-Year Limited Manufacturer's Warranty that covers the replacement of defective parts from the date of purchase.
Comparable Products to Consider
If you've made it this far in our Vipamat Hippocampe Beach Wheelchair review, you might be wondering what else is out there that can compete with the Vipamat Hippocampe beach wheelchair. We've got you covered with a few similar products described below.
If you're interested in a wheelchair solely for the water, then this is a suitable option – sporting balloon tires that roll through sand and an aluminum and stainless steel finish that won't rust in salt or freshwater. This chair also folds to make transportation easier. It's more affordable than the Vipamat but less versatile.
For a budget-friendly, standard beach wheelchair, this device is the ticket. It disassembles and weighs 48 lbs to fit in any type of vehicle for transport. The 12" balloon wheels roll through soft sand, allowing users to cool off in the water.
This moderately priced lightweight electric wheelchair can be used safely on any type of terrain and also rolls through soft sand without issue, although it can't go into the water. It can travel up to 18 miles on a single battery charge and folds down for easy vehicle and airplane travel.
Vipamat Hippocampe Beach Wheelchair Review Conclusion
The Hippocampe manual wheelchair is a versatile, user-friendly all-terrain vehicle that can operate on rugged terrain, in snow, and in water. This makes it suitable for use in a wide range of environments and also for adaptive sports such as skiing, sailing, and paddling.
To conclude our Vipamat Hippocampe Beach Wheelchair review, this model is suitable for people of all ages and disabilities, with customizable features to streamline the design for your unique needs.
It's also an affordable option compared to other models, except the additional cost of accessories can drive up the price.
---
Resources & References: