Summary
Innuovo W5521 is a well-designed, very travel-friendly electric wheelchair with a few limitations to bear in mind. It is recommended for on-the-go people who tend to stick to urban or relatively flat outdoor environments, especially those who exceed the weight limits of the company's N5513A offering.
* Note regarding Brand Reliability: This metric is a measure of the strength and longevity of the brand, which by extension, is a measure of the level of support you can expect.
Do you suffer from some type of mobility issue? Are you the type of person who refuses to let that slow you down, and as such, find yourself in the market for a relatively lightweight, travel-friendly chair you can take just about anywhere?
If you answered yes to the questions above, then you're going to like what you read in this Innuovo W5521 electric wheelchair review.
We'll be quick to point out that it's not perfect. In this review, we'll highlight the good, right along with the bad, so you'll have all the information you need at your fingertips to decide if this chair is the one you've been looking for.
Even if you ultimately opt to go in a different direction, we think you'll agree that this model has a lot to offer and is an excellent option to at least consider. If you're curious to know more, let's jump right in and take a closer look at what this Innuovo power wheelchair brings to the table.
An Overview of the Innuovo W5521 Power Wheelchair
The first thing that must be said is that the W5512 is essentially the same chair as the N5513A, except this one is built on a slightly more robust frame that's capable of supporting more user weight, and it sports larger wheels which gives it a better ground clearance.
As such, many of the numbers are pretty similar to those found on the N5513A. But, they do make quite a difference in both capability and functionality.
Let's get into the meat of our W5521 electric wheelchair review by taking a look at the raw numbers:
Compared to the N5513A, this chair sports a slightly larger seat. Although, we were somewhat disappointed that the difference here wasn't even larger between the two models. The larger frame means more weight. While this chair is still fairly travel-friendly, it's not quite as travel-friendly as the company's lighter model.
That, sadly, is an unavoidable tradeoff. If you want a chair that can support more user weight, the frame has to be ruggedized, which will inevitably add to the overall weight. In a similar vein, the increase in the physical size of this chair means that the turning radius isn't quite as good as the company's smaller model.
This one has a turning radius of 47.2," meaning that it requires more than a foot of additional space to turn.
That still makes it usable indoors, but you'll almost certainly find yourself in more situations where you've got to execute 3-point turns to get out of a tight spot, so get used to backing up!
The top speed and range are both underwhelming, at 3.75 miles per hour and 12.5 miles, respectively.
That's faster than walking, but as with the company's other products, these aren't the chairs for you if you're in a hurry.
Note too that the 12.5 range of the W5521 power wheelchair sports is fine if you plan on sticking to mostly urban environments where a power outlet is almost always close at hand. But if you plan to venture into the wilds in the chair, then you'll definitely want to be mindful of the relatively modest range.
The ground clearance is the single biggest improvement here. At 3," this chair is capable of navigating over a much wider range of terrains than its smaller cousin.
The company bills it as an "all-terrain chair." It's a good marketing slogan, but, honestly, this Innuovo electric wheelchair falls well short of being a true all-terrain adventure chair. While it has superior slope handling, you stand a good chance of getting hung up on anything more than a moderate obstruction over uneven ground.
This Innuovo folding power wheelchair is fine for riding around in your yard, provided it's not rocky or full of obstructions. You can take it to most campgrounds and it will do fine, making it a good choice for RV travelers. But if you take it down a hiking trail, you'll want to stick to those rated as easy. Anything more than that, and you're likely to be frustrated and spend a good bit of your time getting unstuck. Even so, that radically expands your range of options over the N5513A.
Adjustability and Comfort of W5521 Power Chair
The Innuovo W5521 power chair is reasonably comfortable for short to medium-duration stints sitting in it.
Thanks to the relatively modest range, that's not a problem, and the comfort level is a pretty good fit with the range.
About the time you start getting a bit uncomfortable in the seat, you're probably running low on battery power anyway. So, you'll need to plug in for a recharge and go do something else for a while.
The seat is padded with conventional block foam and has a breathable mesh-like material stretched over it, not unlike what you find on mesh office chairs. The breathability definitely adds to the comfort, but we were disappointed that there doesn't seem to be any more seat padding here than there is on the company's smaller chair.
We would have thought that a chair specifically designed to cater to heavier folk would have had correspondingly more padding. The fact that it doesn't isn't the kiss of death. But, the smaller chair actually winds up being slightly more comfortable.
The seat height is listed as being 19.7", but this is measured from the seat to the footplate, not to the ground. It's actually 21.6" from the ground, just like the N5513A. The seatback height is a bit larger here (16.5" on the N5513A versus 21.3" here). So if you have a longer body, this chair will undoubtedly be a better fit for you but note that there are no adjustment features on offer here at all.
As with the other products EUTOP makes, this chair is strictly "what you see is what you get," so you'll want to take careful measurements of yourself to make sure that you're a good fit for the chair. If you are, you'll probably feel as though this chair was custom-made for you.
If not, you'll almost certainly want to select a chair that's more adjustable so you can customize it to your specific needs.
Extras and Options of Power Wheelchair W5521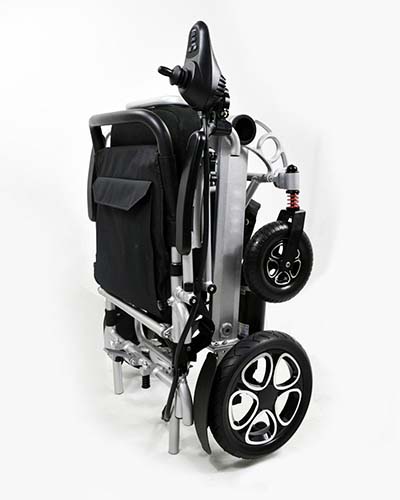 If you're looking for a chair that's supported by the company in the form of offering tons of accessories and options, then you're apt to be disappointed in this section of our electric powered wheelchair W5521 review because the company doesn't offer any.
It's not all bad news, though: There are two high-value extras built onto the chair that many other models force you to pay extra for. Here, you'll find a built-in seatbelt and anti-tippers. We love that both are standard features on this chair. Also, the aftermarket has so much to offer that the fact that the company doesn't sell accessories specially designed for the Innuovo W5521 really isn't much of a hindrance.
Portability & Ease of Use
As with the W5521, the company really nails it where portability and ease of use are concerned.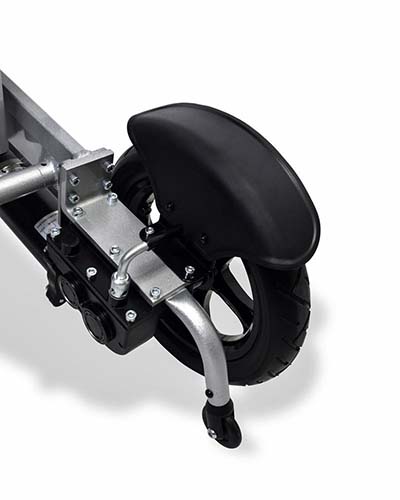 While it's true that you'll need to back up and execute 3-point turns relatively more often when using the Innuovo folding power wheelchair W5521, mastering its use is a lesson in simplicity.
The joystick can be mounted on either arm and is very simple and intuitive to use. Spend a few minutes acclimating yourself to the controls, experimenting with backing up, and learning how much space you need to stop, and you'll be well on your way to mastery! In addition to that, the arms swing out of the way, so transfers into and out of the chair are a breeze.
Even better, it collapses at the touch of a button. When you're ready to pack it in the truck, in your RV, or take it to the airport with you, you can have the chair ready to travel in approximately 3 seconds. Many other Innuovo electric wheelchair reviews you'll find online talk at length about how easy it is to fly with this chair, and we broadly agree with that assessment.
Note, however, that where air travel is concerned, you don't want to take anything for granted. While this chair is extremely airline friendly, each airline sets its own policies about what is and is not allowed. Before you load up your chair, you'll definitely want to call the carrier you're flying with just to make sure. That way, you don't have any surprises when you get to the airport.
All things considered, it's hard to see how the company could have made this model any more travel-friendly than they did. Kudos to EUTOP for that.
Pros & Cons of W5521 Electric Wheelchair
The electrical power wheelchair W5521 gets a number of things right and leaves us a bit underwhelmed in other respects. Starting with the good, here's what we think you'll like best about this model:
On the other hand, it does have some limitations you'll want to be aware of:
Innuovo W5521 Electric Wheelchair Review Conclusion
If you skimmed the bulk of our W5521 electric wheelchair review and are just looking for a quick bottom-line summary, it would be this: This is a very good chair, but it's also almost entirely self-selecting. Given the lack of adjustment features, the chair's stats are either a good fit for you or aren't. If they are, and you like hitting the road at regular intervals, this is a great option.
If your measurements and those of the chair don't align well, then you're better off going with some other model that offers more adjustability. On that basis, we give this one a provisional recommendation.
---
References & Resources:
Innuovo W5521 Folding Electric Wheelchair
A well-designed, very travel-friendly electric wheelchair with a few limitations to bear in mind.
Recommended For: On the go people who tend to stick to urban or relatively flat outdoor environments, especially those who exceed the weight limits of the company's N5513A offering.
Check Current Price