Installing a wheelchair lift for home offers many advantages for disabled and elderly individuals, making it easier and safer to access challenging areas, such as stairs.
The tricky part is finding the right lift for your household, as there are several designs to choose from.
We go over what to look for, what each type of lift has to offer, and how to navigate prices for a smooth purchase experience. Let's jump in!
What to Consider When Choosing a Wheelchair Lift for Your Home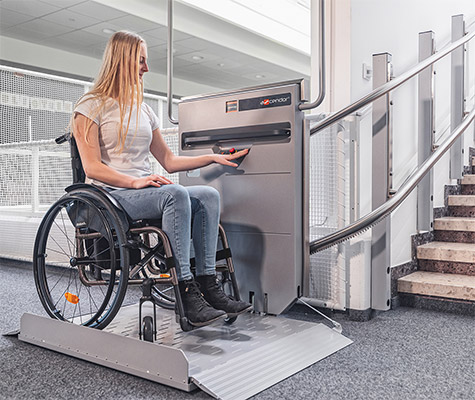 So you've decided to purchase a wheelchair lift, but where do you go from there?
Before pulling out your wallet to buy the fanciest setup on the market, it helps to do your research, consider your lifestyle, and establish objectives for installing one.
Keep in mind that not all lifts are the same, even if the concept behind it – lifting and lowering – is similar.
Some are designed for outdoor use, while others are meant to function indoors. They come in different heights and boast varying features, such as a metal track that attaches to the wall of the stairs.
It's important to consider the design in conjunction with your staircase construction. The length of the platform is also crucial, as it must be large enough to accommodate your mobility device.
Start by examining the location where you want to install the lift. The area that is the most challenging for the wheelchair user to access should be prioritized for a lift.
Scope out a smooth, level area for mounting the equipment, with a strong landing space and structural wall that doesn't show gaps.
Of course, plenty of floor space is essential to accommodate the lift and your wheelchair. The ceiling height should also be noted, or else the lift might look too cumbersome with a low ceiling.
A good rule of thumb is to measure from the ground floor to the upper landing floor and go for a lift that fits within this space.
Safety is paramount when choosing a wheelchair lift, and many models come with premium safety mechanisms to safeguard against malfunctions.
The top safety features to consider include the following:
User-friendly controls
An emergency brake system
Non-skid platform with pressure controls
Under-pan obstruction sensors
Audio-visual alarm
Keyed
Automatic folding ramp
Quiet operation
Check the lift's loading capacity to ensure it can carry your weight. Generally, a wheelchair lift can hold from 500 to 750 lbs. This is also important because overloading causes the mechanics to wear out faster.
After comparing the various features and prices, compile a list of your preferences and set a rough budget to use as a reference while you shop.
Next, we'll go over the different types of wheelchair stairlifts for home use, focusing on the benefits each offers for various lifestyles.
The Best Types of Lifts for Your Home
You might live in a two-story house, an apartment, or even in an RV motorhome. The wonderful thing about wheelchair lifts is that many designs can be customized, so you never have to feel held back no matter where you live!
Incline Lifts
If you live in a small-sized home with limited space, then an incline lift is a flexible option that makes it easy for all household members to use the stairs without any equipment getting in the way.
An incline lift carries the wheelchair user on a platform along the staircase on a wall-mounted track, traveling diagonally along the stairs from the bottom floor to the top floor.
When it's not in use, it can be folded and faced away from the path of the stairs, allowing others to pass without disturbance.
Incline lifts work on both curved and straight staircases in outdoor or indoor residential settings. It's suitable for commercial properties as well.
Folding arms and folding seats are available for added comfort and security.
Platform Lift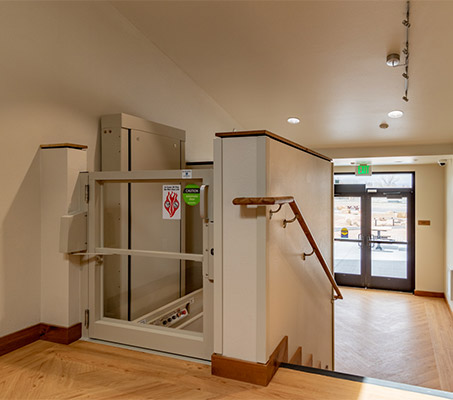 The platform lift is also called a "vertical platform lift" or "porch lift."
It differs from the incline lift in that it doesn't follow the path of a staircase. Instead, the platform lift works like a single-person elevator, lifting the wheelchair user vertically from the ground floor to the top floor.
It's an efficient hydraulic wheelchair lift for the home. The user settles the wheelchair on the sturdy platform and closes the door for safety. All that's left to do is hit the power button, and it carefully lifts or lowers the platform.
Platform lifts are easy to use, quick, and efficient, making them an ideal choice for individuals with serious mobility limitations. This model is commonly found in schools, shopping complexes, and residential households.
Scalamobil
A portable, less permanent solution is the Scalamobil, which is a battery-powered mobility device that attaches to the bottom of most manual wheelchairs.
It then climbs or descends stairs, carrying the wheelchair with it. It works on all types of surfaces and stairs, especially narrow staircases.
If you're a frequent traveler or you have a child that uses a wheelchair, this is a fast, easy option that can be taken along on trips or to school.
The only difference between the Scalamobil and more complex lifts is that you need someone to assist you by tilting the device and carefully guiding it down the stairs.
Motorhome Wheelchair Lift
If you've always dreamed of living the RV life but figured it's not accessible for a wheelchair, think again!
Motorhome customization knows no limits, with plenty of innovative technology to create exactly what an individual needs.
There are a few different RV lifts on the market, with options for interior or exterior installment, either next to the entrance or mounted on the steps.
Some are compact chair lifts that the user sits in and utilize a control panel for operation. A vertical tube lifts the user safely into the RV.
Some models can also lift both the user and wheelchair. Another design called the step lift assist is light and compact to store, which is essential for RV living.
Purchasing the Wheelchair Lift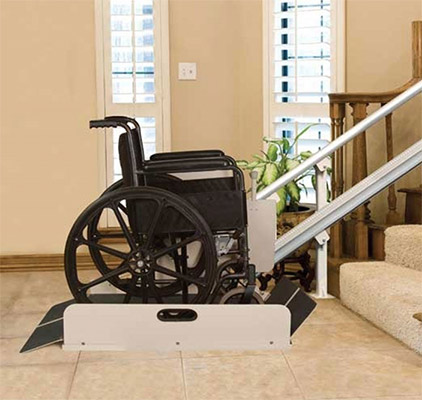 Regarding wheelchair lift for home prices, remember that an electric wheelchair lift for home is a major investment, but one that lasts for years, increasing the safety and accessibility of traveling from floor to floor.
It's best to talk to your supplier for recommendations and ensure that the dealer you shop with is licensed.
A quality dealer offers competitive pricing along with installation and maintenance perks. You can also scope out customer reviews online to get a realistic perspective of the company's reputation.
When you find a wheelchair lift that you like, it's time to call up your insurance provider to confirm if any coverage is available for a lift.
Medicare does cover patient lifts as durable medical equipment (DME) prescribed by your doctor.
If accepted by the supplier, the customer pays 20% of the Medicare-approved amount after paying their Part B deductible for the year, and Medicare pays 80% of the wheelchair lift cost.
Remember that every situation is different, so it's best to double-check your policy to confirm what you qualify for and whether your supplier is enrolled in Medicare.
Final Thoughts on How to Choose a Wheelchair Lift for Home
Knowing where to start when choosing a wheelchair lift for home can seem daunting with numerous manufacturers out there, but doing your research and establishing your mobility objectives can help sharpen the process.
The lift should be easy to use, comfortable, and safe while also accommodating the other members of your household.
Talk to your doctor and supplier for recommendations on the types of lift features that would best serve your needs.
---
Resources & References: