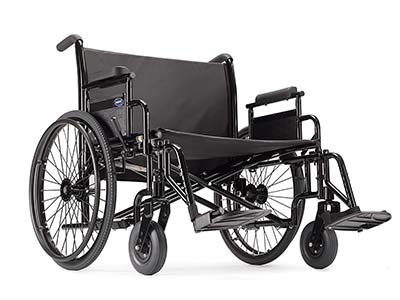 You might be groaning at the prospect of having to go through a wheelchair service provider for any little repair request, but there are valid reasons to justify this process.
Wheelchairs are medical devices, and every wheelchair user has unique needs that must be met through a custom-built mobility device.
Therefore, specialized help ensures you're in good hands. In our post, we explain in greater detail why a provider is required. Let's roll into it!
What is a Wheelchair Prescription?
For most disabled individuals, the journey to the perfect wheelchair begins in the doctor's office, where a professional assesses a person's ability to walk and maneuver without aid.
If you need mobility help, and the doctor decides that a wheelchair is the best equipment to help you carry on your daily life functions, then they will provide you with a wheelchair prescription.
The prescription, along with other pertinent medical records, is then sent to the wheelchair service provider of your choice. The provider uses this information to help guide you when selecting a chair.
What is a Mobility Service Provider?
The purpose of a wheelchair service provider is to establish the user's physical goals, level of functionality, and lifestyle habits to recommend the mobility equipment that safely meets their needs.
Generally, wheelchairs are built from scratch, as all disabilities are different and may require specialized equipment. The wheelchair supplier determines the most useful components for a user so they are as comfortable as possible.
It's important to note that wheelchair suppliers are not salesmen. They are experts in this industry, backed by qualifications and expertise.
Providers follow careful procedures and make assessments based on in-depth strategizing that ensures the user finds the right wheelchair and continues to receive a high level of care after the fact.
Wheelchair Service Provision Process
To give you an idea of the wheelchair service provider process, we break it down from start to finish below.
Referral: If a wheelchair is beyond repair, mobility is lost, or the customer has a concern, a referral is made to the correct professional services.
Assessment: The provider implements an in-depth screening to establish the customer's physical state, environmental factors, the reason for the referral, and other pertinent needs.
Equipment Identification and Selection: After the assessment, a list of customer requirements and mobility goals are laid out. Based on this, the customer is presented with multiple products and the opportunity to try each product.
Funding and Procurement: The equipment must adhere to the protocols outlined by the customer's funding source (insurance policy, etc.). The provider submits any pertinent documentation to the funding source as required.
Product Preparation: Evert component of the wheelchair is prepped and assembled according to the preliminary specifications outlined during the recommendation and selection process.
Fitting, Training, and Delivery: Once the wheelchair is built, an evaluation team is present to help with the fitting in regards to the customer's functionality, comfort, and safety. Training and follow-up services are also decided upon.
Follow-Up, Maintenance, and Repair: This is an ongoing process where the provider follows the customer's training and monitors daily use, adapting the chair according to the customer's needs.
Outcome Measurement: Measurements of various components are taken throughout the process, and customer satisfaction is gauged regarding performance efficiency.
Why Are Wheelchair Service Providers Required?
You might be able to easily order parts for a motorcycle and fix it yourself, but for a wheelchair, it's a different story.
Oftentimes, wheelchair users must go through a wheelchair provider for repairs- even if they want to do the tinkering themselves. But the thing is, you can't compare a wheelchair to a motorcycle.
A motorcycle is not considered to be a necessity. There are risks involved with driving a motorcycle, and when consumers purchase one, they agree that they understand the risks involved.
A wheelchair, however, is used out of necessity. It's a medical device that undergoes rigorous development and testing and is custom-built for the user to lead to a productive, comfortable, and above all, safe lifestyle.
Therefore, if a wheelchair breaks, a powerchair stops working, or a consumer wants a new model, it's up to the wheelchair service provider to guide them. The end goal of the provider is the same: to produce a safe, functional product that aligns with the customer's needs.
There is a cultural and legal perspective to the mobility industry that recommends users refrain from servicing their wheelchairs to avoid mechanical errors that could cause potential harm.
If a manufacturer or provider sells parts to a customer without ensuring it's properly installed following legal protocols, they could be held liable for any injuries that result.
However, a consumer is liable for any unfavorable outcomes if he or she handpicks the wheelchair parts and handles the installation.
The bottom line is, a wheelchair is a medical device, and rehab technology providers are specially trained to ensure they are professionally maintained and operate safely.
Our Final Thoughts: Why a Provider is Required
To conclude our post on why a provider is required to purchase a wheelchair or organize a repair service, it all comes down to the medical factors associated with these devices.
Providers follow a meticulous process to ensure the customer receives the best match to help them lead productive, active lives while maintaining safety and comfort.
Therefore, a wheelchair provider is not a salesman. A provider is a professional who should always put the customer's best interests first.
---
Resources & References: