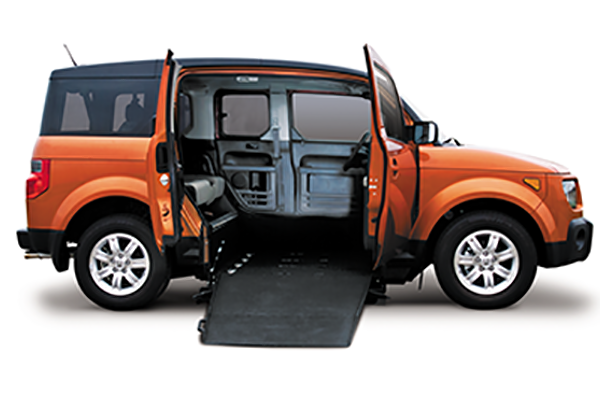 Summary
The Honda Element XWAV is a conversion SUV that is no longer being manufactured but is available used from a moderate to high price. This is ideal for small families, compact powerchairs, and most manual wheelchairs due to the smaller interior.
*Note regarding Brand Reliability: This metric is a measure of the strength and longevity of the brand, which by extension, is a measure of the level of support you can expect.
Wheelchair-accessible vehicles come in all shapes and sizes, but typically you'll see vans being converted to transport wheelchairs. Until the Honda Element XWAV came out.
This sporty little economy car conversion by Freedom Motors gives people with disabilities a more compact way to travel. But is it practical and comfortable?
We find out everything you need to know in our Honda Element XWAV review! Let's get started.
Honda Element XWAV Design Overview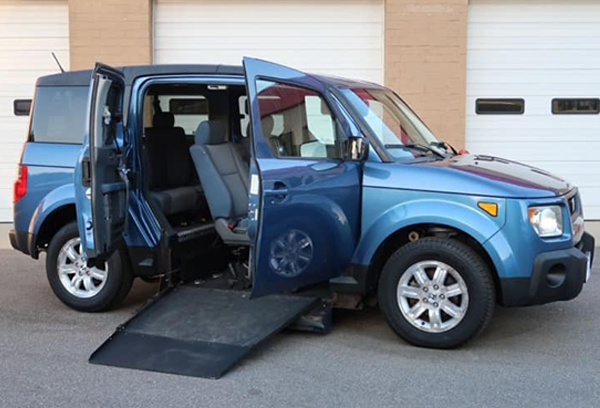 Transportation is one of the more challenging aspects of having a wheelchair. While most manual models fold or collapse to make the task easier, powerchairs are heavy and often require a lift to be installed on the user's vehicle for transfers.
Lifts are expensive though, and since everyone's lifestyle is different, it may not be the transportation solution for all.
That's where adaptive vehicles come in. These vehicles have been carefully modified especially to carry wheelchairs. The key features of these vehicles are the amount of interior room available, seating, wheelchair access, and the ramp configuration.
Modified vehicles are an expensive investment- more so than most lifts, but they boost the convenience factor if you're constantly on the road.
The most common type of wheelchair-accessible vehicle is a van, but in recent years that's changed. We're now seeing SUVs and even economy cars being modified for wheelchairs.
And that brings us to the Honda XWAV (Xtreme Wheelchair Accessible Vehicle) by Freedom Motors. It made its debut in the early 2000s and quickly became a favorite due to its stylish sporty exterior and compact benefits.
It features the popular Honda Element chassis but is fully modified for wheelchair accessibility. It comes with a remote control that opens/closes the passenger side doors and lowers/raises the 30" wide ramp with a push of a button.
The roomy interior can transport up to four people and a large amount of gear. The driver and passenger seats are removable, creating an accessible floor space with dimensions of 53" x 53".
However, if the driver seat is installed, then the space is cut down to a slim 29" wide for a tighter fit that might not be comfortable for some.
Here are the full interior specifications to consider:
Interior Length: 55"
Interior Width: 28" (half-drop)
Interior Height: 59" (wheelchair position)
You can see where we're going here. Yes, this is a compact little SUV that makes it easier to get around a city or at least park the vehicle, but if you prefer a lot of room, know that space is meticulously calculated with the XWAV, and at times things can get cozy.
For a full family, this might not be big enough, but then again, everyone has different preferences, so the best thing to do is test drive a couple of used models.
We say used because the Honda Element XWAV is no longer being manufactured. However, there is a used car inventory and the XWAV has become somewhat of a sought-after unicorn in the market.
When it was still in production from Freedom Motors, it was priced in the $40,000s, which is expensive for this type of vehicle, at least compared to the $20,000 Honda Element.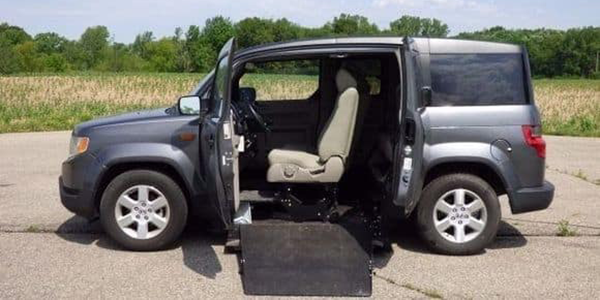 But conversion vehicles cost a pretty penny, and considering the compact advantages the XWAV presents, we'd say it's worth the price- if it fits your lifestyle.
Overall, it's a convenient design if you live in an urban setting and aren't transporting many people frequently.
One thing to bear in mind though is the gas mileage, which is also why this is a great vehicle for zooming around town. Reviews report that the gas mileage isn't too good compared to other economy cars, which might also affect your decision based on how often you'll be using the XWAV.
Honda Element X-WAV Features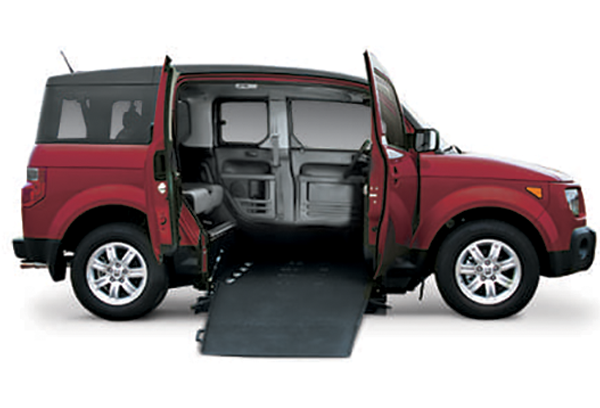 Next, we're going to take a closer look at the main features the Honda Element X-WAV offers wheelchair users.
From seating to accessibility, there are many details to consider. Remember-space is limited in this wheelchair-accessible Honda Element conversion.
Seating
The unique boxy shape of the Honda XWAV allows for more space, although not as much as a van. This is still an economy car, after all.
The surface flooring is made of textured rubber to prevent slipping and sliding, and the back seat folds up against the sidewalls, easily clipping into place. If you don't have any passengers, this lets up an ample amount of space for carrying cargo.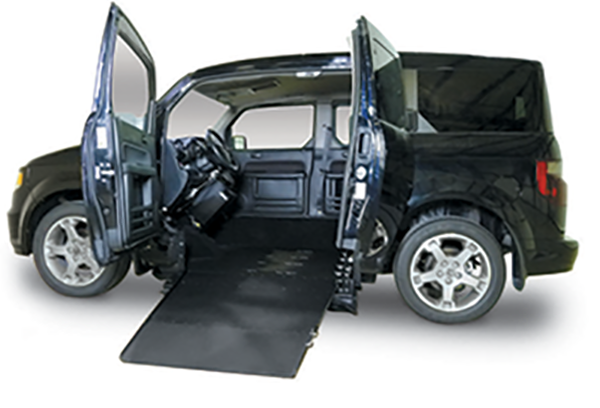 The front area is where the wheelchair user hangs out. Both the passenger seat and driver seat are removable. You can transfer between either without issue. The driver seat even comes out and your wheelchair can lock into place so you can drive right from your chair.
The setup is indeed convenient, although maneuvering into the driver or passenger seats might be a challenge.
The 59" floor-to-ceiling height is spacious, with plenty of visibility over the dash if you're driving while seated in your wheelchair, but the front-to-rear space might have your chair backed up against the rear seat with your knees touching the dash.
Of course, a few factors come into play here, such as the size of your wheelchair and your dimensions, but for reference, a passenger over 6′ tall with 70-degree legrests might find it challenging to fit comfortably.
Automatic Ramp
The ramp is one of the highlight features of the XWAV. As mentioned, it's totally automatic if you utilize the remote.
All you do is push a single button and the passenger side doors open wide while the ramp lifts up out and down without any assistance.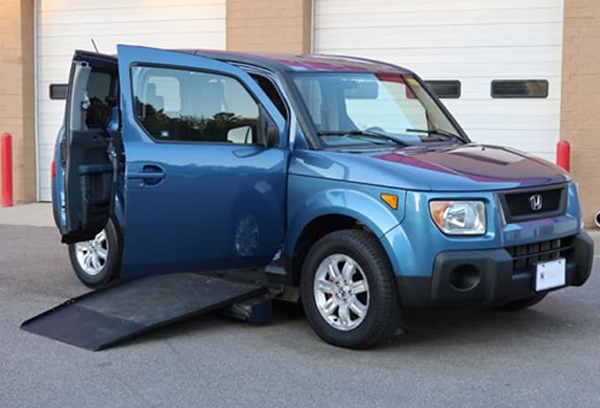 The ramp length is 50" with a 42" base width and a 30" width at the tip. When you've done your transfer into the vehicle (which, you can do independently thanks to the remote system), just hit the button and the ramp and doors close up on their own.
The only thing to be aware of is water. Some reviews have reported that the ramp surface becomes slippery, so make sure it's properly wiped down and proceed with caution.
Accessibility
When it comes to moving around the XWAV, you have to get creative if you have multiple passengers or a lot of stuff to haul around since this is a compact vehicle.
However, Freedom Motors did do a good job with accessibility, pertaining to the side entry automatic doors and ramp. This setup is golden, allowing the wheelchair user to quickly and seamlessly enter/exit without assistance or heavy lifting.
Since you can fold up the back seats, there is plenty of space, but the wheelchair user sits in the front, where space is limited.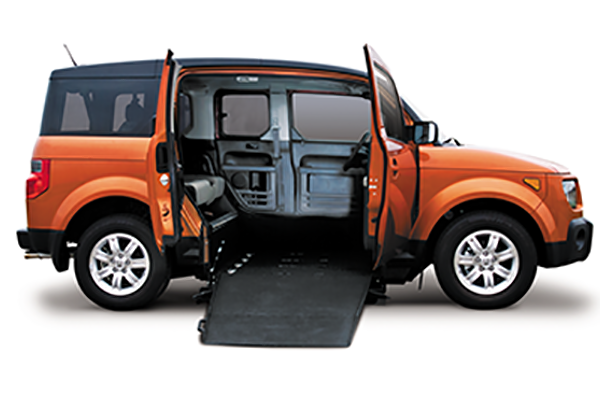 It's an ideal layout for a mid-wheel powerchair, which offers precise maneuvering for tiny spaces such as this.
Naturally, compact powerchairs and most manual chairs should fit without a hitch, but if you find a used model, make sure you see it in person and access it with your wheelchair to ensure you can maneuver without much hassle.
Modifications
If you're on a budget, bear in mind that used XWAVs have been around for some years, and modifications might be required to adapt the vehicle to your needs. This is where conversion cars get expensive.
For example, some reviews mention that the metal flooring of the XWAV isn't treated well against corrosion, so check for rusted parts that need to be replaced.
Also, there are no front cupholders due to the conversion, so this is something you'll need to add yourself if desired.
Honda XWAV Pros vs. Cons
PROS
CONS
The Honda Element XWAV was one of the first fun-sized conversion vehicles on the market, giving wheelchair users a more sporty style vehicle instead of the standard van.
The compact size makes it easier to move around parking lots, especially for people who live in apartment complexes.
The biggest convenience though is the automatic ramp and doors on the passenger side. This is where the wheelchair can access the vehicle, with the doors opening and the ramp unfolding simply by pushing a button.
This feature grants wheelchair users more independence with transportation since they can roll right up in the driver seat on their own and take off.
There's also plenty of cargo space for your stuff since you can fold the back seats up and clip them to the sides of the vehicle.
The only drawback with an economy car though, is that space is limited. If you're a tall person or your wheelchair is complex, it might not fit comfortably.
The front section is difficult to maneuver around in, and you might find your knees pushed up against the dash, which isn't fun if you're on a road trip.
Also, this is a used vehicle that has been out of production for quite some time, so it can be challenging to find an affordable used one for sale. You might have to budget for repairs, upgrades, and modifications, which can get incredibly expensive.
We Recommend the Honda Element XWAV for….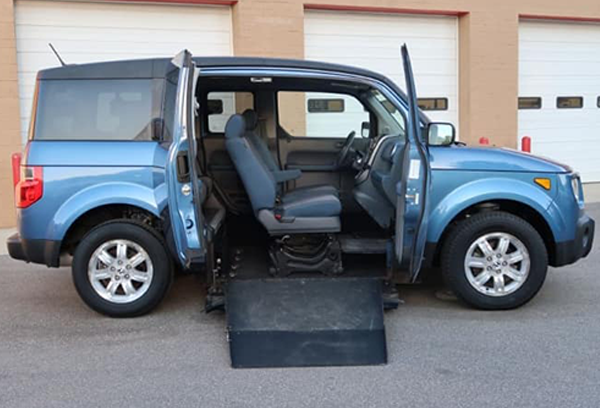 Compact powerchairs and manual wheelchairs
Average body types (for driving and the passenger side)
Wheelchair users who live in an urbanized area
People who live in apartment complexes where parking and space are limited
A small family, or for up to four passengers
Comparable Products to Consider
If you're on the fence about whether a used Honda Element X-WAV is the best conversion vehicle for your unique needs, don't worry- we've listed a few similar vehicles to see how it stacks up!
This is another small SUV converted for wheelchair users. It's a newer model, with modern features and automatic rear-entry access. It comes with modification options such as a power transfer seat and hand controls for driving.
If you want something sporty, but don't want to sacrifice space, the Telluride is an ideal SUZ with an automatic rear entry for easy access. The interior is spacious, with 55 inches of headroom.
This is another SUV with plenty of space to fit the entire family. Quality is high here, with non-stick flooring, a powder-coated aircraft-grade aluminum ramp, and the ability to park anywhere thanks to the rear-entry access.
Honda Element XWAV Review Conclusion
If you're on the hunt for a conversion vehicle, but not really feeling the traditional soccer mom van, then the Honda Element XWAV is a sporty SUV crossover that offers style and compact handling in parking lots.
The passenger side entry is completely automatic, making it easy for wheelchair users to open the doors and set up the ramp with the push of a button. You can settle into the driver's seat or remove the seat and position your wheelchair there instead.
To conclude our review, this is a used conversion car that is no longer in production. It's rare to find on the market and can be expensive. It's most ideal for compact powerchairs, manual wheelchairs, and for people who live in urbanized areas where it's difficult to drive.
---
Resources and References: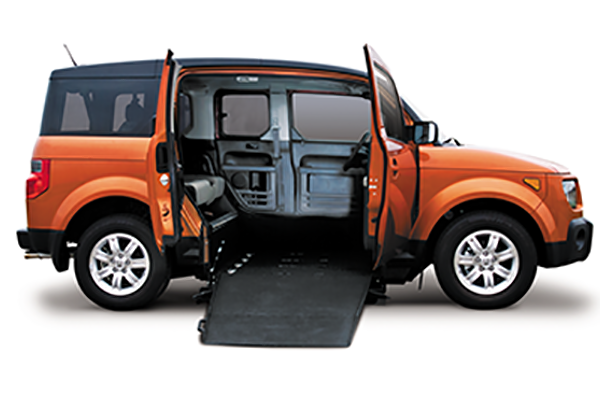 Honda Element X-WAV
Recommended For: Small families, compact powerchairs, and most manual wheelchairs due to the smaller interior.