Summary
The Zip'r Breeze three-wheel mobility scooter is an affordable choice for indoor and outdoor use. It offers a wide range of convenient features to tackle everyday tasks, with a design most ideal for seniors and those with light physical limitations.
*Note regarding Brand Reliability: This metric is a measure of the strength and longevity of the brand, which by extension, is a measure of the level of support you can expect.
A mobility scooter makes it possible for the elderly to enjoy a higher level of independence in their everyday lives despite physical ailments.
A quick scan of the market shows how many innovative models are available, but you have to wade through them all to find the best one for your lifestyle.
Our Zip R Breeze Mobility Scooter review takes an in-depth look at a standard device for indoor/outdoor use. Let's get started!
Zip R Breeze 3-Wheel Scooter Design Overview
Zip'r Mobility Solutions Corp. was founded in 2004, manufacturing everyday use mobile devices to improve the quality of life for seniors and people with physical limitations.
They offer a handful of standard mobility scooters, with slightly varying features to appeal to a wide range of individuals who need help moving around during the day and completing basic tasks.
That's the story with the Zipr Breeze heavy-duty mobility scooter. It's designed to be comfortable, user-friendly, and reliable for indoor and outdoor use.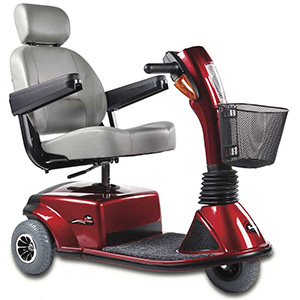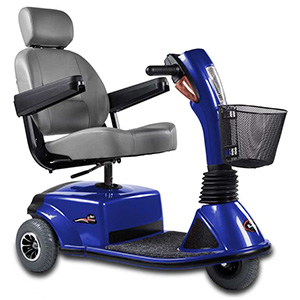 A plush seat is positioned over a three-wheel base, consisting of flat-free tires that can't be punctured. This type of setup enhances stability without sacrificing maneuverability, allowing the user to run errands around town or attend outdoor events with ease.
There is also a Zip R Breeze 4 Wheel Mobility Scooter, which features the same design and performance capabilities—except it comes equipped with four wheels that provide more legroom for taller/larger body types.
The dimensions of the Zipr Breeze are 42.1" x 23.3" x 34", and it weighs 181.6 lbs. Yes, it is heavy, but that's standard with motorized scooters.
That begs the question of whether the Breeze is a "breeze" to travel with, and we can confidently say that yes, it lives up to its name. It disassembles and folds, making transportation less of a burden.
Going back to the specifications, don't be fooled by the Breeze's minimal design. It features a spacious seat, with the capacity to carry up to 300 lbs. This makes it ideal for most body types to enjoy a comfortable fit.
It's also worth mentioning that this scooter gets up to 20 miles on a single battery charge, which is above average for a device of this caliber. It's also Zipr's fastest model, reaching a top speed of 4.5 mph.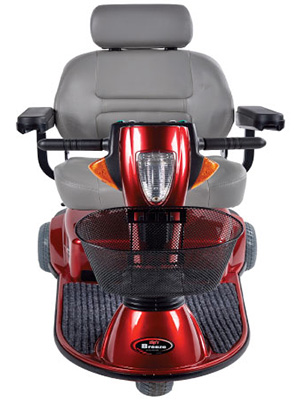 Therefore, the Breeze is perfect for rolling over rough terrain. Although don't try to tackle hardcore trails with this as it's meant to be functional, not thrill-seeking.
Bring the Breeze indoors, and it'll turn on a dime, fitting through 23.3" doorways without bumping or tipping.
It's also incredibly easy to use, so you won't have to struggle through a technological learning curve. The control panel allows you to steer, check the battery range, change directions, and set your speed.
It also comes with a horn, indicators, and front headlights for that late evening rendezvous.
All in all, you can expect this scooter to be a reliable asset to get through the day on your own. Best of all, it's affordably priced, especially for what it gives you.
Granted, this isn't a fancy model, but it is functional. You have everything you need to achieve independence.
In the next section, we dive deeper into the features of the Zipr Breeze, so you can form a clear idea of how it performs.
Zip R Breeze 3-Wheel Heavy Duty Mobility Scooter Features
The Zip'r Breeze is straightforward to use if your goal is simply to get around indoors and outdoors. The company checked off all of the boxes regarding convenience and functionality, prioritizing features such as portability, safety, and comfort.
Comfort and Safety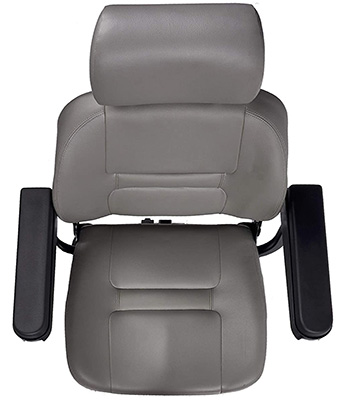 One of the top priorities when choosing a mobility scooter is how comfortable it is. After all, you'll be sitting in it for long hours at a time.
The Zip'r Breeze features the most spacious seat of all the Zip'r models, with a plush 18" width and a tall backrest, topped with a padded headrest for ample support.
Safety is also important, and that is enhanced with wide flat-free wheels that can roll over rocks, gravel, and uneven terrain without puncturing. That means you won't have to worry about getting stranded while running errands.
All Zip'r scooters also undergo rigorous safety testing to ensure reliability and durability.
Customization and Adjustability
This is where the Zip'r Breeze is lacking, but you can't have everything if you're after a device in this low price range.
Some people prefer to customize their scooter or wheelchair from top to bottom, and there are plenty of other models on the market that let you do that.
However, if you're not worried about heavy modifications, then the Breeze is a worthy pick. You can adjust some components, such as seat height and armrests. The seat also swivels to make mounting and dismounting less of a chore.
This is also what makes the Zipr Breeze ideal for older folks or those with light physical limitations. It's probably not the best pick for someone with severe disabilities who needs a wheelchair modified for their specific needs.
Portability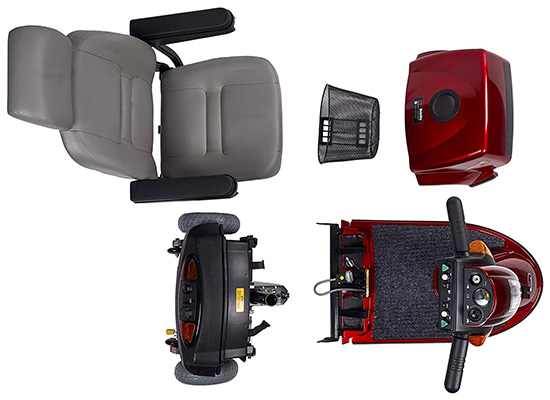 This is one of the highlight features of all Zip'r models, with the option to disassemble and fold down the scooter for easy transport.
The Breeze breaks down into five parts that are lightweight, with the heaviest piece weighing 66.2 lbs. The tiller folds, and the seat can be removed as well.
This is important because you don't need to invest in an expensive car lift. The parts slide easily into the trunk of most vehicles, and assembly is fairly quick and simple.
The Breeze is also suitable for air travel, with the bonus of being TSA-Approved.
Generally, it's difficult to travel with an electric mobility device. If the model doesn't fold or dissemble, you might end up spending thousands on a lift and struggling with transfers. This makes the Breeze an excellent choice for people who travel frequently.
Storage and Accessories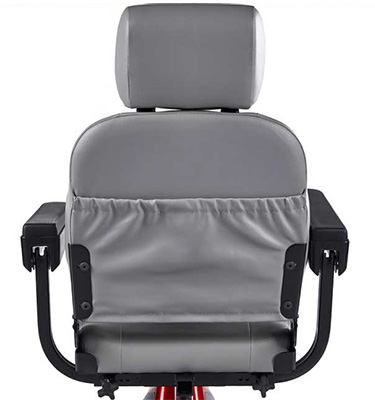 If you are hoping for a bunch of shiny accessories to jazz up the Breeze's minimal design, you might be a tad disappointed to find that it doesn't come with any.
Zip'r does offer a weatherproof cover, orange safety flag, and attachable bag for their scooters and wheelchairs—but these are separate purchases.
At least there is a moderately sized storage basket included with the Breeze. The basket is made of metal for durability, with a wide opening that is easily accessible on the front of the chair.
Cleaning and Maintenance
While people rely on scooters for mobility, regular maintenance is required for long-lasting efficiency.
Furthermore, understanding what that entails gives you an idea if it's too intensive for what you can physically manage.
Fortunately, Zipr's stellar customer service shines through here. If you aren't able to carry out the duties yourself, you can schedule an inspection and maintenance appointment with your local Zip'r supplier.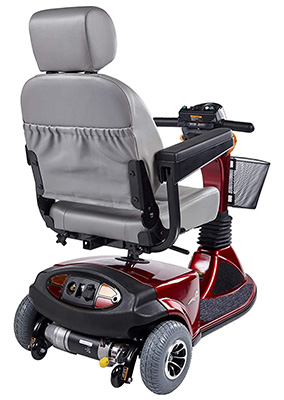 Here's what you can expect with the Zip'r Breeze:
Always inspect the tires for signs of wear.
Keep the bumper, tires, and trim in mint condition by occasionally applying a rubber or vinyl conditioner.
Check the wiring connections regularly.
You can apply wax to the plastic components, including the front tiller shroud and the rear shroud.
Keep liquids away from the control panel as moisture can damage the controls.
Keep your wheelchair stored in a warm, dry place when not in use.
Charge up the batteries before storing the wheelchair.
Zip R Breeze 3 Wheel Heavy Duty Scooter Pros vs. Cons
PROS
CONS
The Zip R Breeze 3 Wheel Heavy Duty Scooter might be minimal, but it's designed to carry up to 300 lbs with ease.
This everyday scooter can do it all—from rolling over rough terrain outdoors to maneuvering through tight quarters indoors, thanks to flat-free wheels and a three-wheel base.
One of the biggest highlights of this model is portability. It breaks down into multiple lightweight parts that can be stored in the trunk of a car. You can go anywhere—whether you need to run errands in town or attend a special event.
This is the perfect all-around scooter, giving seniors and those with slight limitations the ability to enjoy greater freedom and accomplish daily tasks.
It's not fancy, and there isn't much offered in terms of customization, so you'll need to be sure this is what you want and accept that what you see is what you get.
The price does reflect this though as it's a highly affordable chair. We even think you get tons of functionality for what it costs, giving you plenty of bang for your buck.
We recommend the Zip'r Breeze 3-Wheel Heavy Duty Mobility Scooter for:
Seniors and people with light physical limitations
Indoor and outdoor use
Everyday use completing basic tasks and errands
For travel, whether in a vehicle or airplane
Zip'r Breeze Mobility Scooter Warranty
Zip'r offers a generous warranty on its wheelchairs and scooters, with a sterling support service to back it up.
The important thing to note is that you must register your product with the company within 30 days of purchase for the warranty to be valid. You can read more about this policy here.
Three-Year Limited Warranty: this covers the structural frame components
One-Year Limited Warranty: this covers the drivetrain components
Comparable Products to Consider
If you've made it this far in our Zip R Breeze mobility scooter review and are still unsure about whether it's the right scooter for you, check out some of Zipr's other models, priced similarly but with slightly different features.
Zip'r Traveler Mobility Scooter
For an even less expensive model, the Traveler is a solid pick and comes with either three wheels or four, depending on your preference. It's less heavy-duty than the Breeze though and only reaches 12 miles on a single battery charge.
Zip'r XTRA Mobility Scooter
Zip'r XTRA Mobility Scooter
Recommended For: Lighter body types under 265 lbs. It's a more compact Zip'r scooter, but it's comfortable to travel in and offers additional legroom.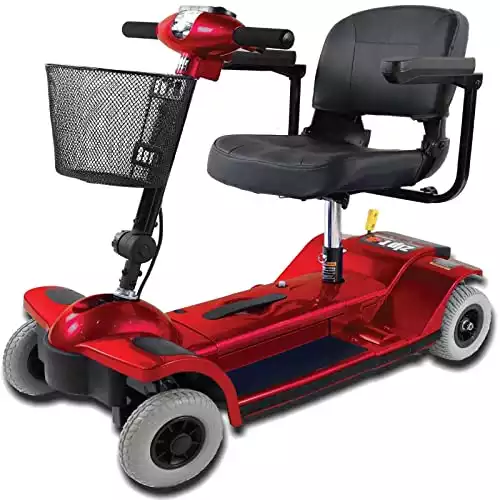 This is a more compact Zip'r scooter that costs under $1,000, better suited for lighter body types under 265 lbs. However, it's comfortable to travel in and offers additional legroom.
BUZZAROUND EX Extreme 4-Wheel Mobility Scooter
Buzzaround EX Extreme 4-Wheel Scooter
Recommended For: Anyone looking for a highly rated mobility scooter that can reach a max range of 18 miles, has front and rear suspension and has comfortable legroom.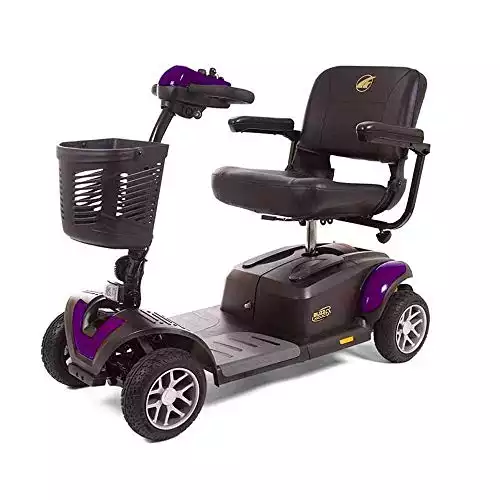 This is a similar model to the Zipr that is highly rated by consumers and falls within the same price range. It can be used indoors and outdoors, reaching a max range of 18 miles. It features front and rear suspension for a smoother ride, offering extra legroom for optimal comfort.
Zip R Breeze Mobility Scooter Review Conclusion
The Zip'r Breeze mobility scooter is a versatile choice that gives older folks with reduced mobility the chance to be independent and carry on with their routine activities.
It can be used indoors or outdoors, with a durable frame capable of holding up to 300 lbs. Customization is minimal, but for an all-around scooter, the Breeze is spacious and portable.
To conclude this Zip R Breeze Mobility Scooter review, this is an excellent deal for what you get: a reliable and comfortable device. The Breeze is ideal for those on a budget who can still get around on their own but need assistance to run errands, move around the house, travel far distances, or attend events.
---
Resources and References: