Summary
The Top End Crossfire Manual Wheelchair is a world-class all-terrain mobility device that gives the user full control over customizing the design. However, it's an expensive model and is ideal for avid adventurers, but not for everyday indoor use.
* Note regarding Brand Reliability: This metric is a measure of the strength and longevity of the brand, which by extension, is a measure of the level of support you can expect.
We can probably all agree that when a wheelchair is multi-functional, it makes life a bit easier. But first, you have to find that wheelchair in a sea of designs!
Our Crossfire All Terrain Wheelchair review might be the jackpot, as it puts you up close with one of the most versatile chairs on the market due to a wide range of customizable features.
Ready to take your adventures to the next level? Let's roll!
Top End Crossfire All Terrain Wheelchair Design Overview
The Top End Crossfire Wheelchair is a tastefully designed all-terrain device with every material and component were meticulously chosen for durability.
It handles the roughest terrain like a dream, giving users access to extreme trails where they can savor that adrenaline rush to their hearts' content.
Better yet, it's produced by Invacare – a wheelchair market leader boasting phenomenal service, a stellar warranty, and a bounty of flexible design options to accommodate any type of disability.
That's what we probably love most about the Crossfire. Every inch of this wheelchair is completely customizable. This is VIP treatment, enabling users to play a vital role in the construction of their chair, with the end result molded exactly to their needs.
As a manual wheelchair, the Crossfire sports a straightforward design, with a lightweight aluminum frame that weighs a mere 19.5 lbs. This gives it above average portability, so you can get out into the wild in a pinch.
Even though it's light to carry, strength is not compromised, and it can hold a maximum weight capacity of 250 lbs.
What makes the Crossfire an all-terrain gem is the large knobby drive wheels that measure 25" x 2.75" accompanied by 8" x 2" casters in the front, providing ample traction to prevent skidding.
It's a user-friendly offroad chair for those with the upper mobility to push and maneuver. Since everything is customizable, you won't find many adjustable elements, but it shouldn't be a problem thanks to Invacare's masterful construction.
It's a striking chair to look at, sporty and modern with a sleek frame and a bevy of colors to choose from. You can truly make it yours, and no one on earth will have the same wheelchair as you.
Of course, nothing is perfect in this world, and the same goes for the Crossfire. For all of the versatility it offers, it's an expensive purchase that not everyone can afford. As a medical device, this inhibits individuals from experiencing the benefits this chair can offer.
Also, bear in mind that although it is lightweight and manual, the Crossfire doesn't move well indoors. Several Top End Crossfire All Terrain Wheelchair reviews remark on the large size of the wheels being too bulky to fit through doorways and turn in tight quarters.
Therefore, this is an offroad wheelchair through and through, giving adventure junkies a reliable, top-quality device that can take on whatever nature throws at it.
If this sounds right up your alley, then keep on reading! In the next section, we cover the features and customization options for the Crossfire wheelchair.
Invacare Top End Crossfire Wheelchair Features
As we mentioned, the Crossfire All Terrain Wheelchair is fully customizable, so the features vary from chair to chair depending on what the person wants.
Therefore, in this section, we'll be sharing the different types of modifications you can make when designing your chair.
Remember that it's a good idea to get your precise measurements down beforehand! Talking to your provider or the manufacturer can also give you ideas to solidify a design plan.
It's All About Customization
You've got choices galore when it comes to the Crossfire Wheelchair, edging out the need for adjustable components or buying extra accessories on the side. This is precisely why Invacare doesn't offer these typical features in the first place.
Instead, you're guaranteed a durable base with the promise of offroad power. Comfort and creativity are in the palms of your hands.
Here is a quick list of customizations that can be implemented with the Crossfire chair:
You get a palette of 24 colors to choose from for the frame.
The seat depth is fitted to your measurements, ranging from 14" to 20".
The default backrest upholstery is an adjustable tension back design, but you can opt for a fold-over upholstery design for an extra fee.
The seat cushion can be as thick, hard, or soft as you desire, ranging from 2" to 3".
The large rear wheels range from 24" to 25" with different colored spokes.
You can pick from a variety of axle and camber angles.
Mounting options include close mount, standard mount, and close mount with cut tabs in titanium or aluminum.
Starting with the seat, know that it is angled, so you'll have two "seat to floor" heights to measure.
The measurement taken from the front of the seat can be modified between 19" and 21," while the measurement taken from the back is modified between 16" and 20" depending on your desired angle.
There's plenty of flexibility here, so comfort shouldn't be an issue. You can even control the center of gravity with an Active Position that falls between 1.25" and 5.5" or an Extended Position between -2.25" and 2".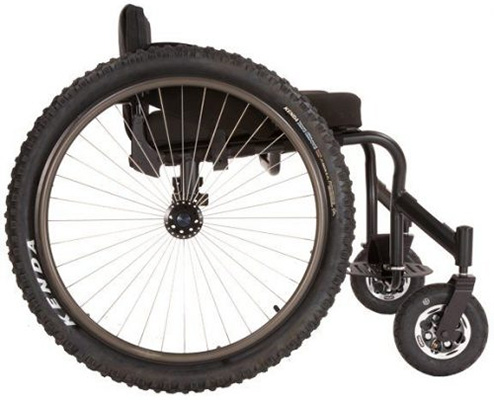 Next up is the backrest, which can also be welded at different tilted angles according to the user's preferences. This includes fixed back at 0 degrees, 3 degrees, 6 degrees, and 9 degrees.
You can't leave out the side guards, and a robust selection of positions are offered that come in aluminum or carbon fiber. The side guards can be fixed, fold-in, or removed.
The handrims are also versatile, coming in 24" to 25" aluminum or titanium. You also get the chance to customize the amount of grip with standard or super options.
Finally, you can choose the positioning straps you need for your chair:
Hook and Loop Positioning Strap
Auto Style Positioning Strap
Metal O-Ring Positioning Strap
Click Strap (comes in 8″, 10" and 12")
Got all of that? We know it's a lot of planning to undertake. But in the end, being able to customize your wheelchair from A to Z saves time and money in the long run since the Crossfire arrives at your doorstep completely built to your specifications and ready to go.
Accessories
Along with customizing pretty much the entire build, Invacare also provides a list of accessories to complete the package.
These accessories are not for show – they are serious add-ons designed to enhance the experience of riding in the Crossfire.
Here are the accessories you can choose to add:
A Calf Strap
Swing-Away Arms
BackPack
Seat Pouch (heavy-duty)
Push-to-Lock Wheel Locks
Bolt Through Integral Push Handles
Rear Anti-Tippers
Transportation
One of the perks of the Crossfire being a manual wheelchair is that you can tuck it into the trunk or passenger seat of your car without investing in an expensive lift.
Furthermore, since it's so lightweight, it's not a hassle to load into the car. You're ready to hit the trails fast and with little effort.
Top End Crossfire Wheelchair Pros vs. Cons
The Crossfire All-Terrain Wheelchair is a no-frills adventure chair that enables users with upper mobility to move over sand, gravel, branches, mud, and uneven surfaces without any issue.
This opens up the possibilities for users to experience healthy outdoor activities, such as hiking or camping without worrying about puncturing a tire.
The quality of this chair gets top marks, and the design is immaculate from head to toe. Every feature is customizable according to the user's physical abilities and body dimensions for the most comfortable experience.
The only gripe a lot of reviews report on is the large wheels, as they're too bulky to maneuver indoors. Therefore, the Crossfire is ideal as a second wheelchair alongside your standard chair.
But it's elements like this that make the Crossfire such an expensive investment. Not everyone can afford two wheelchairs.
That's why we recommend it for passionate outdoors adventurers. If hiking isn't your thing, a Crossfire might end up collecting dust in storage.
Invacare Top End Crossfire All Terrain Wheelchair Warranty
We're ecstatic to see such a generous warranty on the Crossfire, exemplifying Invacare's devotion to customer service. Just remember to supply a copy of the seller's invoice to qualify for coverage.
For five years, side frames and cross members defects are repaired or replaced by the manufacturer. The upholstery materials for the seat and back are covered by a warranty of 13 months.
Comparable Products to Consider
Are you still debating whether the Crossfire wheelchair is your perfect match? Below we've compiled a shortlist of other similar designs to consider with varying features.
Mountain Trike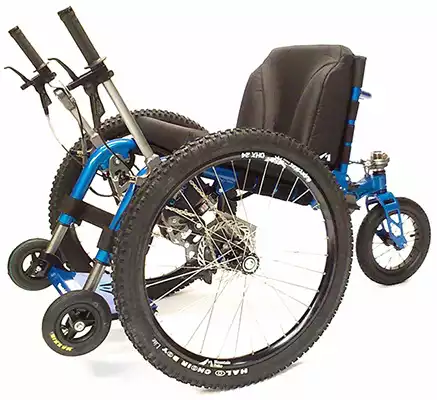 This is another excellent manual all-terrain option, especially if you love exploring trails. It comes with a minimal self-propelled design with a unique direct steering system that enables the user to propel and steer using one arm.
MT Push
MT Push All Terrain Wheelchair
Recommended for: Someone who likes the minimal design of the Crossfire but lacks the upper body strength to propel on their own.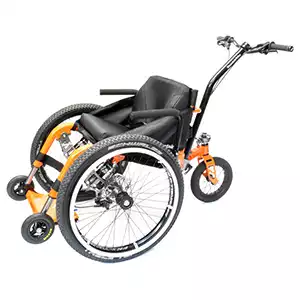 This is the sibling of the Mountain Trike, with the same high-quality build and all-terrain capabilities, except it, doesn't come with direct steering. Instead, it features an adjustable push handle that is propelled by an assistant. This is a suitable choice for someone who likes the minimal design of the Crossfire but lacks the upper body strength to propel on their own.
Magic Mobility's Boma 7 Wheelchair
Boma 7 Off Road Wheelchair
Recommended For: Individuals with disabilities who spend ample time adventuring outdoors in rough conditions.
This is another favorite adventure chair, outfitted with four mountain bike wheels that can tear up even the most unforgiving trails. It can be customized as either an electric wheelchair or manual, with a push bar in the back and levers in the front.
Crossfire All Terrain Wheelchair Review Conclusion
If you're motivated to build your offroad wheelchair from scratch, the Crossfire Wheelchair gives you the flexibility to do it. Every component is customizable, so you don't have to worry about adjusting parts later on after the delivery.
Furthermore, each mechanical detail is designed to correspond with your body's unique movements, supplying the perfect amount of support and comfort according to your order.
To conclude this Crossfire All Terrain Wheelchair review, you can't go wrong with this device. It's backed by a top manufacturer that takes pride in helping its customers. However, it is an expensive model, especially when you add in the customizations. This makes it unaffordable for many.
---
Resources & References: