Summary
The Levo LCEV is a wonderful mix of the old and the new, brought to you by the company that literally invented the standing wheelchair.
Recommended For: Anyone weighing up to 265 pounds who wants a standing wheelchair but is also trying to keep the total cost as low as possible. This one is still expensive but less so than most other standing options.
* Note Regarding Brand Reliability: This metric is a measure of the strength and longevity of the brand, which, by extension, is a measure of the level of support you can expect.
Do you wish your wheelchair did more? Have you ever found yourself at a store and needed something off of a high shelf only to have to waste time looking for someone to help you get it?
If you answered yes to those two questions, then you're going to love what you read here in our Levo LCEV review.
No matter how you slice it, this is an amazing wheelchair brought to you by the company that literally invented the standing chair. It's not just a marvel of engineering, but it's also somewhat less expensive than other standing wheelchairs because you power it, which inevitably saves some money.
Despite how great it is (and it really is!), the LCEV has two drawbacks to keep very much in mind, and both of them are significant, so this chair isn't going to be for everyone.
In the sections that follow, we won't pull any punches. We will give you all the details about what this model gets right and about its limitations, so you'll have all the information you need right at your fingertips to make an informed purchasing decision. If that sounds good to you, read on, and let's take a closer look.
An Overview of the Levo LCEV Standing Wheelchair
We regard this as a very strong component of our Levo LCEV review, but as you will see, this section does reveal one potentially deal-breaking weakness.
At first glance, the LCEV wheelchair looks fairly similar to a conventional manual wheelchair, but it won't take long to begin noticing subtle differences—the wires under the seat that hint at some type of mechanized feature, the two safety belts (knees and chest) that provide further clues, and the like.
Most wheelchairs aren't typically designed to win beauty contests, and this one follows that same basic pattern. It's clear that the designers behind the LCEV were much more interested in function than form.
That's not to say that this is an ugly chair. It isn't. But it wasn't designed for elegance, either. It's functional. It looks like it's got a job to do and is ready to be about it. Most people will regard that as a good thing. We think, though, if aesthetics are super important to you, you may not find much to get excited about here.
While appearances are at least somewhat important, the real meat of a chair's capabilities can be found by taking a look at the raw stats that define it. In this case, it's important to realize that there are essentially two variants of the LCEV standing wheelchair. A "Small to Medium" and a "Large to Extra Large" version.
We'll take a look at the numbers that drive both below:
| | | |
| --- | --- | --- |
| Feature | S-M | L-XL |
| Overall Dimensions | Seat Width +7" W x 33 – 43" L x 31.5" H | Seat Width +7" W x 36.6" – 41" L x 31.5" H |
| Seat Width | 13.8", 15", 15.75", 16.5", 17.7", 19" | 13.8", 15", 15.75", 16.5", 17.7", 19" |
| Seat Depth | 11" – 16.5" | 17" – 22" |
| Seat to Ground Height (with cushion) | 19", 20", 21", or 22" | 19", 20", 21", or 22" |
| Rear Wheel Size | 22", 24", or 26" | 22", 24", or 26" |
| Total Weight | 55 pounds | 57 pounds |
| Max Supported Weight | 265 pounds | 265 pounds |
With one big exception, we like these numbers. The variable seat dimensions (you can specify what you need when you place your order) mark this chair as being extremely versatile and capable of accommodating a wide range of body shapes and types.
The same can be said of the variable seat-to-ground height options, and we love that you can order this chair with three different wheel size options. All of that is fantastic.
It's also a surprisingly travel-friendly chair. Since it doesn't have a particularly large footprint, and it weighs less than sixty pounds, most people will have little difficulty stowing it away in the trunk of your car till you get where you're going, then hauling it back out and putting it to work.
Even if you struggle to do that on your own, if you're traveling with someone, traveling with the LCEV is a snap, which gives you the added freedom of a standing wheelchair literally anywhere you might be.
The only number in the table above we find to be problematic is the maximum supported weight limit.
While there is no formal industry standard on the supported weight limit, informally, as you look out across the wheelchair market, you find that most of the chairs available today support an average of 300 pounds.
This one falls well short of that mark, which is fine if you weigh less than that, but if you happen to weigh more, this limitation is going to be an absolute dealbreaker. That's unfortunate because it means that this chair appeals to a somewhat more limited segment of the market than it could.
We were hoping for more here.
The Levo LCEV Wheelchair is More Adjustable Than It Looks and Reasonably Comfortable
We'd rate this as an about average component of our Levo LCEV review.
A lot of the "adjustability" of the chair is actually done at the time of purchase when you can select details like the seat width, depth and height, and the size of your wheels.
You can make a couple of other adjustments to the chair beyond that, but the company doesn't make it easy. For instance, if you wish, you can adjust the angle of the seat in the frame. It defaults to 5 degrees, but you can change that to anywhere from 2-8 degrees if you'd be more comfortable that way.
You can also adjust the height of the armrests. Unfortunately, you need to break out some tools to do both of those things, and you can't do either while you're actually sitting in the chair, so this is a bit of an undertaking. Still, the fact that it can be done is a very good thing.
We know, however, that it's possible to engineer a more elegant solution to both of those adjustments, and we're somewhat disappointed by the fact that it's such a cumbersome process. Even so, we're glad that the possibility exists and count both as points in the chair's favor.
Comfort-wise, it's about what you'd expect from a wheelchair, which never seems to get high marks for comfort.
It's not awful, but there are no ergonomically designed features here, and the seat padding is only moderate, which is still better than many chairs on the market that offer nothing at all in the way of padding. So the longer you sit in the chair, the more uncomfortable you're apt to get.
Even so, this is a fairly easy problem to fix because the aftermarket is brimming with all sorts of seat pads, which means that with a bit of customization, you can have pretty much any comfort level you desire.
Be aware, however, that you'll want to get a fairly thin seat pad if you go that route, so think in terms of something like memory foam. The reason you don't want to invest in, say, a thick block foam pad is because you may wind up sitting "too high" in the chair, which would begin to interfere with the standing function.
And that, of course, brings us to the standing function itself.
You might not think that feature would have much to do with comfort. And the ability to stand in your wheelchair indeed has tons of practical applications that don't have anything to do with comfort, but there is a comfort dimension to it as well, so this is a good place to talk about it.
First, let's talk briefly about the benefits of standing and why you'd want a standing wheelchair in the first place.
There are actually lots of health benefits associated with owning a standing wheelchair, ranging from improved circulation, greater bone density, and improved confidence and self-esteem arising from the greater independence and the increased freedom it offers to the owner of the chair.
Just imagine a world where you no longer have to get help to get something off of a shelf or a world where you can stand up to get a better view of something happening in the distance.
Both are easily done with a chair like this, and that's a priceless advantage, especially if you've gone without those things for a long time.
On top of that, though, just having the ability to stretch your legs and get off your butt for a few minutes any time you want to can "reset the clock," so to speak, and make settling back into the chair a lot more comfortable than it might otherwise be, which is also huge.
All that to say that while the LCEV isn't going to win any awards on the comfort front, it's a lot better than you may initially think, and that's a good thing.
As to the stand function, it is controlled electronically and can be activated at the touch of a button any time you want or need it. Using this function, you can achieve an 85-degree vertical posture, so it's not quite a full stand but close enough that most people won't even notice the slight difference. That's impressive.
Extras and Options
This is another area where the LCEV really shines. If you decide you want one of these, you can order yours in its stock configuration, which we just talked about, or you can add any of the following extras:
An impressive list indeed, and if it happens that you want something that's not on this list, you can always hit the aftermarket, which is bristling with other options.
It gets better, though, because you can also specify your color preference, choosing from the following options: Blue Metallic, Green Metallic, Lemon Reflex, Orange Reflex, Red Metallic, Silver Metallic, or Silver Reflex.
Taken together, this gives you all sorts of ways to customize and personalize your ride. We love it, and we think you will too.
Pros & Cons of LCEV by Levo
From a design and engineering perspective, there's really nothing wrong with this model. It's well designed and built to last.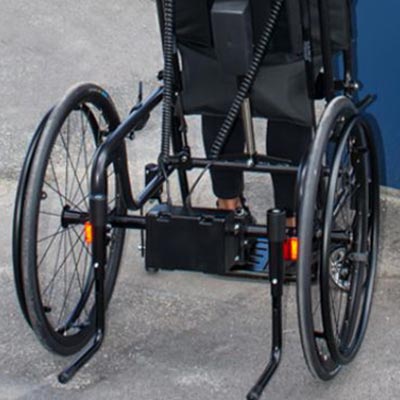 The two negative issues are the modest weight limit—which will either not be a big deal at all or an absolute show-stopper, depending on how much you weigh—and the price of the LCEV.
Make no mistake—this is an expensive wheelchair. Granted, it's not the most expensive standing wheelchair on the market—not by a long shot—but it's still pricey, and that fact is going to put it out of the reach of many people who could get a lot out of it.
That's unfortunate, and it, along with the modest weight limit, really narrows the segment of the market this chair is aimed at.
Levo LCEV Review Conclusion
This is a superb wheelchair that, unfortunately, isn't for everyone. We almost love it, but the combination of the weight limitation and the hefty price tag is a powerful one-two punch that dents how we feel about this model.
Assuming the weight limit isn't a dealbreaker for you, and you don't get sticker shock when you go to place your order, you'll love it. But given its narrow market appeal, we can only give this one a provisional recommendation.
Comparable Products to Consider
If you've reached the end of this review and you're still not sure whether the LCEV is right for you, here are a couple of other options to consider: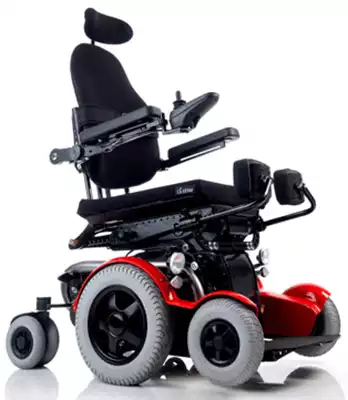 Consider this to be the big brother of the chair we just talked about. It's the powerchair version of this model, and that means it's a good bit more expensive.
On the other hand, the C3 supports more weight (300 pounds), and you don't have to worry about tiring yourself out to move around since the power chair does the work for you!
It's almost terrifyingly expensive, but if you've got money in your budget for it, this is a truly superb chair!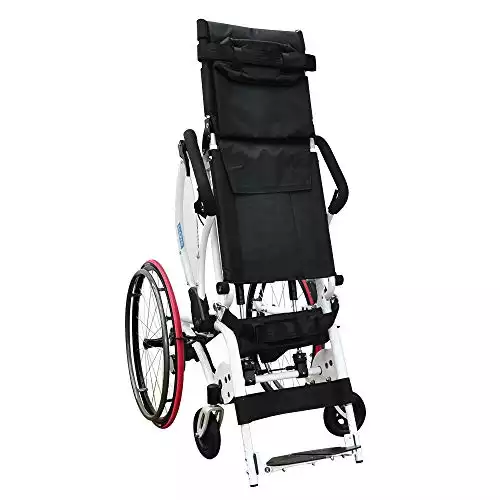 This could well be considered the spiritual cousin to the chair we just talked about. It's made by a different company, and this design takes a very different approach where the standing function is concerned.
Like the LCEV, it's a manual wheelchair, but on this one, the standing function is manual too! Even if you're not interested in buying one, you've got to check out the videos that detail how the Leo's standing function works. It's absolutely brilliant, and this is one of the least expensive standing wheelchairs on the market. Well worth a look!
---
References & Resources: