Summary
The Drive Medical Maverick 3 is a stylish, versatile scooter with a motorcycle-inspired design.
Recommended For: Anyone weighing up to 400 pounds who loves motorcycles and wants a scooter that offers the same basic aesthetic.
*Note regarding Brand Reliability: This metric is a measure of the strength and longevity of the brand, which by extension, is a measure of the level of support you can expect.
Before your mobility issue, did you enjoy riding motorcycles? Have you been itching to get back into the proverbial saddle? Did you think those days were behind you?
If you answered yes to the questions above, then you're going to be thrilled by what you read in this—our Maverick scooter review.
The Maverick executive scooter comes to us from Drive Medical. Even most people who don't have a mobility issue are familiar with that name as they are one of the true giants in the mobility industry with a reputation for making both excellent, high-quality products and for superb post-sales service and support.
As you will see, the Maverick is an excellent example of their work, but we should also say right off the bat that it's not going to be a scooter that will appeal to everyone.
For one thing, it's a fairly sizeable machine. Designed with a motorcycle's aesthetic, it's clearly much too large to be used indoors, so the person who gets one of these will actually need at least two mobility aids: this one plus another for use indoors if you need help getting around inside your home.
Second, it's styled along the lines of a motorcycle. If you love motorcycles, then you're probably going to be drawn to the overall look of this machine, but if you don't, you may find it a bit off-putting.
Even if you're not a huge fan of the aesthetic, though, by the time you reach the end of this review, we think you'll agree—the Maverick 3-wheel scooter is a fantastic mobility aid. And in the sections that follow, we'll walk you through everything it has to offer. If that sounds good to you, read on, and let's take a closer look!
An Overview of the Drive Medical Maverick 3 Wheel Scooter
We regard this as a very strong component of our Maverick scooter review.
We've already talked about the fact that the Maverick is designed with a look and feel that's quite similar to a motorcycle, so there's no need to say more about that. You'll either be drawn to its racy design or you won't be.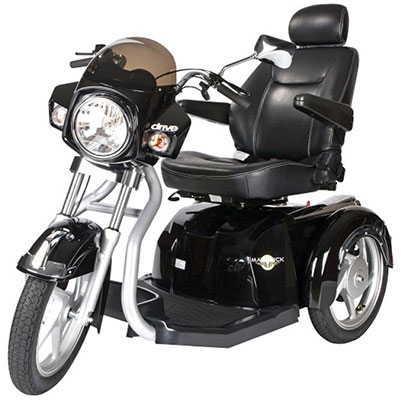 Either way, though, a scooter is, first and foremost, a mobility device, and to that end, function matters more than form. Function is driven by numbers, so before we start talking about specifics, we should dive in and take a closer look at the numbers that define this model. Here's a quick overview:
Overall Product Dimensions: 65" L x 31" W x 56" H
Total Weight: 330 pounds (the base weighs 181 pounds, the batteries are 94 pounds, and the seat is 55 pounds)
User Weight Limit: 400 pounds
Top Speed: 9.5 MPH
Seat Dimensions: Your choice of 20" W x 20" D or 22" W x 20" D
Max. Slope: 10 degrees
Wheels: 19.5" x 2.75" pneumatic
Range: 35 miles
Ground Clearance: 5"
Turning Radius: 62"
There's a lot to talk about where these numbers are concerned, so let's just take it from the top.
First and foremost, this is a big, heavy scooter. You can kind of take it apart but not really. Yes, you can remove the seat, and yes, you can take the batteries out, but take a look at the weight of the base. At 181 pounds, it's not something you'll be able to strip down and toss in your trunk—even if you have a really big trunk!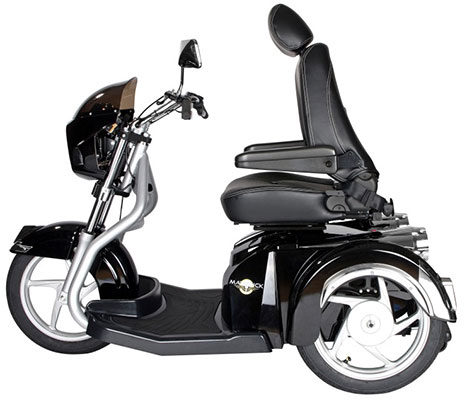 With something like this, your best bet is either a lift on the back of your vehicle or a ramp if you've got a truck or a van. "Portable" just isn't one of the words we'd use to describe the Maverick.
That's not necessarily a bad thing, but it is important to completely understand what you're getting before you buy, and if you're specifically looking for something you can take on the road with you, then just know in advance that you'll either need a lift or a ramp and a truck or van to do that effectively.
Also, it should go without saying, but for the sake of completeness, this one's pretty much a non-starter where air travel is concerned. Airlines charge by the pound. This thing weighs more than three hundred pounds. It would cost you an arm and a leg to bring it with you, and that's assuming the airline didn't balk at the idea.
The bottom line here is that it can be somewhat travel-friendly with some additional investment in tech.
The supported weight limit is impressive and well above the informal 300-pound average you find across the industry in general, and it's got a good top speed, too.
Many of the scooters you find on the market today top out at around four miles per hour. At that speed, you might get passed by someone out taking a power walk. This machine actually has some zip to it, so if you have a need for speed and the slow poke scooters just aren't getting it done for you, this one will be very much to your liking.
The two offered seat dimensions are good and an excellent pairing with the supported weight limit, and the Drive Maverick scooter handles inclines like a champ.
Most of the scooters on the market today are rated for a maximum slope of six degrees. The Maverick can handle almost twice that at ten degrees, so even if you live in an exceptionally hilly area, the Maverick has you covered.
On top of that, its impressively sized wheels and design give it a 5" ground clearance, which means that it can go places many of the other scooters on the market today simply cannot. While it's true that you still need to be at least somewhat mindful of large obstructions, the Maverick can carry you over a wide range of terrains with ease.
Even better, it pairs that with a solid range, which enables you to just ride and enjoy without having to always be mindful of where the nearest power outlet is.
Drive Medical Maverick Executive Three Wheel Power Scooter is Both Comfortable and Adjustable
We'd also rate this as a strong component of our Maverick scooter review. While you probably wouldn't want to stop and take a nap in it, you theoretically could! The Captain's style seat is well padded with conventional block foam, and the seatback reclines.
Normally, you'd use this to tweak your driving experience for optimal comfort, but once you got where you were going, if you wanted to lean back and rest your eyes for a few minutes, there's no reason why you couldn't do so.
The seat does much more than recline, though. It also swivels and locks, and the armrests flip up, which makes transferring into and out of the Maverick mobility scooter a simple proposition.
On top of that, the armrests are actually angle adjustable too, which gives you yet another way to optimize for comfort. That's a feature you don't find on many of the scooters on the market today. It's a small thing, but we're thrilled with the attention to detail here.
If that wasn't enough, the seat also features a height-adjustable headrest, giving you yet another way to optimize for comfort. We love it, and we think you will too!
Comfort, however, is about more than just the seat you're spending time in. And if you've spent any time at all on other scooters, you know that the ride can be a little rough.
That's not the case here.
The Maverick has a front and rear suspension system baked into the design, which means it offers a much smoother ride than most of its competitors.
Drive Medical Maverick Accessories
In our view, this is the best part of our Maverick scooter review.
It's a great machine from top to bottom, but what really sets it apart from the competition is the fact that Drive didn't pull any punches here. This thing is positively brimming with extras. The base model includes:
Motorcycle style controls
A smoked windshield
A full light kit including a headlamp, tail lights, hazard lights, and reflectors
A rearview mirror
Anti-tip wheels
And a safety belt
Everything on this list is a high-value addition, but it gets better because Drive also offers a number of optional accessories. These include:
A dust cover
A pull-behind trailer
An oxygen tank holder
A crutch/cane holder
A cup holder
Seat covers
An armrest bag
And a backpack that fits over the back of the seat
These are superb accessories all around, and of course, if you want even more options, the aftermarket has just about everything you could imagine. Drive Medical really went the extra mile here, and their selection of built-in goodies adds a very "finished," highly polished feel to the Maverick.
Maverick Electric Scooter is Very Easy to Use and Master
Normally, this is the section where we divide our time talking about the control system and the machine's portability.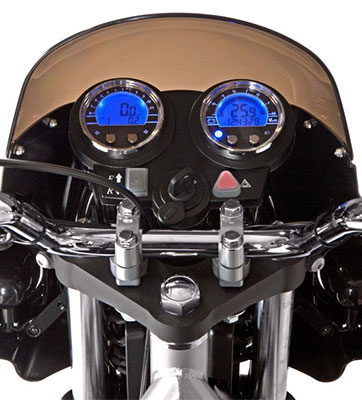 We've already spent some time talking about portability, though, so we won't rehash that topic.
In terms of the control system, you'll find that the controls here are laid out similarly to what you'd see on a motorcycle, so if you've ever driven one, you'll feel right at home here.
Even if you haven't, though, everything is very intuitively laid out, and the LED displays are crisp and easy to read—even on a sunny day. All that to say that learning the basics of driving the Maverick might take you about ten minutes, but it's not something that will challenge you.
Drive Medical has been in the business for decades, and it shows. All of their products are incredibly user-friendly and take almost no time to master. That's what you get when you buy from one of the biggest names in the industry.
Pros & Cons of Drive Medical Maverick 3-Wheel Scooter
In our view, the only real negative associated with the Maverick lies in the fact that it can't be used indoors, which means that you'll need two mobility aids—one for inside your home and one to play outdoors with.
That's fine if your budget can support it, but for many people, that's just not an option, and for them, no matter how much they may love the Maverick, it's just going to be out of reach.
To make matters worse, even if you can stretch your budget to cover the cost of two different mobility aids, if you plan on taking this one on the road, you'll need either a lift or a ramp and a truck or van to make that work. So again, you're looking at an additional investment above and beyond the price of the scooter itself.
It's a shame that those facts will put this exceptional machine out of the reach of many who want one, but that's the reality, and we would be remiss if we didn't highlight that fact.
Maverick Scooter Review Conclusion
We love the Maverick, and if your budget will support it, we're pretty sure you will too. This is an amazing mobility scooter offered by one of the finest companies in the industry. We highly recommend it.
Comparable Products to Consider
If you've reached this point and have decided that the Drive Medical Maverick 3-wheel just isn't for you, here are a couple of other options you may want to consider:
Shoprider Echo 3 Wheel Folding Mobility Scooter
Recommended For: Anyone weighing up to 200 pounds (folding version) or 250 pounds—if you're using the non-folding version—and who plans to use the machine in urban and/or indoor environments.
You give up the motorcycle styling when you go this route, but you get a machine that's a whole lot more portable and travel-friendly. If that's what you're looking for, this is a good option that keeps you in a three-wheeled design but offers a package you can use both indoors and out.
Forcemech Navigator XL
Recommended For: Anyone weighing up to 400 pounds. As long as you like the color yellow.
This is one of our favorite machines. It's a tough-looking powered wheelchair that won't look out of place on the set of the next Terminator movie. It's also bright yellow and black, by the way, so it does somewhat resemble a giant Tonka Truck.
If you grew up playing with those and would love to have a life-sized one to roll around in, this machine would feel custom-made for you. Even if you didn't, these are amazing.
---
References and Resources: