Summary
The Top End Pro-2 All Sport Wheelchair is a moderately priced, lightweight model that can be used to play many different court sports. It's ideal for aspiring athletes and those who can afford a sports chair alongside their standard chair.
*Note regarding Brand Reliability: This metric is a measure of the strength and longevity of the brand, which by extension, is a measure of the level of support you can expect.
Wheelchairs come in all shapes and sizes, enabling people with disabilities to enjoy the activities they love, on their terms.
Sports wheelchairs are one such innovation, but it can be challenging to find the model that fits your lifestyle.
In our Top End Pro Sport Wheelchair review, we look at a versatile manual wheelchair that enables beginners to play all sorts of court sports. Let's dive in and see what it can do!
Top End Pro Sport Wheelchair Design Overview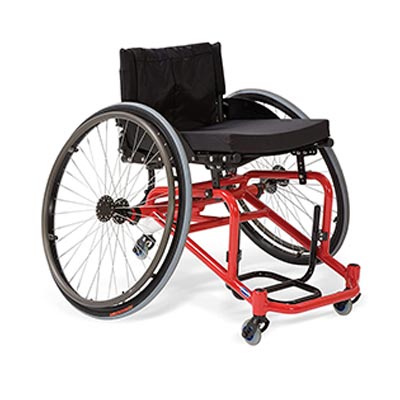 Invacare is a well-known wheelchair manufacturer with a mission to make life experiences possible for those with disabilities. They boast excellent customer support and a wide variety of innovative mobility products, including our focus of this review: the Top End Pro-2 All Sport Wheelchair.
This is a lightweight manual model, built with a durable aluminum frame that makes it easy to move quickly around the court while resisting aggressive play.
It looks simple, with a no-frills frame, wheelbase, and small seat, but this little chair offers users the chance to play many different types of hard court adaptive sports, including:
This is the perfect starter model for those who want to get into adaptive sports for the first time and would like a reliable wheelchair that allows them to try a variety of activities.
Besides the lightweight frame, it's equipped with 25" high-performance drive wheels, high-pressure clincher tires, and a 15° camber. This type of wheelbase is ideal for making quick turns on the court and moving fast without much effort.
The dimensions of the Top End Pro tennis wheelchair are 37.5 x 28.5 x 26 inches and it weighs 23 lbs, making it a convenient device to travel within a vehicle without having to invest in an expensive lift or ramp.
If you are a larger body type, beware that this wheelchair has a maximum weight capacity of 250 lbs. It's designed to be lightweight for athletic use, and not everyday use. Therefore, if you're interested in the Top End Pro-2 you should expect to use it alongside your standard wheelchair.
Cost-wise, the Top End tennis wheelchair is moderately expensive, but that's because you can use it for many different sports instead of a single sport. The quality and functionality are high-end, as Invacare is known for, so we think you're getting a good deal considering what this model can do.
Next up, let's dig a little deeper and see what features are on offer to make this a stand-out sports wheelchair.
Topend Wheelchairs Features
When it comes to sports wheelchairs customization, adjustability, and durability are a few of the top considerations for optimal performance on the court.
We're happy to report that Invacare provides all of the essentials for a budding athlete to get out and stay active.
Comfort and Safety
With a sports wheelchair, stability and comfort are paramount. You're moving on a court with great speed, thinking fast, and maneuvering around other players.
One quick reach for the ball and you can topple out of your seat. Luckily, Invacare nips this in the bud with a series of strap options to keep the user securely in place.
Choose between a rear frame protector strap, calf strap, or hook and loop positioning strap to keep your abdomen and legs in place when stretching and reaching.
The design features a 2" seat cushion for comfort, flanked by side guards, and a rear frame protector for added stability when twisting in the seat. It's also equipped with a single swivel anti-tip bar for safety.
Adjustability and Customization
Head-to-toe customization is not one of the biggest highlights of the Top End Pro wheelchair. It's meant to be convenient, meaning it arrives at your doorstep ready to use right out of the box.
The order form does give the user a few different component options, especially for the seat. You get a choice of five seat widths, including 10″,12″,14″, 16″, or 18″ for a fit that aligns with your measurements.
The clamp-on tubular is adjustable, as well as the center of gravity. You can also remove the single swivel anti-tip bar if so desired.
All in all, we didn't expect tons of customization options with this sports chair. It's meant to be a starter device for those getting into adaptive sports, not a standard chair that you must rely on to get through the day.
Still, it provides plenty of adjustable options to make it a highly adaptable chair for athletes who enjoy multiple sports.
Portability
To get to the court, you most likely need a vehicle to transport the wheelchair. Transportation is always a big factor to consider when choosing a sports wheelchair.
Thankfully, most sports wheelchairs are lightweight and compact manual chairs that are the easiest to move.
The Top End Pro-2 features a non-folding adjustable back that allows the user to toggle the angle and height.
For a seamless transfer out of your everyday chair, you must position the sports wheelchair as close to the other chair's seat as much as possible with the casters remaining parallel.
Make sure to engage the wheel wells on your standard chair and shift your body into the seat of your sports chair.
Overall, it's a pretty fast and seamless process, making portability easier than many chairs.
Storage and Accessories
Sports wheelchairs aren't built to carry items, so storage is not a high-ranking feature with the Top End Pro-2 All Sport Wheelchair. However, this is to be expected, so we won't take off many points- save that for your standard wheelchair.
Invacare does offer a few different strap options, which are briefly touched on already. What you want to pay attention to here is the cost of the straps. Some are provided free of charge while others tack on an extra cost to the total- so choose wisely.
There are an assortment of click straps and a basketball carrying bag that must be purchased separately.
The frame protector strap, calf strap, and hook and loop positioning strap are free of charge and enhance safety on the court.
Cleaning and Maintenance
Not every wheelchair user can keep up with an intensive maintenance schedule on their own, but fortunately, the Top End Pro-2 All Sport Wheelchair's needs are straightforward to keep everything in working order for years to come.
Invacare recommends taking your Top End Sports chair to a qualified technician for an inspection every six months. They know what to look for, addressing wear and tear while providing recommendations.
You can also stay on top of loose or worn parts with regular cleaning. Use mild soap and water or disinfectant, dampening a sponge and wiping the upholstery clean. Bleach should not be used, nor should fabric parts be put in the washing machine.
Top End Wheelchair Pros vs. Cons
The Invacare Top End Pro-2 All Sport Wheelchair invites newbie athletes to dip their toes into the wide world of adaptive sports. Its biggest draw is that the design is capable of performing in any type of hard court sport, including basketball, tennis, hockey, badminton, and more.
With this advantage, athletes can try different sports to find what they like without investing in an expensive chair designed for a specific sport. It's also great for recreational users who are highly active and partake in many types of sporting events.
Quality materials are utilized to bring the Top End Pro Sports wheelchair to life. The frame is constructed from lightweight aluminum, rendering it only 23 lbs for easy transfers. It's also equipped with high-performance 25" wheels, which allow the user to move across the court with speed and dexterity.
You can count on this versatile machine to be reliable and easy to use, with minimal tinkering required. But there are some characteristics that might not be for everyone.
For example, this is not a standard wheelchair, nor should it be used as one. It's a sports chair and does not provide comfort and storage for all-day use. It's also not meant for rolling outdoors in rough terrain.
While it is moderately priced, it's understandable that not everyone can afford two wheelchairs or have the space to store the extra chair when not in use.
Therefore, the Top End Pro Sports wheelchair is not a necessity, but rather a device for those focused on adaptive sports.
If you're an athlete willing to put up the cost, this is an excellent choice that gives you the freedom to play multiple sports with a high-quality wheelchair that is user-friendly and safe.
Invacare Top End Wheelchair Warranty
The warranty conditions for the Top End Pro-2 All Sport Wheelchair are outlined in the user manual, with a few different coverages offered.
After purchase, the frames are covered for Three-Years with an Invacare or a qualified dealer. Note that a copy of the seller's invoice must be produced to receive coverage.
The upholstered materials and remaining components are covered for 13 months from the date of purchase.
Comparable Products to Consider
If you're still questioning whether the Top End Pro Basketball Wheelchair is the right model for you, we've listed a few similar sports wheelchairs for comparison. Let's take a look.
Quickie All Court Ti Sport Wheelchair
Recommended For: Athletes who play different hard court sports. The frame is made from titanium, which is more expensive but has many customization options and storage.
This sports chair is similar to the Top End Pro-2, with its main function being that it can be used to play different hard court sports. It's lightweight, comes with adjustable components, and the frame is made from titanium. It is more expensive but comes with many customization options and storage.
If basketball is your main focus, then this chair is as capable on the court as it is stylish. It comes equipped with an aluminum frame and 4-bend wing, along with an anti-tip 5th wheel for added stability.
If you're looking for a lightweight manual chair that can operate outdoors in rough terrain, then this is a suitable option. The Crossfire features a similar lightweight, minimal design, except it's equipped with large 25" knobby wheels that glide effortlessly over rugged trails.
Top End Pro Sport Wheelchair Review Conclusion
In today's world, there are plenty of mobility devices on the market that gives budding athletes the freedom to pursue a more active lifestyle. While some are for serious athletes geared towards a specific sport, others are more versatile for all-around athletes.
That's where the Top End Pro-2 Sport model comes into play, with a lightweight aluminum frame and an agile design that gives users the ability to play any type of hard court sport. It's easy to transport and is built tough, manufactured by a leading company in the industry.
To conclude our Top End Pro Sport Wheelchair review, this is a moderately priced device meant to be used alongside your everyday standard chair. We recommend it for aspiring athletes and those who enjoy partaking in a variety of sports on the court.
---
Resources & References: